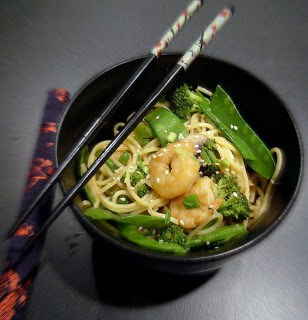 I've been making this recipe since it debuted on Rachael Ray's site back in March of 2008! I love this recipe, and although the original recipe calls for pork… I recently switched it up and made it with shrimp instead! Each way is delish… and in fact you could cook both shrimp and pork for this entree… or just stick to one or the other!
Cook: 20 minutes
Serves: 4
INGREDIENTS:
1 lb of peeled deveined shrimp
1-1/2 cups chicken broth
5 tablespoons soy sauce
6 cloves garlic, coarsely chopped
1 pound spaghettini
1 pound snow peas
1/4 cup vegetable oil
1 pound cremini mushrooms, quartered
2 broccoli stalks, chopped
2 bunches scallions, cut into 1/2-inch pieces
1/2 cup salted roasted peanuts
DIRECTIONS:
In a bowl, combine the shrimp, 1/2 cup chicken broth, 2 tablespoons soy sauce and half of the garlic.
In a large pot of boiling, salted water, cook the pasta until al dente. Place the snow peas in a colander and drain the pasta over them.
Meanwhile, in a large, deep skillet, heat 2 tablespoons oil over medium-high heat. Add the mushrooms and cook until softened, about 3 minutes. Add the scallions and the remaining garlic and cook for 3 minutes; transfer to a small bowl. In the skillet, heat the remaining 2 tablespoons oil. Add the shrimp mixture and cook until opaque, about 3 minutes. Add the remaining 1 cup chicken broth and 3 tablespoons soy sauce and cook until the liquid is slightly thickened, about 4 minutes.
Return the mushroom mixture to the skillet and remove from the heat. Add the pasta and snow peas and toss. Top with the peanuts.
Side Suggestions: Asian salad