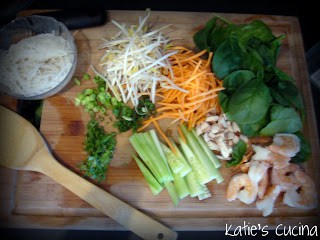 I've always enjoyed consuming these wonderful cold summer rolls when dinning out at restaurants, but never thought about making them at home from scratch. Untiil a few years back when I was shopping at an Asian food market, and stumbled across the wrappers and instantly knew I needed to try making these! These aren't the easiest to make and rolling them is honestly a skill you perfect over time. Each time I make them I get better and better. They are also time consuming, but in my mind totally worth it!

Cook:
10
minutes
Serves
:
4
Ingredients:
24 medium shrimp (about 1/2 pound), peeled and deveined

3 ounces rice noodles (rice vermicelli)

Eight 7-inch rice paper wrappers

1/4 cup cilantro, chopped

1/4 cup matchstick carrots

1/4 cup bean sprouts

1/2 cucumber, peeled and thinly sliced julianne style strips

1/4 cup mushrooms, chopped

2 scallions, thinly sliced

2 cups spinach
Directions
1. Bring a medium saucepan of water to a boil over high heat. Add shrimp and cook for about 1 1/2 minutes, or until they are bright orange and just cooked. Drain shrimp in a colander and run under cold water until they are cool. Peel and halve shrimp lengthwise down the center. Cover and refrigerate.

2. Cook the rice noodles according to the package directions. Drain and set aside.

3. Clear a work surface such as a large wooden cutting board for rolling the summer rolls, and prepare a pan that is roomy enough to hold the finished rolls in a single layer. Place all the filling ingredients on a work surface so that you can get to them easily.

4. Fill a wide, shallow dish large enough to hold the rice paper wrappers with hot water. Evenly submerge one wrapper for about 30 seconds, or until it is soft and pliable. Remove from the water and place on the work surface. I like to have another bowl of cold ice water next to the warm water bowl so that I can immediately dunk the rice paper wrapper in cold water and then take it out and start using it.

5. Working quickly, lay 3-4 spinach leaves in the middle of the wrapper followed by a smidge of rice noodles, a few bean sprouts and carrots. Place 3 to 4 cucumber sticks and a sprinkle of green onions and cilantro on either side of the noodle pile.

6. Fold the bottom half of the rice paper wrapper over the filling. Holding it firmly in place, fold the sides of the wrapper in. Then, pressing firmly down to hold the folds in place, roll the entire pile up to close the top. (Don't despair, this takes some practice!)

7. Turn each roll so that the rice paper seam faces downward and helps hold it together. Place on a plate and refrigerate. Repeat until all of your ingredients have been used and you have 8 summer rolls! Serve cold with Sweet Chili Sauce or Peanut Sauce.