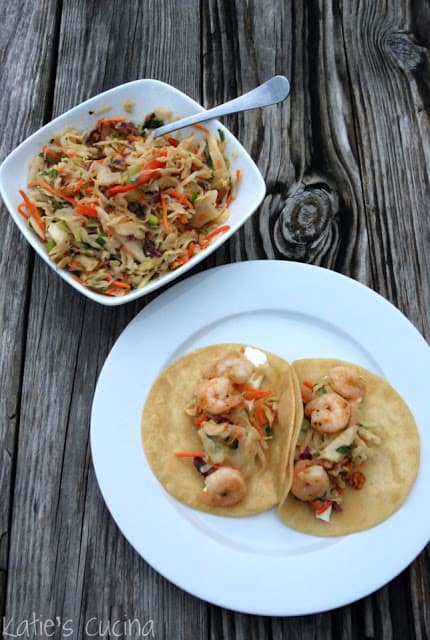 I love shrimp taco's. They are some-what out of the ordinary and are always special! After I made my Peanut Asian Coleslaw I needed an additional use for this flavorful coleslaw. That's when I decided to make shrimp tacos. I went the untraditional route, and they turned out fabulous. Not only was this meal packed full of flavor, but it was easy on the wallet!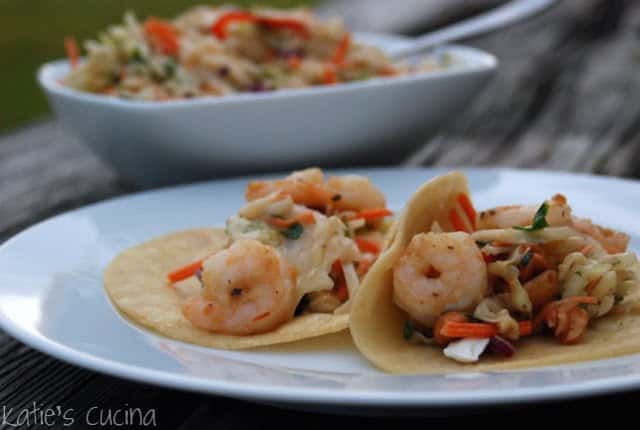 Source: Katie Original
Prep Time: 5 minutes
Cook Time: 8 minutes minutes
Servings: 2


Ingredients:
1/2 cup of Peanut Asian Coleslaw
4 corn tortillas
1/4 lb shrimp, peeled and deveined
4 thin slices of cream cheese
2 tbsp sesame oil
1 tbsp butter
1 clove garlic, minced
1/4 tsp ginger, freshly grated
dash of red pepper flakes
salt & pepper to taste


Directions:
1. In a bowl add sesame oil, minced garlic, grated ginger, salt, pepper, and red pepper flakes. Mix well then add the shrimp. Coat the shrimp well with this sauce.


2. Place a frying pan (or wok) on medium-high heat, and add one tablespoon of butter. Once the butter has melted add the shrimp to the pan. Saute until pink in color (about 5 minutes). Remove the shrimp from the heat. With the pan/wok turned off (but still hot) add one-by-one the corn tortillas. Cook for 15 seconds, flipping the corn tortilla and cooking for an additional 15 seconds. This will help you fold the tortilla with out it ripping and give it additional flavor! Repeat until all the shells have been cooked.


3. To assemble tacos: Place one thin strip of cream cheese in the center of the corn tortilla. Then place the coleslaw mixture followed by the shrimp.