SILPAT® & Roul' Pat® Giveaway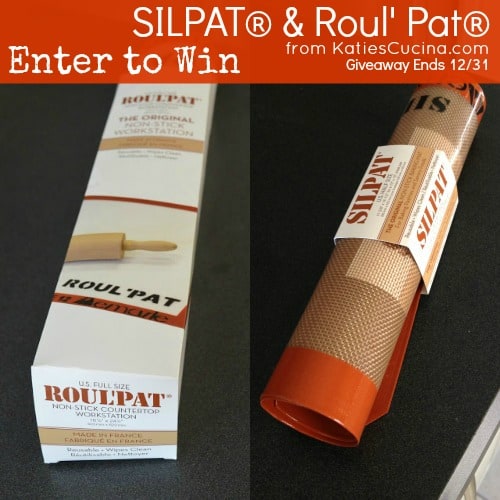 I'm so excited to share this awesome giveaway with everyone today! SILPAT® contacted me last month to do a product review and giveaway. I was so excited to finally get to see what all the fuss is about. I've read about SILPAT® on various blogs, but never tried it out. WOAH! Let me tell you what I've been missing in my life… a SILPAT®! Seriously, guys. If you don't own one… run (don't walk) to your nearest store and buy one or two or maybe even three! Or you can always enter to win a SILPAT® & Roul'Pat® here.
Let me give you the 411 on what is so special about the SILPAT®. It's a non-stick (reusable) baking mat that works in just about every type of oven. I did mention that its reusable… yah, you simple wipe it down with a damp sponge, rinse it then dry it. Super simple and then you can easily roll it up and store it back in your cabinet for future use!
Just watch this video and see for yourself.
Here are a few great examples of how I've put my SILPAT®  to work in the past few months!
I used my SILPAT to bake my famous Apple Pie. This picture was taken during the pre-bake step for the crust. What you didn't see what the overflowing pie on the SILPAT mat. SUPER simple to clean up. Thankfully, I wasn't stuck scraping for hours and ruining my baking sheet.
Remember, how I posted about those luxurious Creme de Menthe Chunk Cookies a few weeks ago? Yep, those babies were cooked on a SILPAT! Allowing them to cook evenly and not stick to the baking sheet.
Don't forget that the SILPAT isn't just for sweet baked items you can cook a wide variety of savory items on it as well. Just think… any time you need to line your baking sheet with foil or parchment paper –whip out your SILPAT instead!
Now, let's talk about the Roul' Pat®. It is a non-stick countertop workstation. Yah, that's right. No more getting your countertop messy! This is great for rolling dough (which I did over Thanksgiving but failed to take a photo of). Or even working on messy craft projects like working with clay. Nothing will stick to it and its just as easy to clean as the SILPAT is!
Here is a short video about the Roul' Pat®:
Ok, so now that you've learned about both of these great products… lets get down to the giveaway business. One lucky winner will receive one SILPAT® & Roul' Pat® courtesy of SILPAT®. Please wait for the Rafflecopter widget to load and then fill out the widget to enter to win. Please remember that you must complete the mandatory entry in order to win. Giveaway ends at 12:01 am on Monday, December 31, 2012.
For more information visit SILPAT® & Roul'Pat® website, Facebook, Twitter, YouTube or Pinterest.
Disclaimer: I received a SILPAT® & Roul'Pat® to review and keep and one lucky winner will receive a SILPAT® & Roul'Pat® to keep! As always all opinions are my own!
Warning
: Use of undefined constant rand - assumed 'rand' (this will throw an Error in a future version of PHP) in
/home/kjasiewicz21/webapps/katiescucina/wp-content/themes/katiescucina/single.php
on line
74
8 Responses to "SILPAT® & Roul' Pat® Giveaway"
Leave a Comment