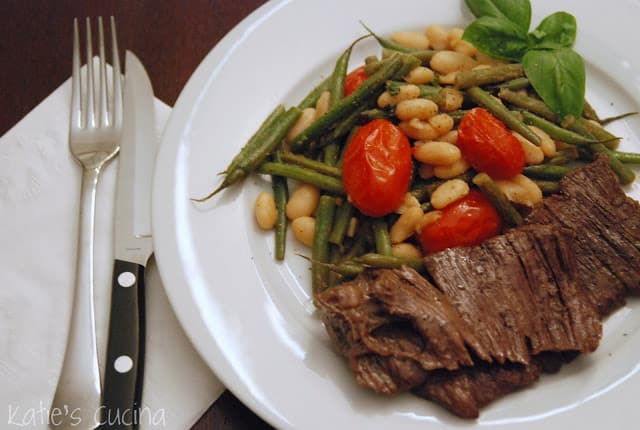 We are not big red meat eaters in our house. Heck, we eat 1-3 vegetarian meals a week. We both really have to be in the mood for steak. I was drawn to this recipe solely because of the warm bean salad. I loved all the ingredients in the salad and knew it was a match made in heaven. Both of us were in the mood to have steak that night, but unfortunately this steak did not deliver for multiple reasons. 1. We both like our steaks preferably not "mooing" aka medium-rare. 2. After make this meal I realized that this cut of steak is not meant to be cooked close to well done. Hence the reason why the steak was so extremely tough. I have no problem admitting where I fail. I am human like every other person out there, and hope that others can learn from my mistakes! I was not going to blog about this meal, but figured that there are people in the world that like their steaks "mooing" and would hopefully appreciate this post. But to be honest the real reason why I wanted to blog about this recipe was because of the warm bean salad. It's amazing. So amazing, I plan to make this as a side dish or even a main meal often. I leave you with a final question: do you like your steak "mooing"?


Source: Everyday Food June 2011
Prep Time: 20 minutes
Cook Time: 20 minutes
Servings: 4


Ingredients:
2 tsp olive oil
1-¼ lb skirt steak, cut into 4 pieces, patted dry
salt and pepper
2/4 lbs green beans, trimmed and cut into 1-½ inch pieces
2 small garlic cloves, thinly sliced
1 cup grape tomatoes
1 can cannellini beans, rinsed and drained
1 tbsp plus 2 tsp red-wine vinegar
fresh basil leaves


Directions:
1. In a large skillet, heat 1 teaspoon olive oil over medium heat. Season steak with salt and pepper. Cook steak until browned, 3 to 5 minutes per side for medium-rare. *The longer you cook the steak the tougher the meat gets. Transfer steaks to a cutting board and let them rest.
2. Rinse out skillet and return to heat, along with 2 teaspoons olive oil. Add green beans and cook 2 minutes. Add garlic and tomatoes and cook, stirring until tomatoes begin to burst *roughly 3-5 minutes. Add cannellini beans and vinegar and cook, stirring, until beans are heated through, about 2 minutes. Remove from heat; season to taste with salt and pepper and sprinkle with basil.
3. Thinly slice steak against the grain and divide among four plates. Serve next to the warm bean salad.