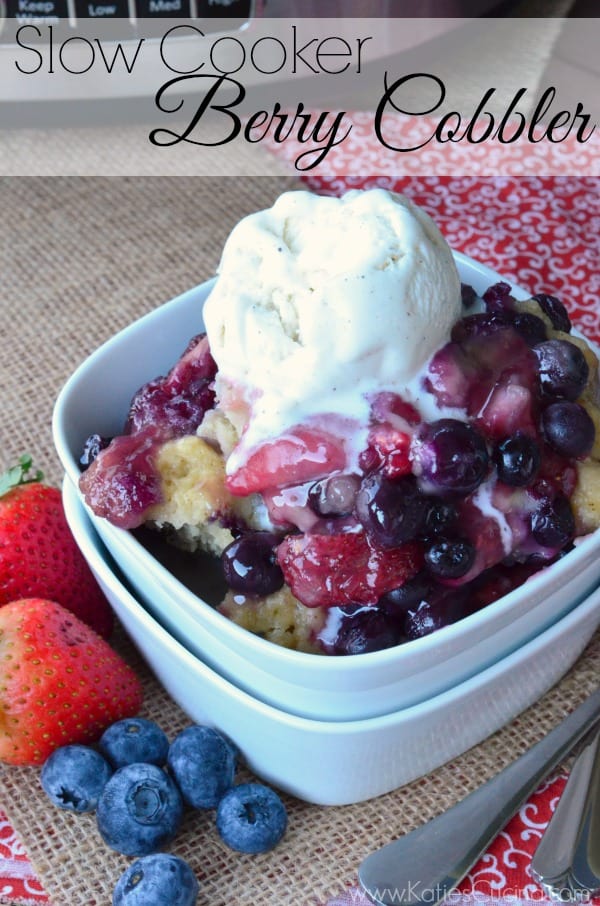 Happy Sunday! I've got a slow cooker dessert treat for you this fine Sunday. Last year, I did a little experimenting with the help of a few recipes floating out on the internet. Thus it yielded the easiest slow cooker berry cobbler I've ever made. Yes–you can make dessert in the slow cooker!
Today is actually my last official post before I start my 1-month long "blog maternity leave". Did you know that such a thing exist? Well it does. When you blog frequently you don't want to go cold turkey and deprive your readers of delicious recipes. So I've asked 16 of my blog friends to share recipes and round-ups to keep your palettes tantalized. For those who are wondering, no the baby has not arrived yet. I'm t-minus 3 days from the due date. I walked for 3 hours yesterday and was hoping that would do the trick. Still no baby. I'm beginning to think he may never decided to make his appearance although I know that's not true. This month has flown by yet I feel like each day crawls. A total catch 22 if you ask me. So enough about me and the bump and let's talk a little about this slow cook berry cobbler.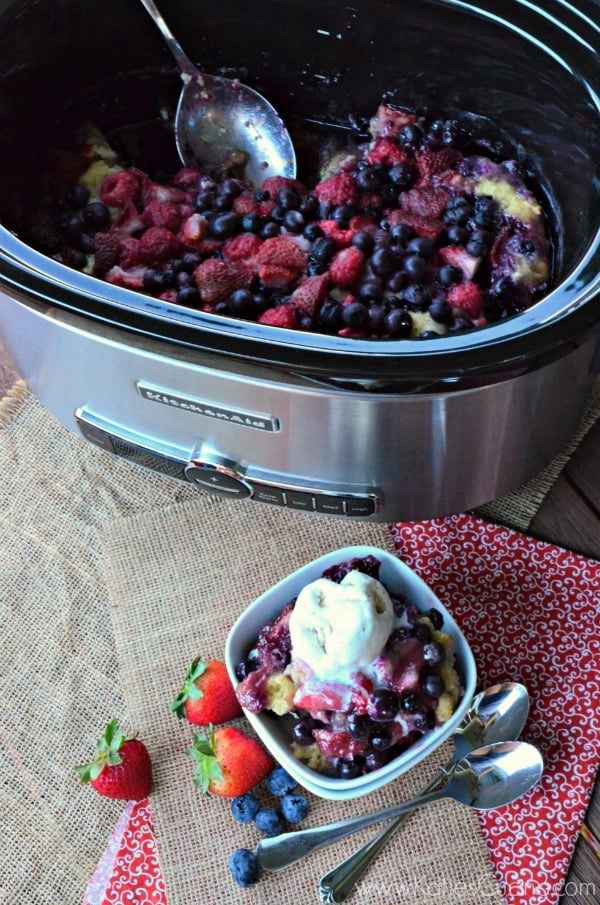 This is the best and easiest slow cooker dessert to make if your entertaining. Or well if you just want a comforting berry dessert. I will be the first to admit that I never think of making dessert in the slow cooker. When I think of my slow cooker I think of a main dish and what's for dinner. Not what's for dessert? I have a feeling this is the first of many slow cooker desserts I'll be whipping up in the future.
I shared this recipe for slow cooker cobbler with ALL the berries over at Food Fanatic.
Disclaimer: I'm a paid contributor over at Food Fanatic. I'm not required to share these recipes on Katie's Cucina, but choose too because I want my readers to not miss a single thing I'm cooking up in the kitchen!