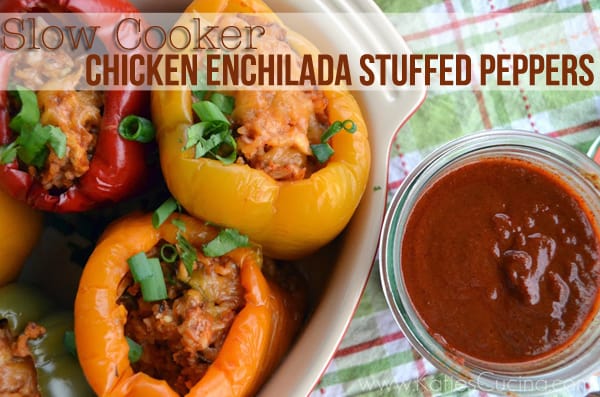 Yes, two days straight of non-stop enchilada recipes. I know–I apologize in advance. Some may say I have an addiction to enchilada sauce or others may say poor planning. Whatever side you decide on I know you will be thanking me later for introducing you to my Slow Cooker Chicken Enchilada Stuffed Peppers!
You see… I kind of have a thing for my slow cooker. Whenever I can get it to work for me–I make the move. Who doesn't love dinner cooked for them by someone else? Ok… maybe I am going a little bit too far with calling this slow cooker a person, but for the most part you set it and forget it and hours later your home smells wonderful and didn't is pretty much cooked!
Remember, my homemade spicy enchilada sauce I shared last week? Well, today I have yet one more way to utilize that delicious spicy sauce. Let's switch up the traditional stuffed peppers and go for something with a bit more of a kick.
If you still don't know what your cooking tomorrow for Cinco de Mayo you should most definitely think about these stuffed bell peppers. And if you happen to have leftover rice and rotisserie chicken in your refrigerator, well then my friends you know what you are destine to make.
I created this original recipe for Food Fanatic.