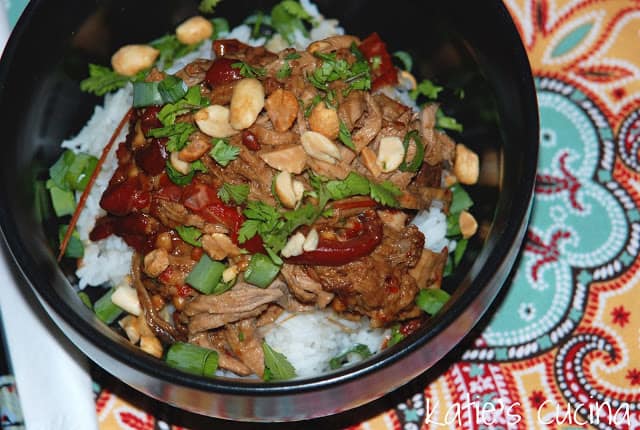 I featured this Thai-Style Pork a few week's ago from Mostly Food and Crafts. I love Thai food, but to be honest am not the biggest fan of pork. I made this in hopes to keep my husbands love for pork alive! This was very easy to put together prior to leaving for work. I prepped the red bell peppers and garlic the night before, and to be honest I probably could have let everything marinate in the crock-pot the evening before–making it even easier for me to just put the pot into the "crock", set it and go. I was very excited about this recipe, but to be honest once I tasted it I was a little disappointed. It was a bit on the salty side for me, and I'm a salt freak! I know it's because of the teriyaki sauce. If I was to make this again I would probably use half the amount of teriyaki sauce required and the other half water (maybe 2 tablespoons teriyaki and 2 tablespoons water). I wouldn't use a broth since that typically has fats in it, and I think the "sauce" would be extra greasy. I think water would work best. Typically I would just cook plain long grain rice, but I made sure to buy the basmati rice for this dish, and I was very happy I did. It was fluffy and absorbed the sauce well. I could have eaten a bowl of the rice by its self it was that good! I also found out that this happens to be my husbands favorite rice. After nine years–I never knew that! We had more than enough to take to work the next day, plus I was able to freeze a container for later use.


On a side note, I just recently defrosted the Thai-Style Pork. I defrosted it in the microwave then added the container to a large sauce pan. I cooked the pork on medium heat and added about a cup of peanut butter to the sauce pan and about a half cup of water (eyeballed it). Continuously mixing, until the water and peanut butter mixed into the pork. I reduced the heat down to low and let it simmer in the sauce pan for another few minutes.



2 pounds pork loin, cut into 4 pieces
2 red bell pepper, julienne-cut
1/4 cup creamy peanut butter
1/2 cup chopped green onions
2 tbsp dry-roasted peanuts, chopped
1. To prepare stew, trim fat from pork. Place pork, red bell pepper, teriyaki sauce, rice wine vinegar, crushed red pepper, and minced garlic in an electric slow cooker. Cover with lid, and cook on low-heat setting for 8 hours.
2. Remove pork from slow cooker, and coarsely chop. Add peanut butter to liquid in slow cooker; stir well. Stir in pork.
3. Combine stew and rice in a large bowl. Top each serving with onions and peanuts; serve with lime wedges.