Southwestern Bacon Guacamole Toast
Thank you Sabra for sponsoring today's recipe. As always, all opinions are my own.
Looking for a delicious and easy lunch? Make my recipe for Southwestern Bacon Guacamole Toast using Sabra Veggie Fusions Southwestern Guacamole.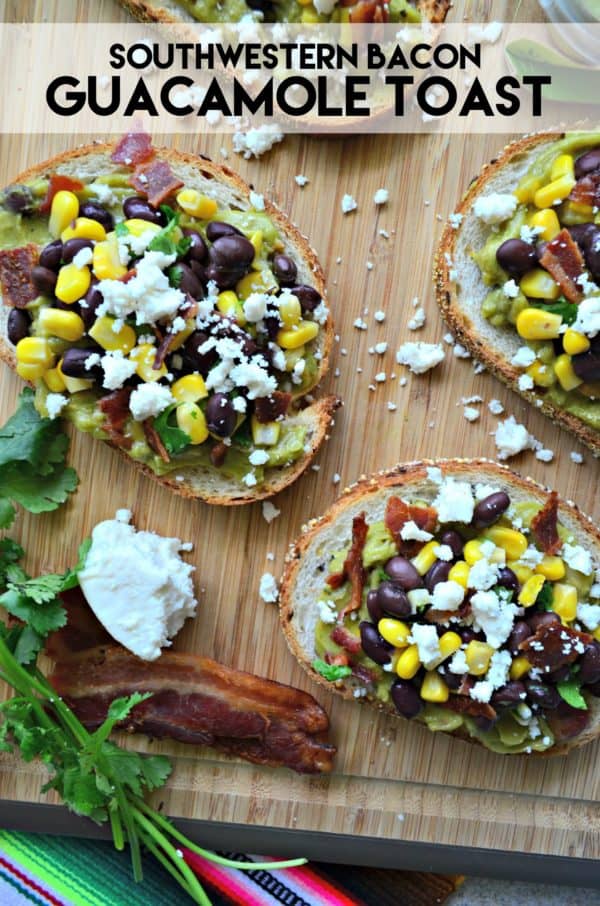 Oh you guys… I'm so excited about today's recipe. I've had to keep it from you for almost a month now and it's been killing me. Since then, I've consumed a lot of guacamole toast because this recipe for Southwestern Bacon Guacamole Toast is ah-mazing! My friends at Sabra sent me a wide variety of the new Sabra Veggie Fusions guacamole! Think Guacamole +Veggies (made with real crisp vegetables: 7 different varieties per recipe) and best of all 30% less fat than a classic guacamole! And the Veggie Fusions are  vegan, gluten free, and kosher free! Available in three flavors – Garden Vegetable, Mango Lime and Southwestern. They challenged me to come up with a guacamole toast to share with my readers, and I was instantly up for the challenge.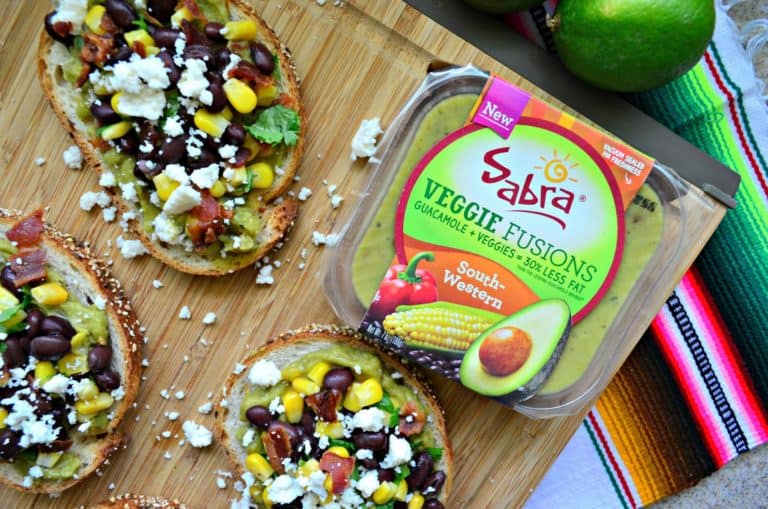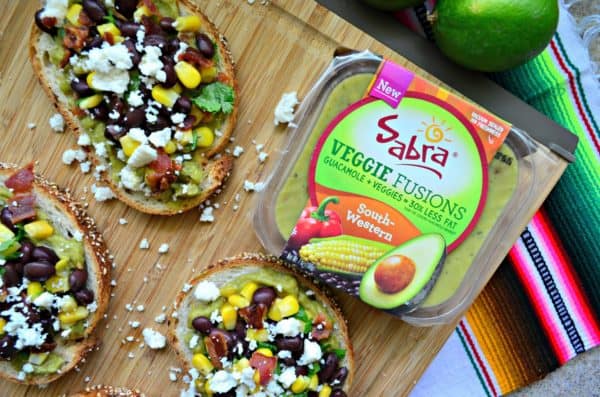 I'm going to apologize right now, that this is kind of a messy meal to eat. But I promise the mess is so worth it. I put the entire toast together in about 10 minutes time. My husband and I might have each had two slices along with a small bowl of soup for lunch the first day I made these. I've found myself keeping the corn / black bean mixture in my fridge and whipping up a slice of toast as an afternoon snack or an easy lunch!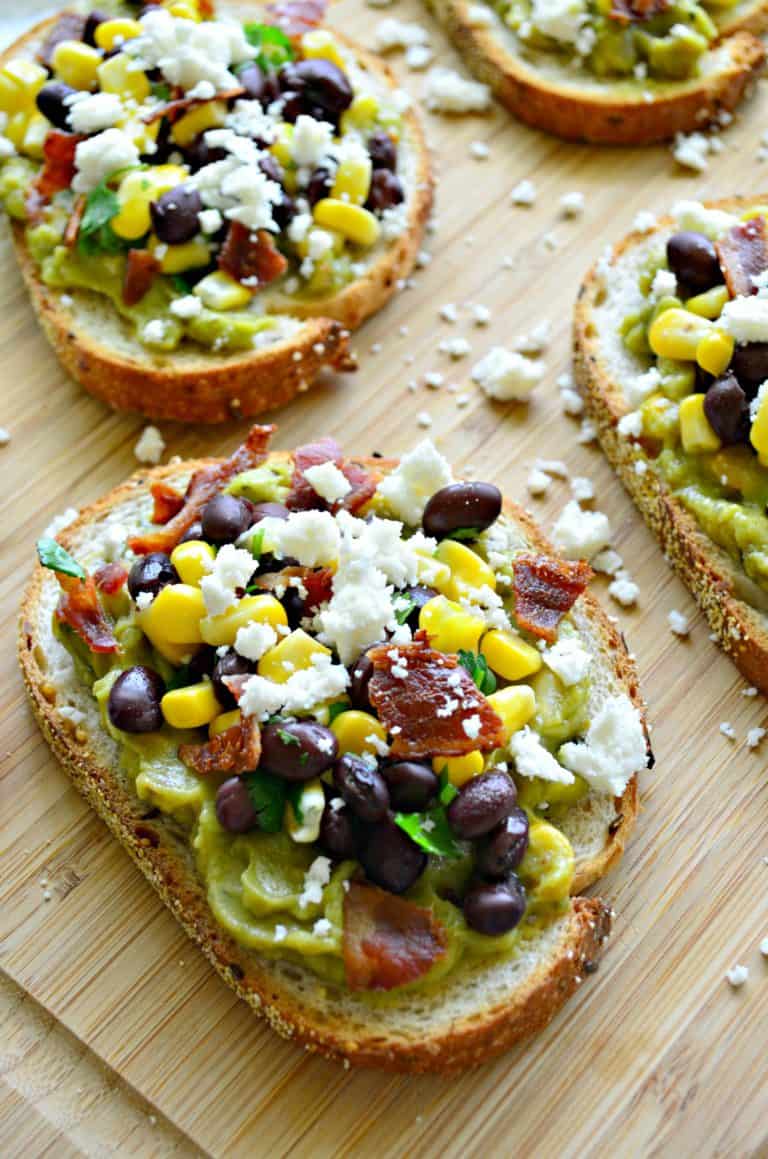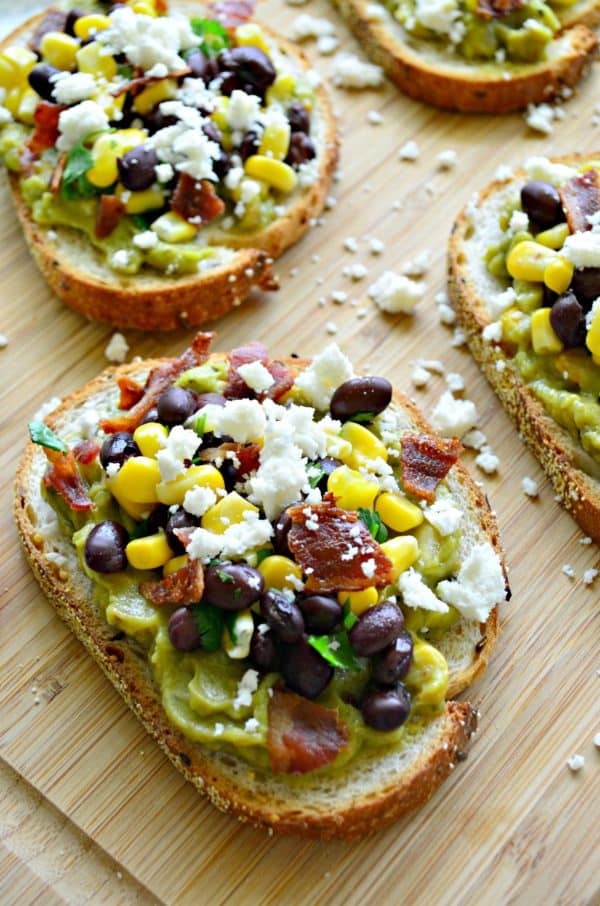 Of course everything is better with bacon and the first time I made this recipe I had a few strips of bacon leftover from breakfast. I knew that they were going to make an appearance on my guacamole toast. I wanted to add additional protein to the toast and knew I wanted to add black beans. Since I wanted to use the Southwestern guacamole I kind of went with what was on the packaging and did the black bean.corn mix. I mixed it together with fresh lime juice and fresh cilantro. That went on top of each toast followed by crumbled bacon and crumbled queso fresco. Guacamole + Veggies + Bacon + Cheese = amazing! I didn't need salt or pepper for this toast. The fresh flavors on top was all that was needed.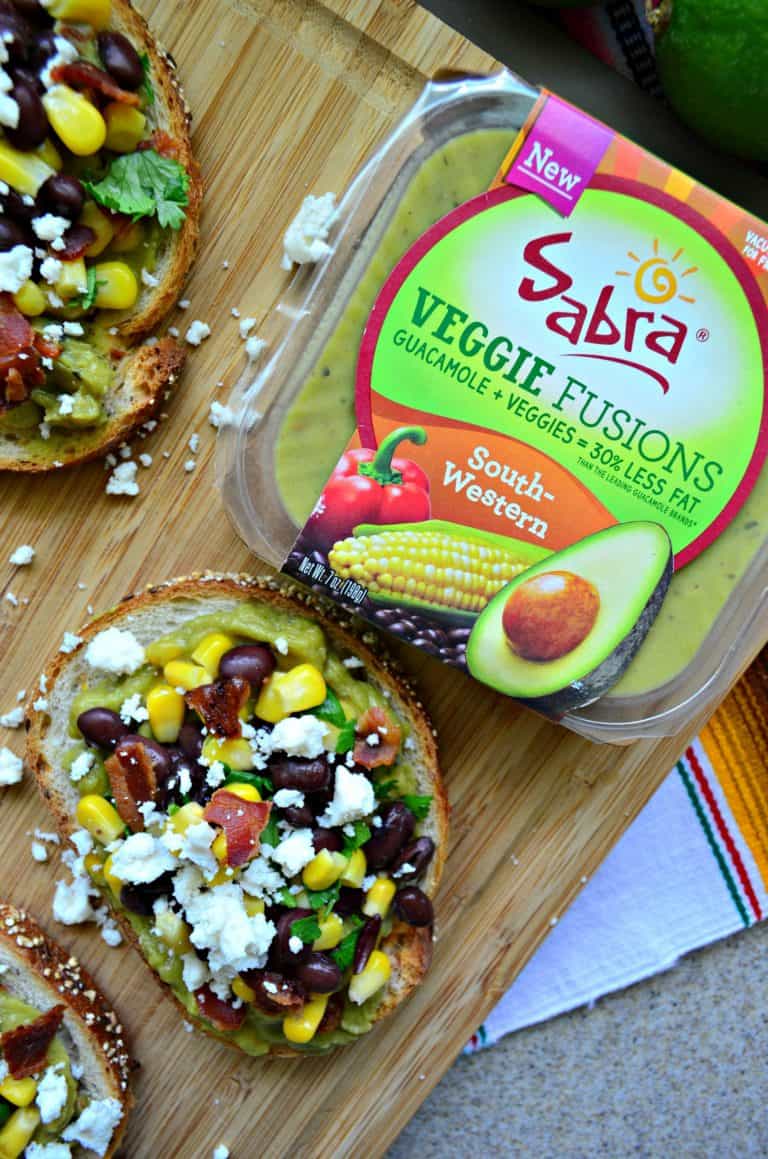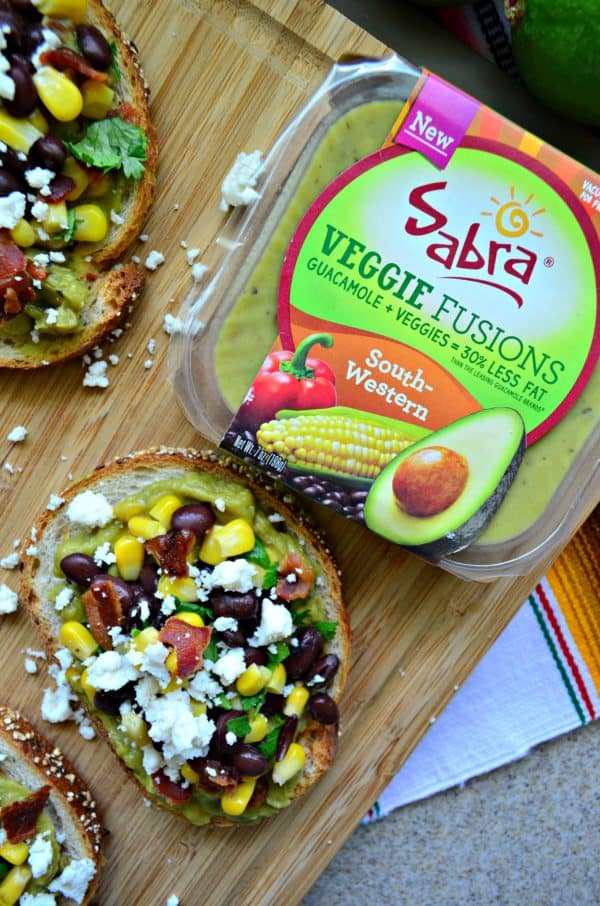 Make sure you head over to Sabra and download this $1 off coupon for the new Sabra Veggie Fusions guacamole! Then, head to the refrigerated section in your deli area to purchase a few packages, and make my recipe for Southwestern Bacon Guacamole Toast!

Black Bean, Corn, and Bacon Guacamole Toast
Yield: 4
Prep Time: 10 minutes
Cook Time: 2 minutes
Total Time: 12 minutes
Ingredients:
4 slices Italian Five Grain Bread
1 7 oz. package Sabra Veggie Fusions Southwestern Guacamole, divided
1/2 cup corn kernels, thawed and drained
1/2 cup black beans, rinsed and drained
1/2 Lime, juiced
1/4 cup cilantro, minced
2 slices of cooked bacon, crumbled
1/2 cup queso fresco, crumbled and divided
Directions:
Toast the Italian Five Grain bread.
While bread is toasting, mix together in a small bowl the corn kernels, black beans, lime juice, and cilantro.
Spread the Sabra Veggie Fusions Southeestern Guacamole evenly among the four slices of bread. Then top with the black bean - corn mixture. Crumble bacon on top and queso fresco. Enjoy immediately.
Save
Save
Save
Save
Warning
: Use of undefined constant rand - assumed 'rand' (this will throw an Error in a future version of PHP) in
/home/kjasiewicz21/webapps/katiescucina/wp-content/themes/katiescucina/single.php
on line
74
Leave a Comment