Spicy Beef Sliders + Giveaway #recipesfromtheheart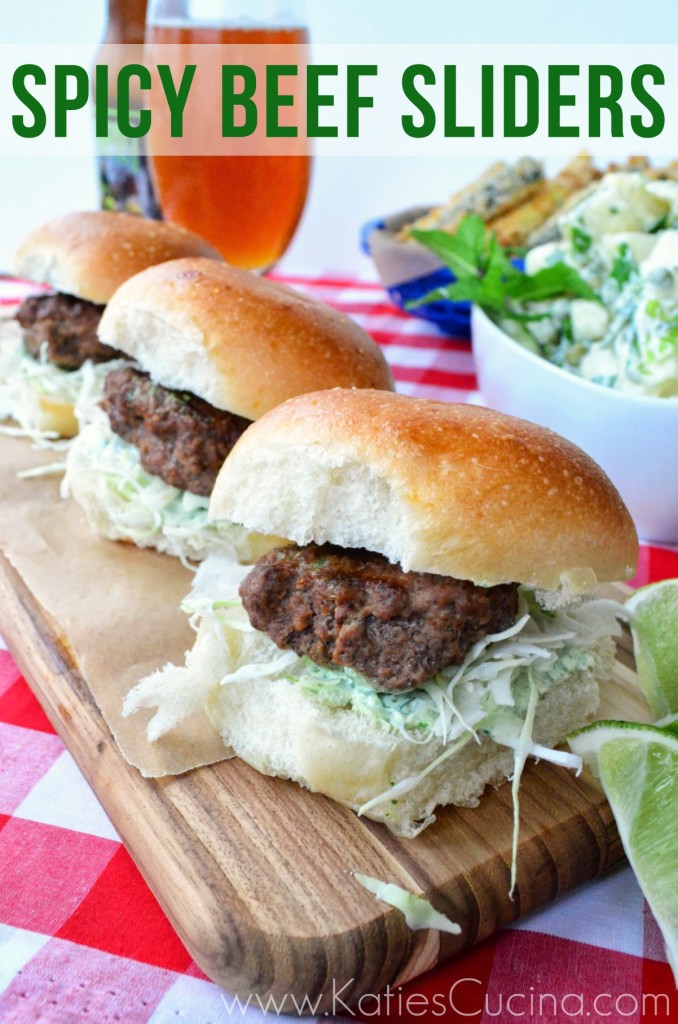 Today's event is being hosted by Kim of Cravings of a Lunatic and Jen of Juanita's Cocina. They teamed up with their blogger friends to help raise awareness and support for Cancer and Hospice today in memory of Kim's dad. We encourage everyone to read the posts and share their own experiences with cancer. We also would like to encourage everyone to donate to the Canadian Cancer Society, the American Cancer Society and also to the Canadian Hospice Palliative Care Association. Hospice was a key element during Kim's father's battle with cancer. They made it possible for Kim to care for him at home. So please show your support and donate if you can. You can also contact your local Hospice and donate directly to them if you wish. A little goes a long way!
In honor of todays event which also coincidentally falls on father's day I decided to share what everyone dad loves best… Spicy Beef Sliders!  The majority of the heat can be found not only in the beef patty but also in the spicy sauce that is made to go on the slider. This is a nice twist to the everyday slider.
These spicy beef sliders are also a spicy way to kick cancers butt! I've had a few family members whom I've lost to this horrible disease; my grandmother and my uncle to name a few. In this day in age, we should have a cure for cancer already–yet we still don't!  Today's post is truly dedicated to all those we've lost to cancer.
Adapted from Rachael Ray, June 2013
Ingredients
For the sliders:

1 lb. organic lean ground beef
1 tbsp. chili powder
2 tsp garlic powder
1/2 tsp ground cumin
1/4 tsp ground cayenne pepper
1/2 tsp salt
10 mini rolls

For the Sauce & Slaw:

1/2 cup mayonnaise
1-1/2 cups cilantro leaves
1 jalapeno, seeded
1 tbsp lemon juice
1 cup shredded cabbage
Directions
For the sliders: In a large bowl, mix the beef, chili powder, garlic powder, ground cumin, cayenne pepper, and salt. Form 10 patties and grill for 5 minutes, turning halfway in between.
For the Sauce & Slaw: In a large food processor add the mayonnaise, cilantro leaves, jalapeno and lemon juice. Puree for 30 seconds until cilantro leaves and jalapeno are mere specs! Toss 3/4 of the sauce with the shredded cabbage and reserve the rest for dipping.
Toast mini rolls, and top with a generous helping of shredded cabbage, followed by beef patty, and topped with more sauce if desired place the bun on top and enjoy!
https://www.katiescucina.com/spicy-beef-sliders-recipesfromtheheart/
This recipe is brought to you by Katie Jasiewicz of Katies Cucina
Enter for your chance to Win an Artisan® Series KitchenAid®  Stand Mixer in the color of your choice (there are 26 to choose from) as well as an Ice Cream Maker Attachment. A sweet choice for all,  this creative attachment features the largest ice cream bowl capacity in the industry. Prepare 2 quarts of ice cream, sorbet, gelato or other frozen desserts. We're pleased to announce the giveaway is open to Canadian residents, as well as U.S. Residents. Winner will be chosen and announced during the pinchatlive event, described below. Winner will also be notified via email and has 48 hours to respond. If winner does not respond another winner will be chosen. 1 Stand Mixer and 1 Ice Cream Attachment are being given away as a group, not 1 per blog just to be clear for our readers. 
There are bonus prizes for the PinChatLive event. We are giving away 1 Vanilla Infused Gift Box Set, 1 Lemon Infused Gift Box Set and a $30 Amazon Gift Card.  In order to participate in this event follow the Pinterest Board #recipesfromtheheart. Hop on the Pinterest board on June 22 at 2 pm Est to follow along. We'll ask questions and those who comment are entered to win the bonus prizes. There will be a G+ Hangout on Air during the event as well. Winners of the PinChatLive event must be Canadian or U.S. residents.
Visit Facebook.com/KitchenAidCanada and click on the "More than a Mixer" tab to explore all 12 attachments available for the KitchenAid® Stand Mixer.
Here is a list of other recipes from today's event. I encourage you to check out all the amazing recipes in an effort to help support such an amazing cause and help kick cancer's butt!
Disclaimer: I did not receive anything to participate in this group event. I love KitchenAid and love sharing with my readers their great products! As always all opinions are my own! 
Warning
: Use of undefined constant rand - assumed 'rand' (this will throw an Error in a future version of PHP) in
/home/kjasiewicz21/webapps/katiescucina/wp-content/themes/katiescucina/single.php
on line
74
43 Responses to "Spicy Beef Sliders + Giveaway #recipesfromtheheart"
Trackbacks/Pingbacks

Leave a Comment