Thank you Litehouse® Foods for sponsoring today's recipe. I am a Living Litehouse® Brand Ambassador and will be sharing recipes throughout the year on behalf of Litehouse® .
Spice up your next dinner with my easy recipe for semi-homemade Spicy Jalapeno Skillet Refried Beans.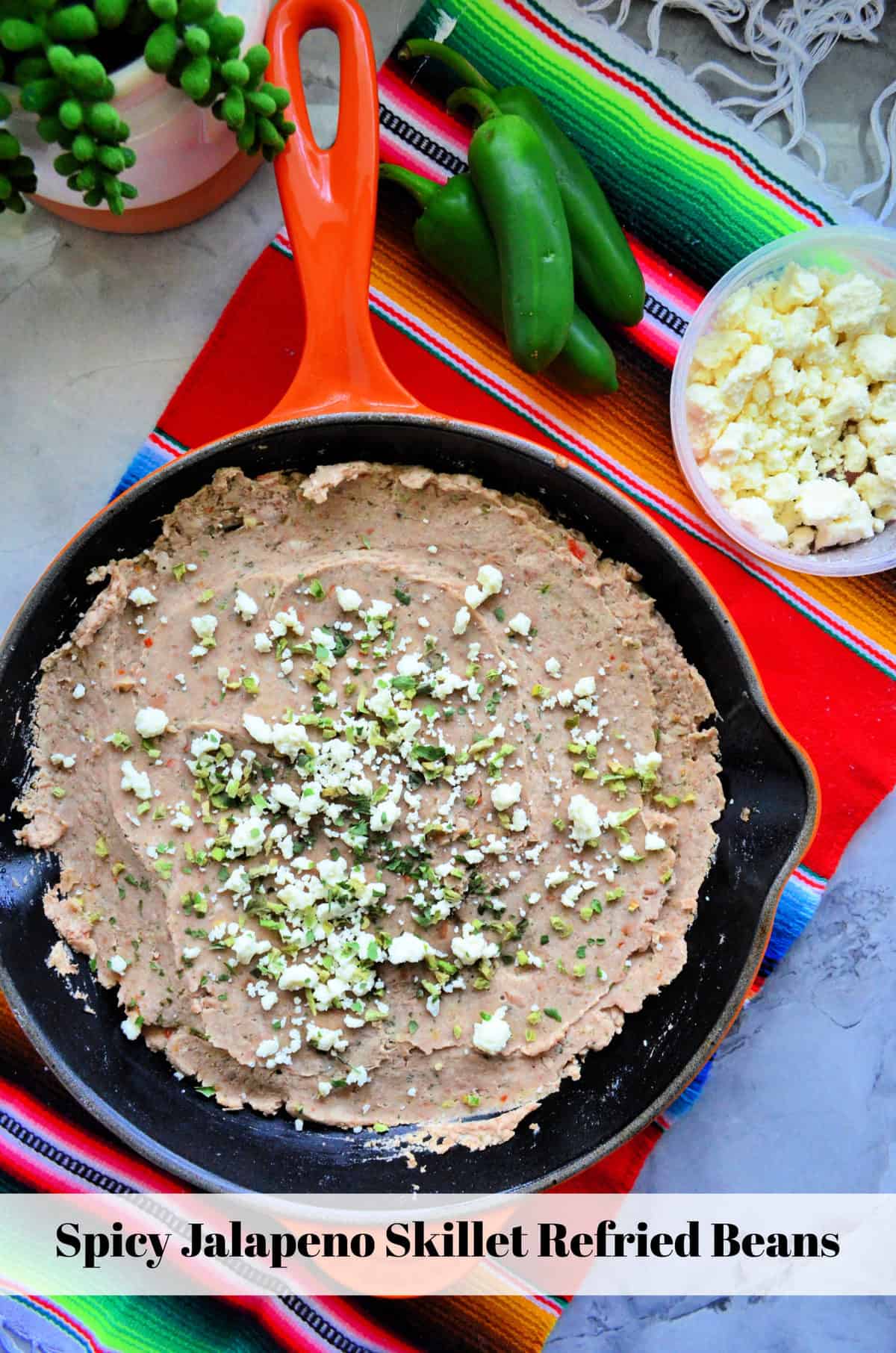 Mexican food is always a family favorite in my home, and a cuisine that I embrace each week while meal planning. To say we love to eat Mexican food in my home is an understatement. My five-year old knows of "Taco Tuesday" and ask each week what day it is–to get my "Taco Tuesday" response!
I'm always trying to rotate out our main protein. One week Grilled Chopped Chicken Tacos, the next week steak and shrimp fajitas, the following enchiladas. Something that doesn't normally change though, is our side dish. It's always rice and beans. I do try to alternate from pinto beans, to these Spicy Jalapeno Skillet Refried Beans, and even black beans. Every now and then I mix it up and add in a little Grilled Mexican Street Corn too if I'm getting crazy. Of course, we always have guacamole and salsa too!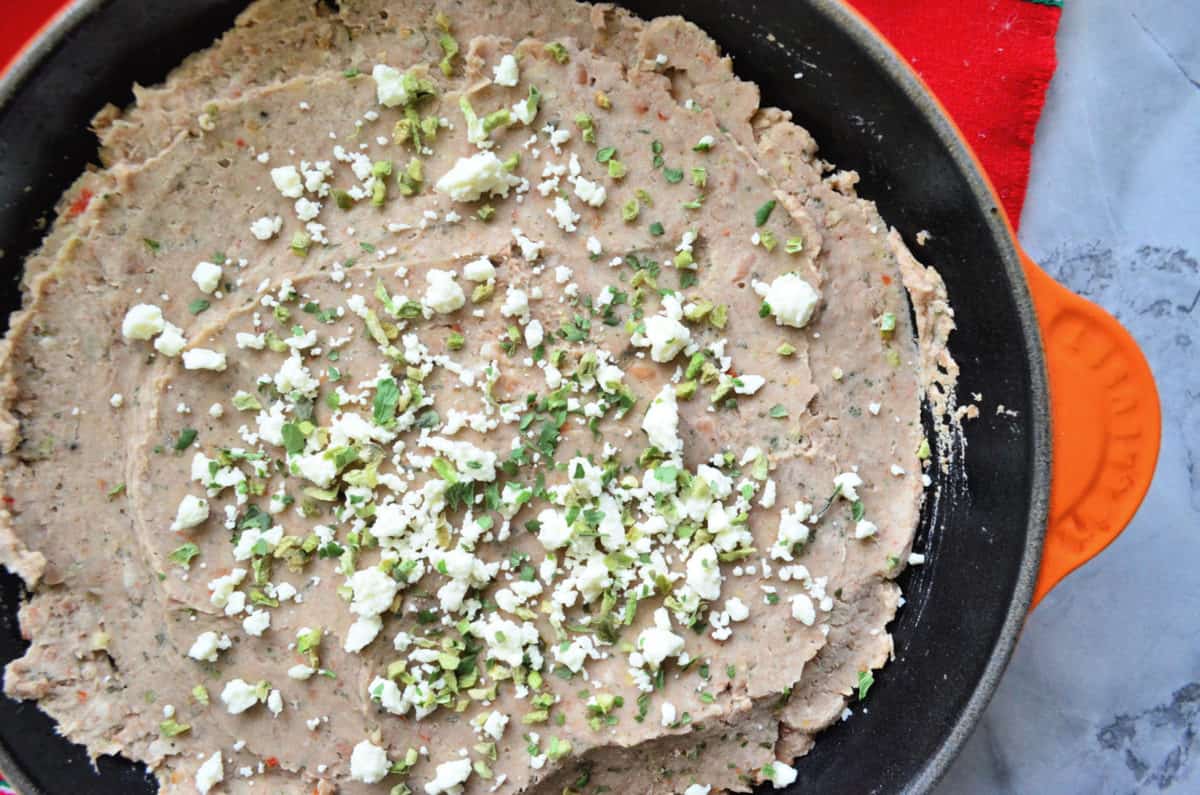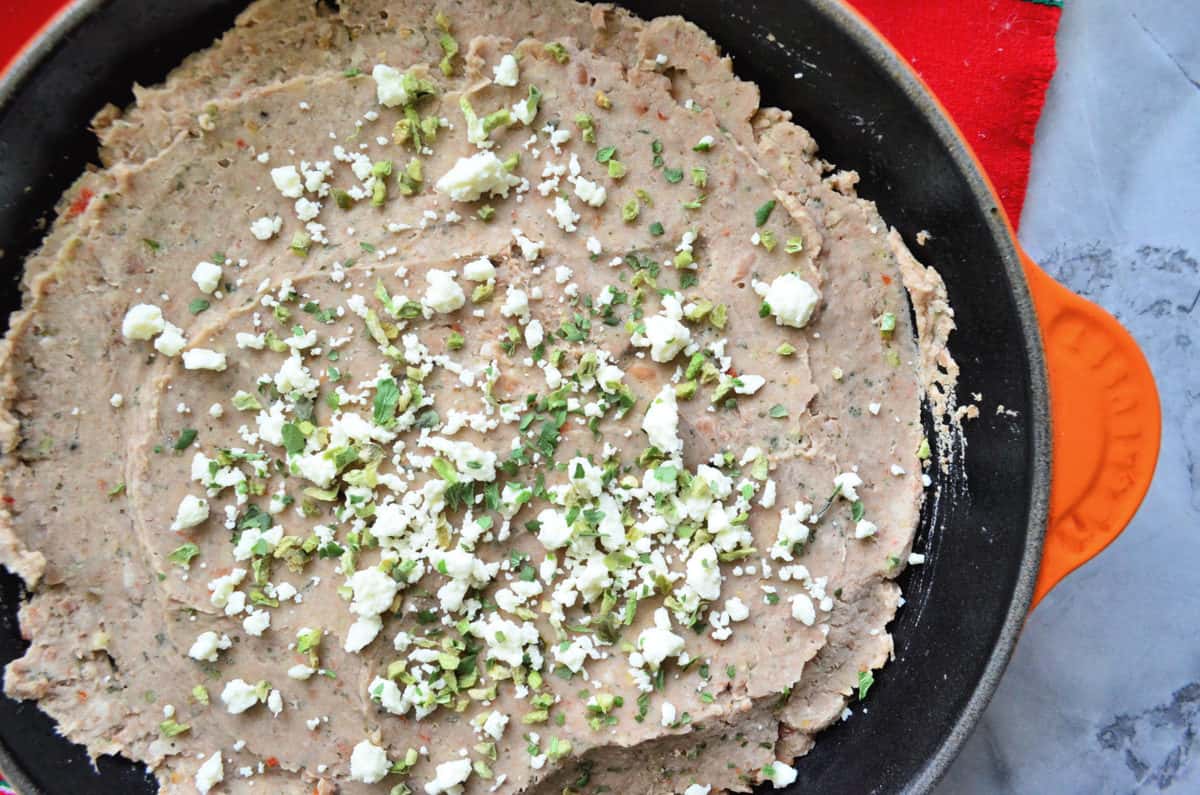 How do you make refried beans?
There are two ways you can make refried beans. The first way would be using fresh dried beans that would take you hours to prepare. I.e., the soaking, the boiling, etc. Or you can drain and rinse canned beans and you'll have refried beans made in minutes. I've tested both methods and found no difference. So I use the quicker method of opening a can, draining, and rinsing.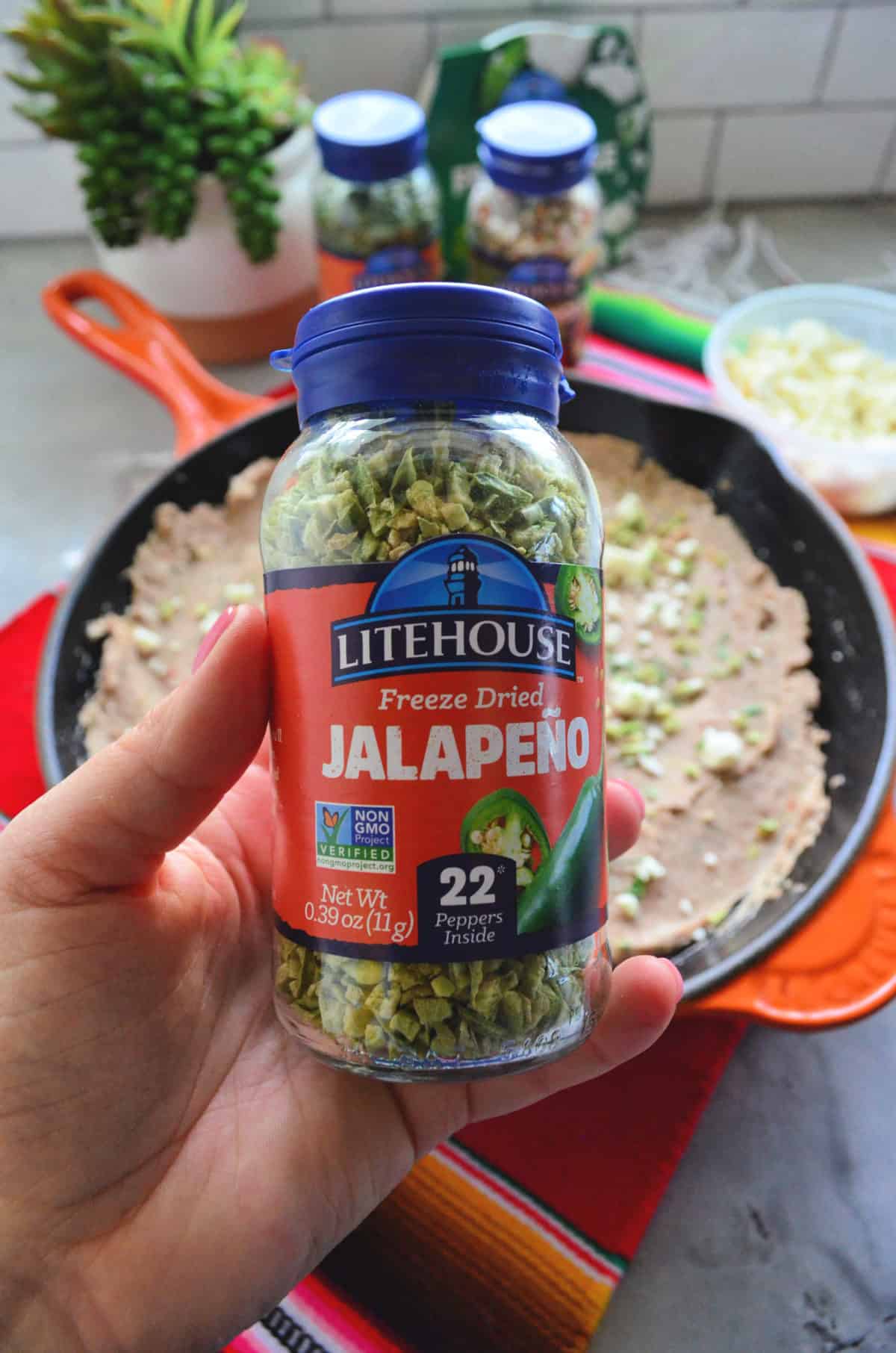 The first step you need to do is soak some of the Litehouse® Freeze Dried Jalapeños in water. This helps amplify the heat and really infuses the refried beans with the jalapeno flavor. Then, drain and rinse the refried beans and puree in a food processor. That's when you will add the spicy jalapeno water to the food processor!
Once the beans are pureed it's time to heat up the cast iron skillet. Place the oil in the skillet and add the additional Freeze Dried Jalapenos to the skillet followed by the pureed beans. Mix in the Guacamole Herb Blend and salt. You'll want to stir a few times. Make sure you only cook for 5 minutes. You want velvety smooth refried beans. If you over cook them they will turn into a thick paste and no one will want to eat them. Trust me! If you start to find your beans are getting too thick you can add in a little bit of water. I like to add 1-2 tablespoons at a time.
Before you serve the beans you'll want to top with a few tablespoons of Litehouse® Simply Artisan Feta Cheese Crumbles. I like to use a spoon and get the smaller crumbles verse the bigger crumbles. But you can do whatever you desire as far as the size of the crumble. It's tart and salty flavor compliments the spicy beans. I always have feta on hand in my refrigerator, and makes for a great substitute for cojita cheese. They are very similar in taste and texture.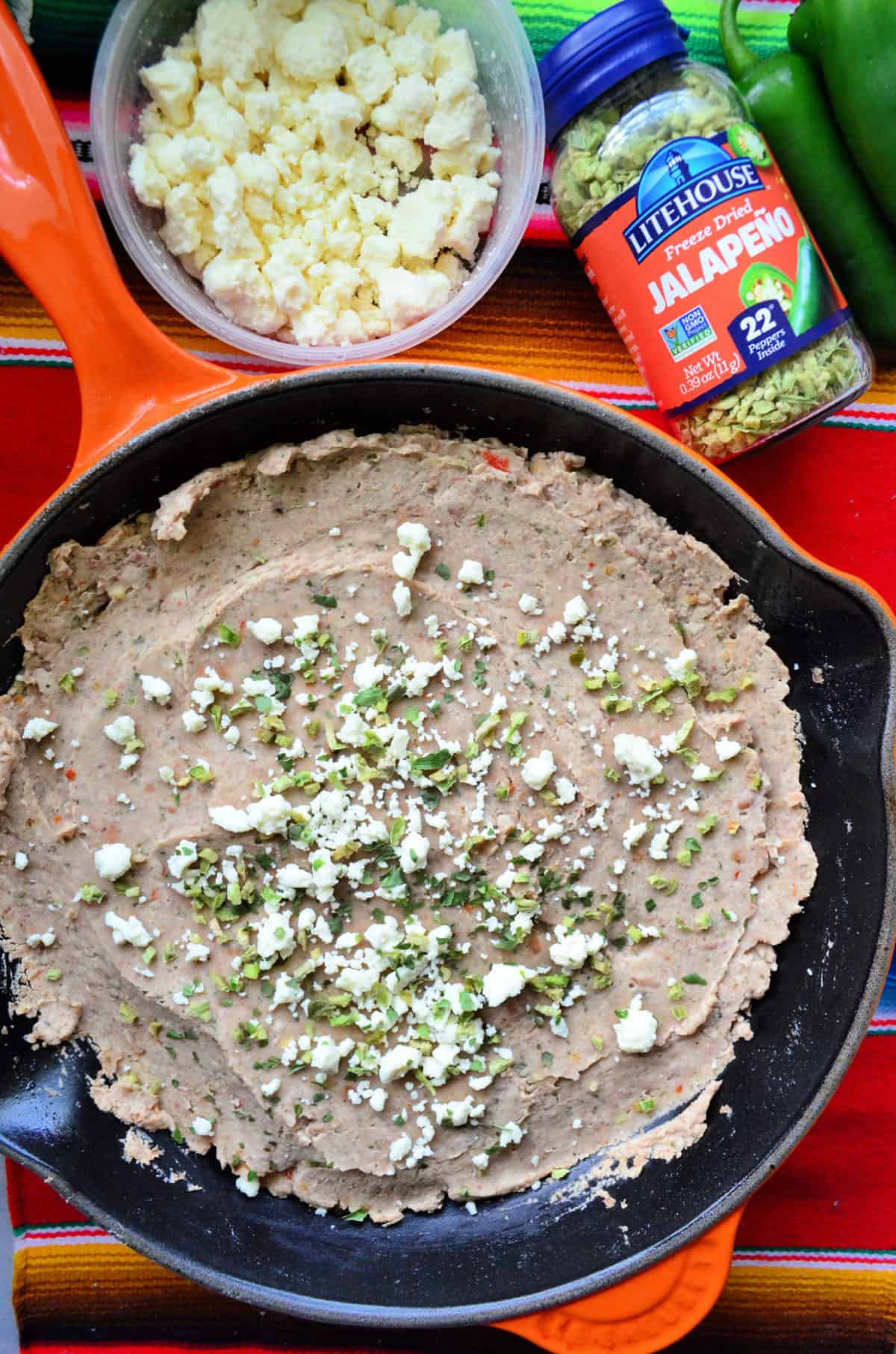 Must try Mexican Recipes!
Here are a few of my favorite Mexican recipes that you must try and compliment this recipe oh-so well!
This recipe is what I call a pantry side dish (minus the Litehouse® Simply Artisan Feta Cheese Crumbles.). As long as you have canned pinto beans in the pantry and Litehouse® Freeze Dried herbs you can make this simple side dish in under 15 minutes.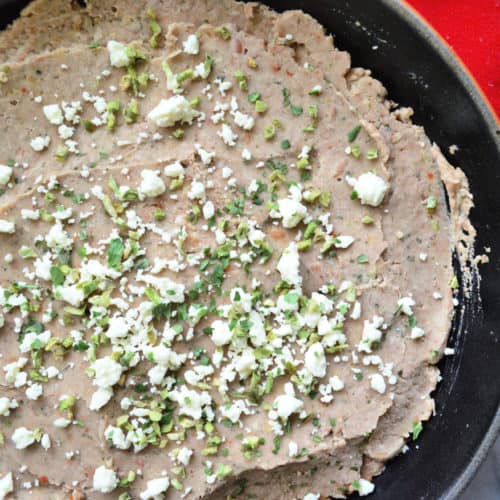 Spicy Jalapeno Skillet Refried Beans
Spice up your next dinner with my easy recipe for semi-homemade Spicy Jalapeno Skillet Refried Beans.
Print
Pin
Rate