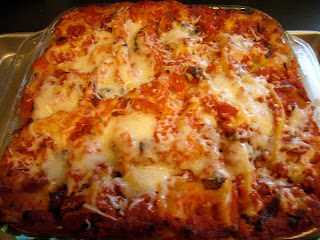 I learned how to make this lasagne in my 7th grade home-economics class. From the first time I made it I fell in love, and to this day stay faithful to this recipe. I lost the recipe card a long time ago, but have made it so many times it's one of those recipes ingrained in my memory! This recipe never fails me for dinner parties or for friends that just had a baby. It's easy to make and best of all you can freeze it and heat it at a later date if needed! I make this recipe in a square 8 x 8 glass dish, and what makes this recipe even nicer is using the oven ready noodles that Barilla makes!
Prep: 20 minutes
Cook: 60 minutes
Serves: 9
INGREDIENTS:
1 (15oz) container ricotta cheese
1 package of frozen chopped spinach (thawed and completely drained)
½ onion, minced
2 tablespoon minced garlic
2 tablespoon Italian Seasoning
4 cups shredded mozzarella cheese
1 cup parmesan cheese
1 recipe for marinara sauce

DIRECTIONS:
Preheat oven to 375. Microwave spinach until thawed. Drain spinach as best as you can. once you think you have most of the liquid out take a thick stack of paper towels and ring out the spinach. You won't think there is any more liquids left but spinach holds tons of liquid! You want this spinach to be super, super dry!

In a large bowl, combine a beaten egg, ricotta cheese, 2 cups of mozzarella, ½ cup of Parmesan cheese, minced onion, minced garlic, dry spinach, and Italian seasoning. Mix together well until all the ingredients are well incorporated.

In a 8x8x2 pan spread ½ cup of sauce on the bottom of the pan.

Layer in the order of 2 uncooked lasagne noodles, ⅓ part of the ricotta mixture, ½ cup of mozzarella cheese, ½ cup sauce. (repeat two more times). Top the last noodle with the remainder of the sauce followed by mozzarella and parmesan cheese.

Bake covered with foil for 60 minutes. Take the foil off and place back in the oven for an additional 5 minutes so that the cheese will not only melt but brown.

Let the lasagne sit for a few minutes before serving.