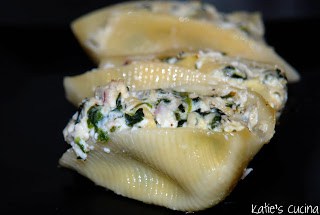 We love to eat pasta in our house–all types if you haven't noticed by now. My husband loves stuffed shells; however, I'm not a fan of how time consuming they can be. I've been in a cleaning and purging mood lately, and started to do inventory of my pantry. That's when I noticed that I had a half box of shells that were taking up a decent amount of space, so I decided I would try a new version of stuffed shells. Throwing together a little this and that in the kitchen one evening; concocted an amazingly unique shell! I hope you enjoy this recipe as much as we did.
Cook:
45 minutes
Serves:
4
INGREDIENTS:
12 shells, cooked and cooled

1 cup ricotta

1/2 cup shredded mozzarella

1/4 cup red onion, minced

1/2 cup shredded parmesan cheese plus more for topping

1 package of frozen spinach, thawed and drained very well

1/2 cup artichoke hearts, drained and cut into large chunks

1 tbsp Italian Seasoning

1/4 tsp salt & pepper

1/4 tsp garlic powder

1/8 tsp red pepper flakes

2 cloves garlic

3 tbsp olive oil

2 tbsp butter

1/2 tsp lemon juice

1 tbsp cornstarch

1/2 cup white wine

1/2 cup broth *chicken or veg is fine

parsley, for garnishing


DIRECTIONS:
1. Cook shells according to package; cool completely.
2. While shells are cooling; in a separate bowl add ricotta, mozzarella, parmesan, spinach, artichoke hearts, red onion, Italian seasoning, salt, peper, garlic powder, and red pepper flakes to a bowl. Mix well until well incorporated.
3. Pre-heat oven to 350 degree's. While oven is preheating in a small sauce pan on medium heat add olive oil, garlic, and butter. Saute until garlic is fragrant and golden. Add wine, and reduce by half, then add chicken broth. Cook for a few minutes. Add lemon juice and slowly whisk in cornstarch. Whisk until sauce has thickened slightly.


4. Next, you will want to start stuffing your shells. Before you place your shells in your baking dish, add a little bit of the butter sauce to the pan; swirl around and make sure the pan is well oiled before placing shells in. Once the pan is covered start arranging your shells. Spoon a half of the sauce over the shells, cover with tin foil, and bake for 30 minutes. Remove the tin foil after the 30 minutes of cooking, top with a little parmesan cheese and cook an additional 15 minutes or until golden brown. Plate stuffed shells and pour a little more of the butter sauce on top. Enjoy!


Serving Suggestions: salad & bread