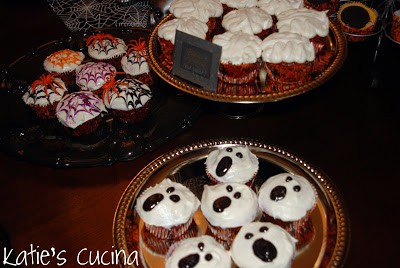 W
ell, this would be the second time I've posted about red velvet cupcakes. The first time I posted it I warned that it wasn't the best recipe, but I felt the need to still post it. Everyone beyond loved this recipe… except, my husband! I think he think's he is the world food critic for red velvet cupcakes!
I figured this recipe would be THE recipe since it came from the fabulous Annie Eats, and in my mind and the mind of all my party-goers it is (excluding my husband who still thinks I should search for THE recipe)!
2½ cups cake flour

1½ cups sugar

1 teaspoon baking soda

1 tablespoon cocoa powder

1 teaspoon salt

2 large eggs

1½ cups vegetable oil

1 cup buttermilk

2 tablespoon (1 oz.) liquid red food coloring

1 teaspoon vanilla extract

1 teaspoon distilled white vinegar
8 oz. cream cheese

5 tablespoon unsalted butter, at room temperature

2 teaspoon vanilla extract

1 cups confectioners' sugar, sifted*
1.
Preheat the oven to 350° F. Line cupcake pans with paper liners. In a medium bowl, combine the cake flour, sugar, baking soda, cocoa powder and salt; whisk to blend. In the bowl of an electric mixer, combine the eggs, vegetable oil, buttermilk, food coloring, vanilla and vinegar. Beat on medium speed until well blended. Mix in the dry ingredients on low speed and beat until smooth, about 2 minutes.
2. Divide the batter evenly between the prepared liners. Bake, rotating the pans halfway through baking, until a toothpick inserted in the center comes out clean, about 18 minutes. Let cool in the pans 5-10 minutes, then transfer to a wire rack to cool completely.
3. To make the frosting, combine the cream cheese and butter in the bowl of an electric mixer. Beat on medium-high speed until well combined and smooth, about 2-3 minutes. Mix in the vanilla extract. Gradually beat in the confectioners' sugar *(Annie calls for 2-½ cups of sugar. I only put in 1 cup and it tasted awesome) until totally incorporated, increase the speed and then beat until smooth. Frost cooled cupcakes as desired.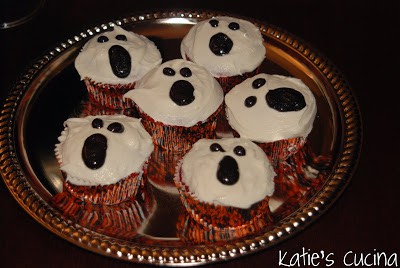 To make the ghost or "scream" cupcakes all you will need is Black Wilton Decorating Gel. Simply squeeze 2 dots for the eyes and then make an oval! It's that easy!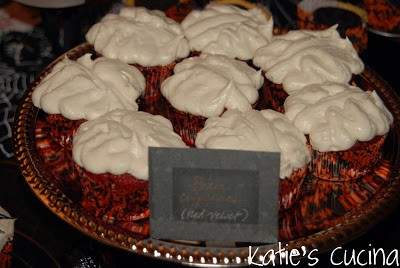 To make the "brain" cupcakes. Pipe to straight lines down the middle of the cupcake, then pipe a squiggly line on each side! That's it!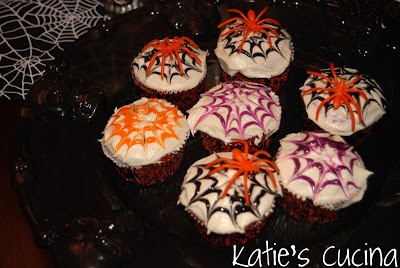 To make the spider web cupcakes; make one small circle in the middle and then a larger circle. Take a toothpick in the center of the cupcake and drag it to the end. You'll notice that you will start to see a spider web!!! If you have any spare spider rings put them on top! It's an extra treat at the end of a great cupcake!