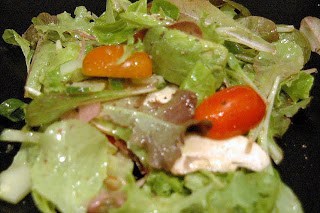 The main star of this dish was grown directly in my own back yard along with the beautiful cherry tomatoes! This vinaigrette is light and tasty and doesn't make you feel guilty about eating a salad. This vinaigrette makes at least 6 servings, so you'll have enough for this salad and a few more thereafter.
Prep: 10 minutes
Serves: 2
Ingredients:
1 cup lettuce

3 cherry tomatoes, halved

4 quartered pieces of artichoke hearts

4 slices of cucumber, diced

1 whole mushroom, thinly sliced

½ cup of extra virgin olive oil
2 tsp dijon mustard
2-½ tbsp red wine vinegar
salt and pepper to taste
fresh ground pepper for salad.
Directions:
1. Wash lettuce and vegetables thoroughly. Dry lettuce and vegetables, slice desired vegetables, and place in a large bowl.
2. In a salad dressing container or bowl add EVOO, dijon mustard, red wine vinegar, and salt and pepper to taste. Mix thoroughly and pour half the amount into the bowl (or until the salad is covered to your desired liking).
3. Toss salad, plate, and serve with freshly ground pepper.