You don't need to visit a fancy steakhouse to eat like a king or queen at home. Learn how to make the most delectable Steakhouse Onions and Mushrooms in Red Wine Sauce in the comforts of your own home!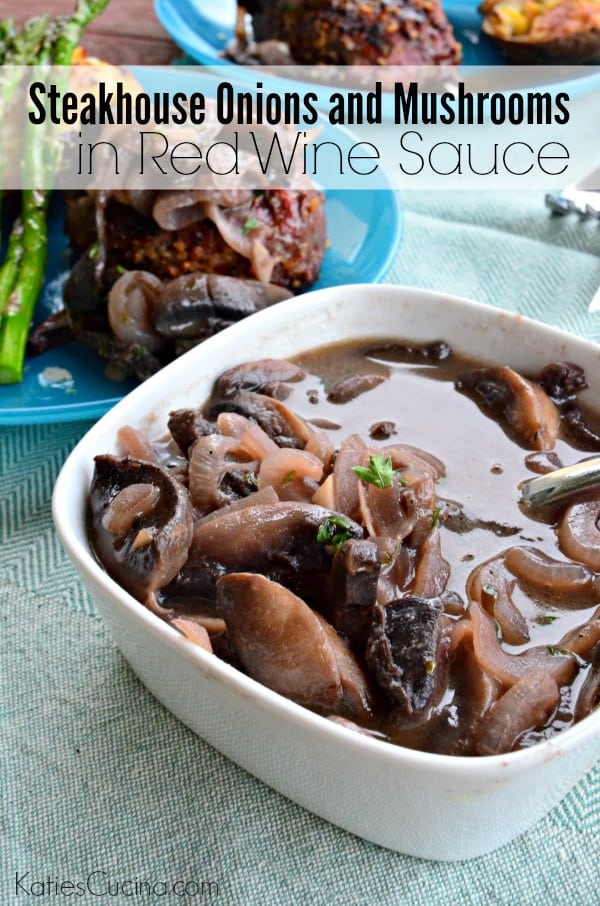 Have you ever dined at a swanky steakhouse and they offer a variety of sauces to pair with your plump and juicy steak? I always get adventurous and try one of the sauces. I love to have sautéed onions with my steak and my husband loves to have mushrooms with his. I'm sharing how you can bring the steakhouse into the comforts of your own home.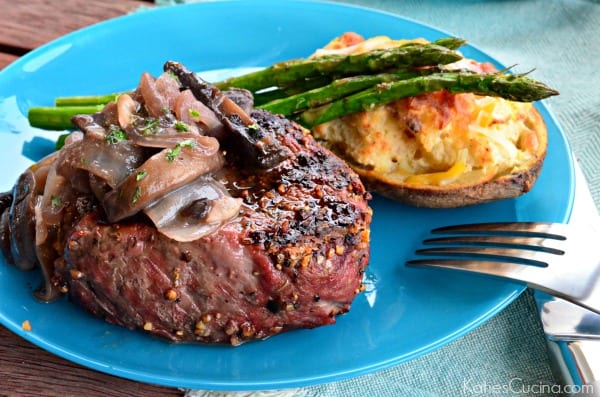 Since giving birth to my first born, Ryder I've craved steak all the time! All my life I've been a flexatarian, and now since having a cute baby boy I've turned into a carnivore.
They say your body craves what it needs… beef has Zinc, Iron and Protein –nutrients that are essential to a healthy, balanced diet. Did you know that there are 29 cuts of beef that are lean (less than 10g total fat, 4.5g saturated fat and 95mg cholesterol per 3.5-ounce serving). The best way to find a lean cut, look for 'round' or 'loin' in the name (i.e. strip loin, tenderloin, round roast).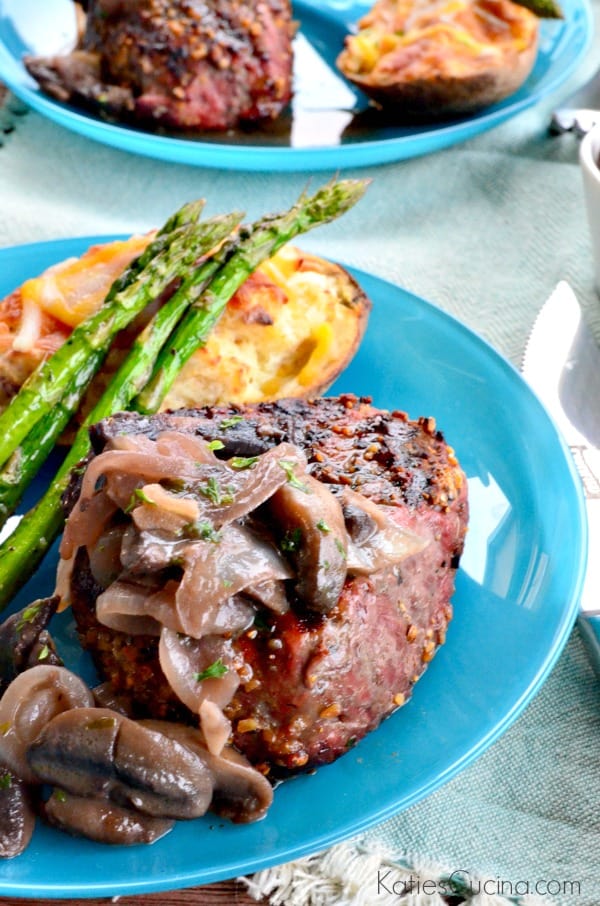 After receiving a box of 8 steaks from Certified Angus Beef® brand I decided to treat my husband to a delicious steak dinner on a Monday night. I can't think of a better way to make Monday better than with steak! I paired our Filet of Sirloin steaks with loaded twice baked potatoes. These twice baked potatoes freeze easily and are the perfect side dish to pair with any steak dinner. Just defrost and bake to warm and crisp! I also threw some asparagus on the grill half way through the steaks cooking. While our meal was cooking I sautéed the onions and mushrooms and then added in the ingredients for the red wine sauce.
How to cook steaks on the grill?

Do you know how to cook steak on the grill? I use to be intimidated until I learned. Now, I have no fear of grilling steaks. Keep these tips in mind when grilling steaks and you will be a pro in no time!
Place your steaks on the counter 10-15 minutes before your going to cook them. You want to take the chill off them so they can cook more evenly.
Make sure your grill is super hot. Searing each side of the steak for 1-2 minutes to lock in the juices. Then lower the flame to medium-low heat.
Try to limit the number of times you flip your steaks.
Always cover your grill while cooking. Keeping the grill cover closed will help food cook more quickly.
Always use an instant-read thermometer to ensure the steak is done to your likeness.

Rare – 140 degree Fahrenheit
Medium Rare – 145 degree Fahrenheit
Medium – 160 degree Fahrenheit
Well Done – 170 degree Fahrenheit

Let steaks sit for a few minutes before serving to keep the juices inside the meat.
Stay food safe by washing everything that comes in contact with raw meat.
Do you love steak? What is your favorite cut and how do you typically prepare it? I'd love to read about it in the comments below!
Red Wine Sauce Adapted from Certified Angus Beef® brand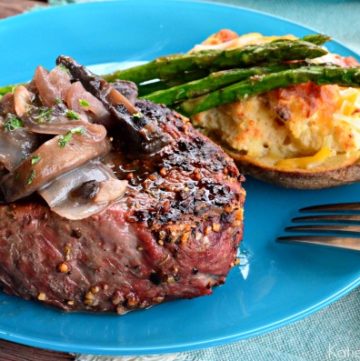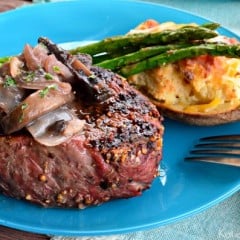 Steakhouse Onions and Mushrooms in Red Wine Sauce
Learn how to make the most delectable Steakhouse Onions & Mushrooms in Red Wine Sauce in the comforts of your own home!
Print
Pin
Rate
Ingredients
3

tbsp

unsalted butter

divided

1

Vidalia onion

2

Garlic cloves

minced

8

oz.

Sliced white mushrooms

1/2

cup

red wine

2

tsp

Dijon mustard

2

tbsp

chopped parsley

Salt and pepper to taste
Instructions
In a sauté pan, heat one tablespoon of butter. Melt on medium-high heat and then cook onion, garlic, and mushrooms until soft about 5 minutes. Remove all but a spoonful of onion/mushroom mixture and place into a bowl.

In the same sauté pan whisk in wine and dijon mustard. Reduce by half (about 5 minutes) over medium heat. Slowly whisk in butter. Remove from heat and place the onion/mushroom mixture back in the pan add parsley and season with salt and pepper to taste. Serve on top of your favorite steak.
Nutrition
Calories:
144
kcal
|
Carbohydrates:
10
g
|
Protein:
3
g
|
Fat:
9
g
|
Saturated Fat:
5
g
|
Cholesterol:
23
mg
|
Sodium:
42
mg
|
Potassium:
328
mg
|
Fiber:
1
g
|
Sugar:
6
g
|
Vitamin A:
431
IU
|
Vitamin C:
8
mg
|
Calcium:
25
mg
|
Iron:
1
mg