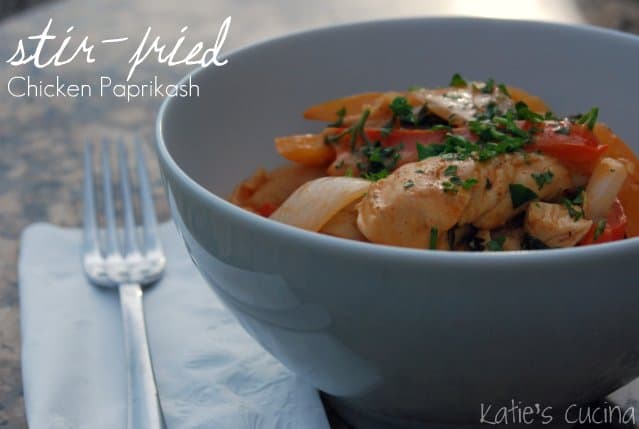 I had never heard of "paprikash" until I tried it out at a restaurant a few years back. I immediately fell in love with the sweet and creamy dish. I love to stir-fry. Simply because it typically means its going to be a quick and easy meal. When I spotted this recipe I knew I needed to give it a try. We absolutely LOVE all the ingredients in the recipe, so I was sure it would be a winner.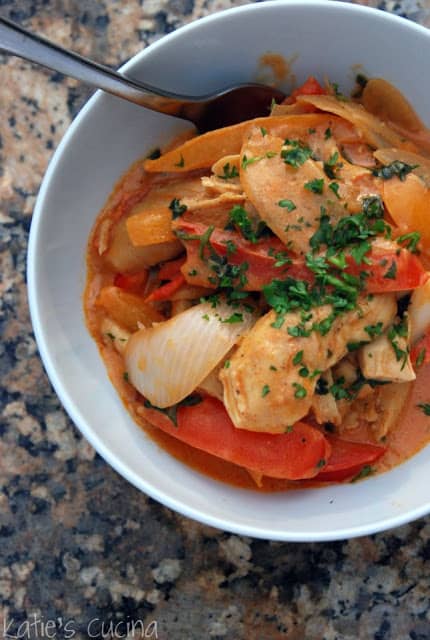 Sure enough it was an instant hit! Luckily, there was more than enough for lunch the next day, and to be honest I think it tasted even better the next day. The flavors were able to marinate the meat and vegetables. Typically a paprikash is slow cooked for hours. In this case it's cooked quickly giving the met and vegetables little time to marinate.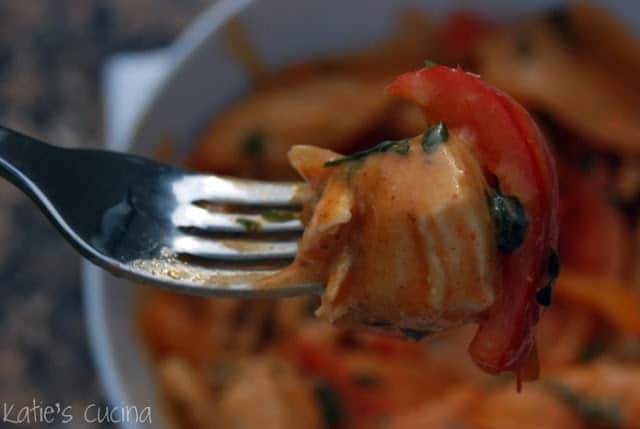 Adapted from: Rachael Ray, February 2011


Ingredients
1 lb boneless skinless chicken breast, cut into bite size pieces
2 tablespoon dry sherry
1 tablespoon garlic finely chopped
2-½ teaspoon cornstarch
2 tablespoon plus 2 teaspoon vegetable oil
¾ cup chicken broth
1 onion thinly sliced
1 red bell pepper julianne sliced
1 tablespoon sweet paprika
⅓ cup sour cream
3 tablespoon flat-leaf parsley chopped
salt and pepper
Instructions
In a medium bowl, combine the chicken, 1 tablespoon sherry, the garlic, 2 teaspoons cornstarch, ½ teaspoon salt and ¼ teaspoon pepper. Stir in 2 teaspoons oil.

In a small bowl, combine the chicken broth and the remaining 1 tablespoon sherry. Stir in the remaining ½ teaspoon cornstarch until dissolved.

Heat a 14-inch, flat-bottomed wok over high heat until a bead of water vaporizes upon contact. Swirl in 1 tablespoon oil. Add the chicken mixture, spread in a single layer and cook undisturbed for 1 minute. Using a metal spatula, stir-fry until the chicken begins to brown, about 1 minute; transfer to a plate.

Lower the heat to medium and swirl in the remaining 1 tablespoon oil. Add the onion and bell pepper; season with salt and stir-fry until softened, about 1 minute. Add the paprika, return the chicken and any juices to the wok, increase the heat to high and stir-fry until just combined. Swirl in the broth mixture and stir-fry until the chicken is just cooked through, 1 to 2 minutes. Stir in the sour cream and parsley.