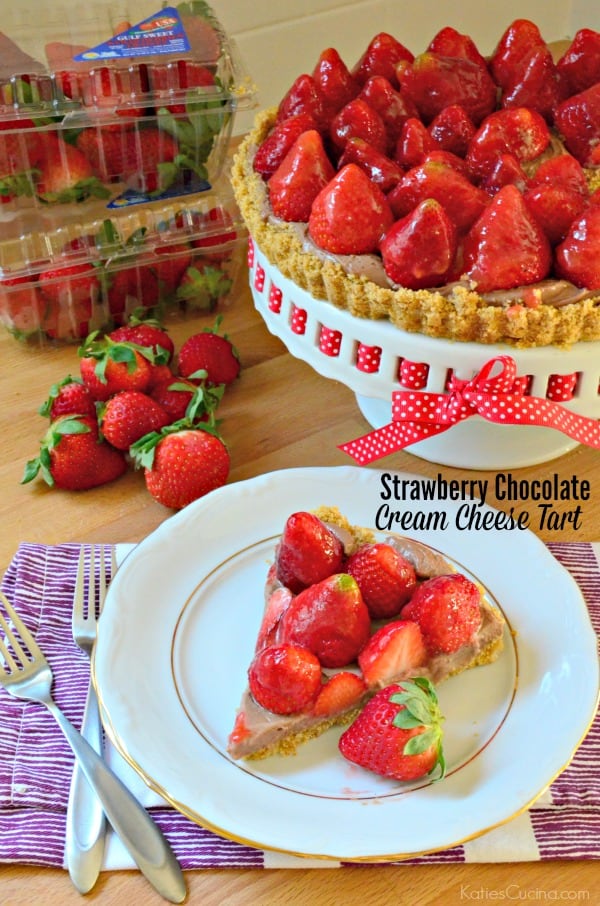 Get ready for a decadent and-oh-so fancy strawberry chocolate cream cheese tart. I love chocolate covered strawberries but wanted to do a spin on them. So I made another fancy tart. I know most of you are digging yourself out of piles of snow and are hating winter, but I on the other hand am not digging myself out of insane amounts of snow and love winter. You see, in Florida our winter months mean one thing (well besides sunshine and cooler temps) strawberry season!
Fresh From Florida produce available at local stores and restaurants. This month if you live in or are visiting Florida you'll find Florida Strawberries on the menu. You can also visit many U-pick farms to pick them right off the vine! I always know I'm getting a product grown in Florida when I see the Fresh From Florida logo when I'm shopping for produce or dining at local restaurants.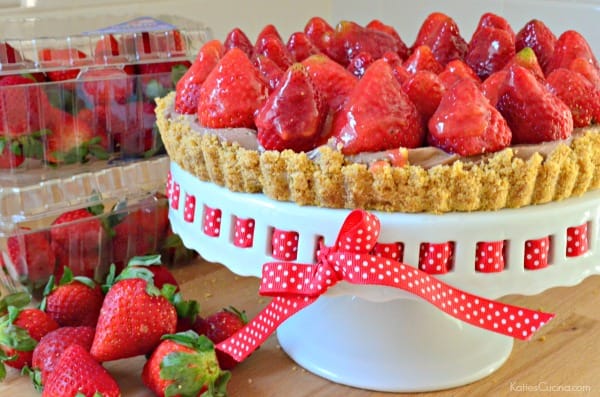 So since it's strawberry season here in Florida this decadent Strawberry Chocolate Cream Cheese Tart could not come at a better time. The filling is a chocolate cream cheese based filling and then on top is not one but two pints of strawberries. I felt like this was the ideal Valentine's dessert, so I made this for the local mom's group I attend each and every Thursday. It's really a "music" class for babies 0-18 months. I started going when Ryder was just 3 months old. He loves music and loves being singed too. Now music class is much different since he mostly crawls around during most songs and visits with other babies, and then I'm chasing right behind him to try and grab him so he can sit still, clap, and listen to the music being sung to him.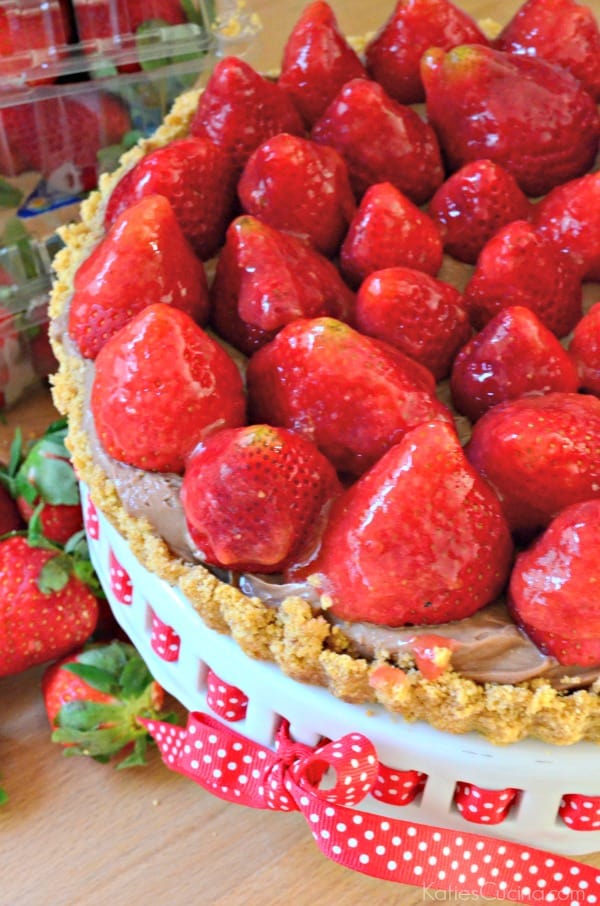 I made the crust and filled the tart the day before I was going to serve. Then the morning of the Valentine's day party for Circle Time (that's what it's called) I dressed up the tart. I arranged the strawberries, one-by-one and the brushed the glaze on. I will say that you must eat the tart immediately. I let it sit for a few hours and my strawberries started soaking up all that good gooey glaze and letting off some natural juices, so my tart was a little on the watery side. But since I decided to enjoy a piece before our Mommy and Me Valentine's day party I know it's A+ if consumed right away. So if your going to make this for a special occasion or heck just because… wait to put the strawberries and glaze on until the end. Trust me–you can thank me later. Even though by the time my friends got to try the tart it was on the softer side it still tasted delicious!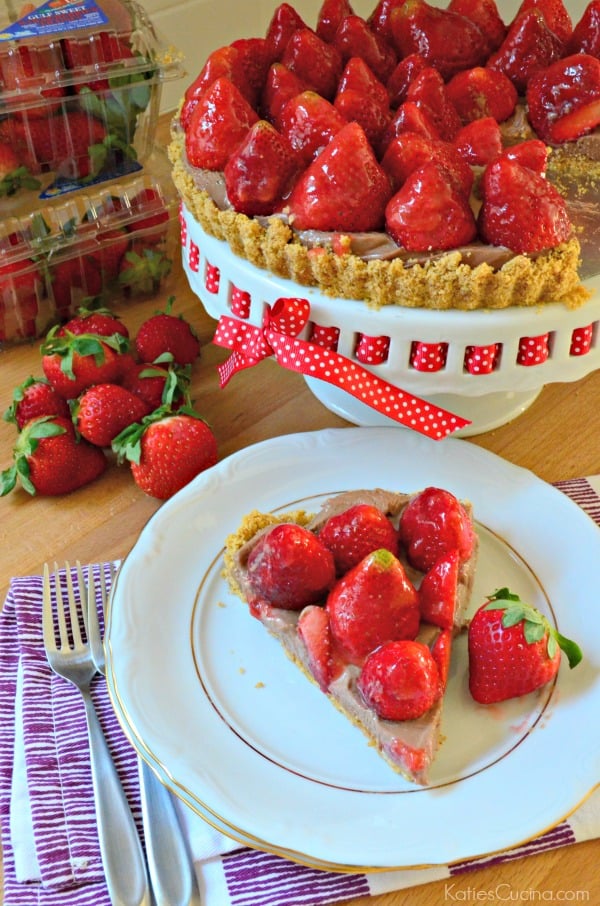 Remember to visit Fresh From Florida for more great recipe ideas.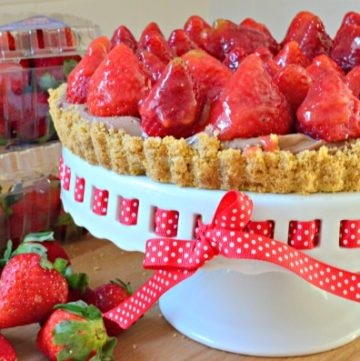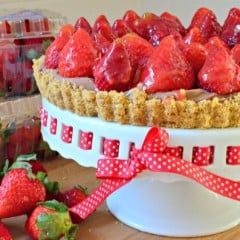 Strawberry Chocolate Cream Cheese Tart
Get ready for a decadent and-oh-so fancy strawberry chocolate cream cheese tart.
Print
Pin
Rate
Ingredients
Crust:
1-½

cups

Graham Cracker Crumbs

3

tablespoons

granulated sugar

2

tablespoons

unsalted butter

melted

¼

cup

water
Filling:
2 - 8

oz.

packages ⅓ less fat cream cheese

softened

1

cup

granulated sugar

¼

cup

cocoa powder

1

teaspoon

vanilla extract

Topping:

1

pint

Fresh Florida Strawberries
Glaze:
1

cup

Fresh Florida Strawberries

1

tablespoon

cornstarch

1

tablespoon

fresh lime juice

¼

cup

water

¼

cup

granulated sugar
Instructions
Preheat the oven to 350 degrees Fahrenheit.

In a bowl combine the graham cracker crumbs, sugar, melted butter, and water. Mix until moist. Pat tight into tart shell. Bake for 10 minutes at 350 degrees Fahrenheit. Remove from the oven and let tart shell cool completely.

While the tart shell cools begin to whip together the filling. Using a stand mixer, beat together the softened ⅓ less fat cream cheese for 1 minute. Scrape the bowl, then mix in the granulated sugar, cocoa powder, and vanilla extract. Mix until incorporated scraping down the sides of the bowl. Pour into the tart shell and refrigerate for at least 1 hour until set.
To make the glaze:
Place 1 cup strawberries into a food processor and puree. Combine cornstarch, lime juice, and water. Whisk until smooth. Then add in the pureed strawberries and granulated sugar. Cook on medium-high heat for 5 minutes until thickened (mixing throughout the cooking time). Remove off the stove and let cool.

Before serving the tart, arrange the fresh strawberries on top. Then using a pastry brush lightly brush on the strawberry glaze. Slice and enjoy!