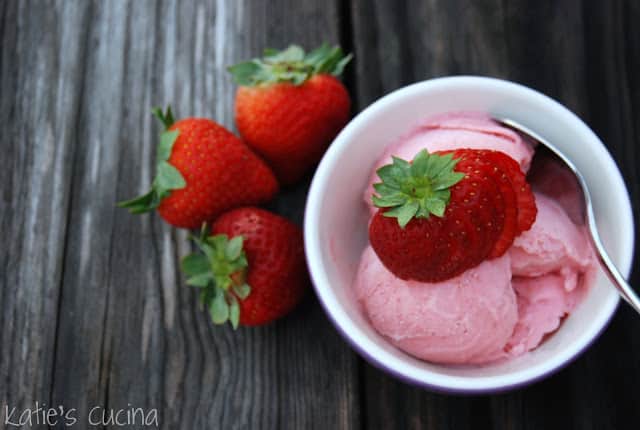 I live in Florida and in the summer months, it's hot. All I want to do is stay cool whether it be staying inside soaking up air conditioning or eating ice cream. I want to stay cool. It's my goal every summer. When I first received the Beat This! Cookbook from the Trade Division at Houghton Mifflin Harcourt I book marked quite a few recipes. One of the recipes I book marked just happened to be this Strawberry Gelato. I was intrigued by this recipe not only because it sounded delicious, but because it contained not one egg!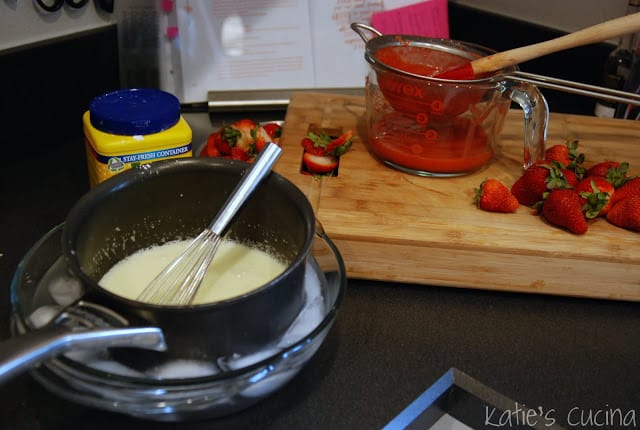 I also liked the fact that after you cooked the milk mixture you placed the pot into an ice bath, whisked it like a mad person until the cream mixture became thick and chilled. Of course then there is mulling the strawberries to remove the seeds… no fun, but totally worth all the effort. Who wants to eat a bowl full of tiny seeds? Not me! As you can tell from the picture above… this is what my kitchen looked like while working on this recipe. *This recipe calls for citric acid as an optional ingredient. I did not use this only because I could not find it any where in town. I would have had to order it and for the ⅛ tsp it just didn't make any sense. I took a chance and didn't use it and everything worked out just fine!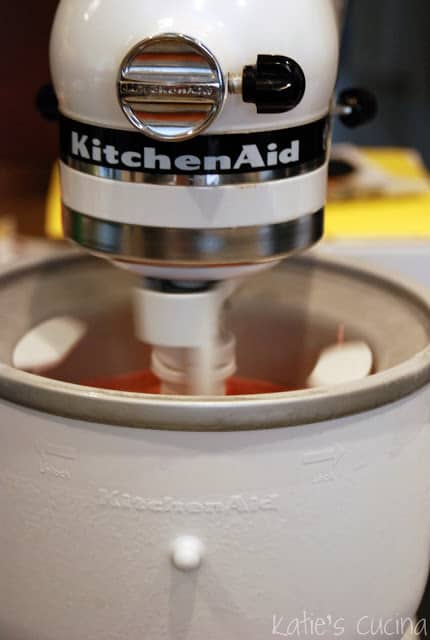 I was happy at the fact that I didn't have to chill the milk mixture prior to freezing in my KitchenAid Ice Cream attachment. My milk mixture was chilled enough to the point that I was able to throw it right into the machine. After 20 minutes (which is my recommended time with my machine) it was thicker and I was actually able to have a few spoonfuls before packaging it in a air-tight container and letting it freeze a few more hours.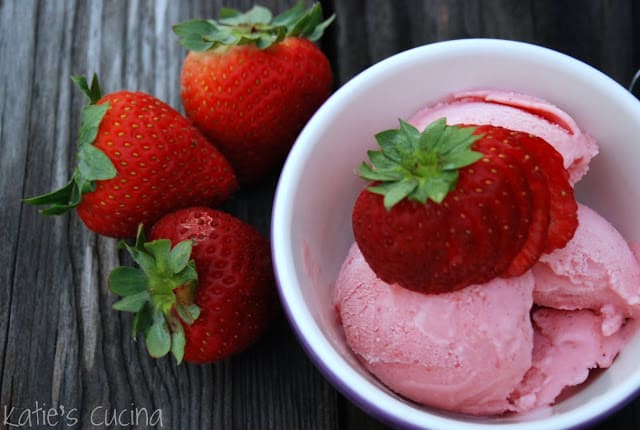 I'll be the first to admit. I'm not a huge fan of Strawberry Ice Cream. I love strawberries by them self, but not it's ice cream counter part. I dished out small little bowls of gelato for my husband and I. We sat on the couch swooning over this gelato–bite-by-bite. We even were tempted to get seconds at 9:00 at night! Which is not something we would normally do. This gelato is so incredibly creamy and full of flavor it would be a crime to not try this recipe if you own an ice cream maker!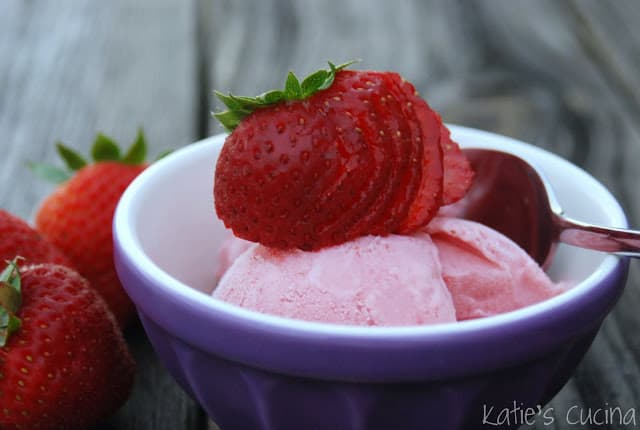 *Make sure you visit the Houghton Mifflin Harcourt Trade Blog. They highlight new books being published, authors, coworker spotlights, and of course share recipes like the one I'm sharing with you today!
Republished with Permission from Houghton Mifflin Harcourt: Beat This! Cookbook
Ingredients
¾

cup

sugar

1

tbsp

cornstarch

1

cup

whole milk

¾

cup

heavy cream

2-¼

cups

sliced hulled strawberries

A few grains of salt

2

tbsp

unsweetened pomegranate juice or unsweetened 100% cranberry juice

*⅛ tsp citric acid
Instructions
In a heavy, nonreactive saucepan, stir together the sugar and cornstarch. Whisk in the milk and cream over low heat and whisk constantly until the mixture just reaches a boil -- 5 to 8 minutes or so. Set the saucepan into a large baking dish, pack ice cubes around it and add some water to the ice. Stir frequently until the mixture is as cold as you think it's likely to get.

In a food processor, puree the strawberries. Stirring hard, pass the puree through a fine sieve into the chilled custard. Stir in the salt and the red juice of your choice. If you want, taste the mixture to see if it would benefit from a little citric acid.

Refrigerate the mixture for at least 4 hours or overnight. I do this in the fridge, but of course you can keep using the baking-dish-full-of-ice method if you have unlimited ice.

Churn the batter in an ice cream maker "according to the manufacturer's instructions." And then, unfortunately you have to pack it into an airtight container and freeze it for at least 3 more hours before it's at its best.
Notes
*The prep time is so long because I include the "chilling" portion of the gelato in the prep time.
Disclosure: I received this cookbook for free from Houghton Mifflin Harcourt Trade and Reference Publishers. They did not pay me to write this review nor did they tell me what to say. My opinions are my own, and do not reflect the publisher in any way.