This is a Sponsored post written by me on behalf of Bahama Breeze for SocialSpark. All opinions are 100% mine.
I love the beach, there is no hiding it. The beach is a short 45 minute drive for us. I've always grown up close to the beach and can't imagine life any other way. I'm a beach bum, well I guess you could say I use to be a beach bum until I had a baby. But that didn't stop us from bringing him to the beach. A few weeks ago we brought Ryder to the beach for a few hours and to say he loved it is an understatement. We were even brave (well my husband was) and took him in the water. He is a total water baby! LOVES the water. I can't wait to do more beach trips with him.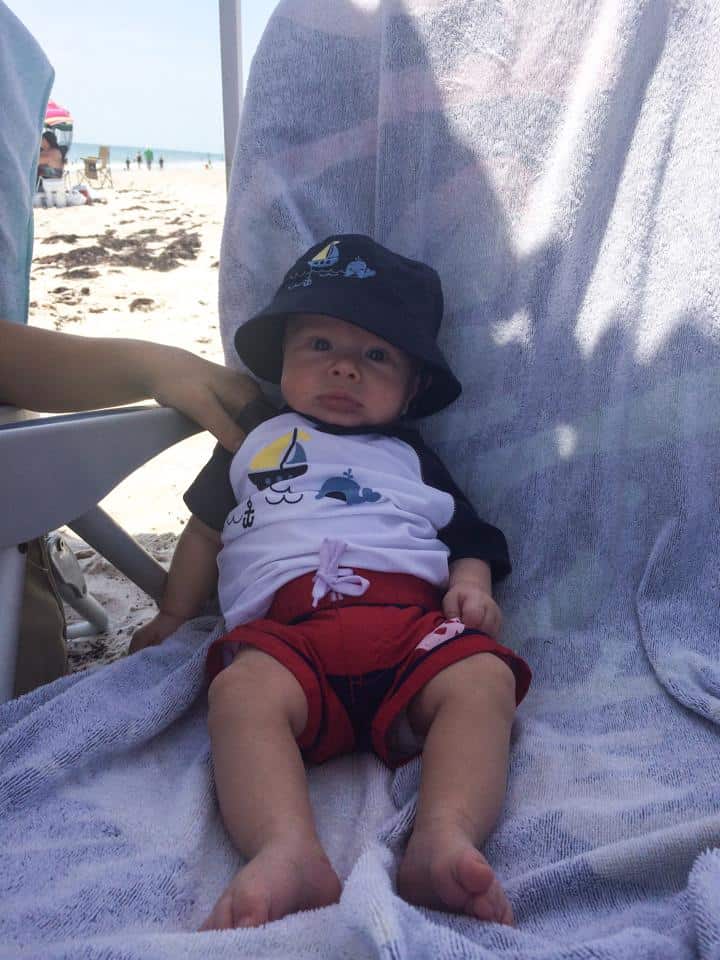 Now that I'm done sharing a cute baby photo of only the cutest beach baby around I wanted to tell you about how I get my "beach" fix when I can't make it to the beach. One of my favorite restaurants, Bahama Breeze, is having a brand new event this summer called the Bahama Breeze Summer Beach Bash. That's right. I can spend half the amount of time it would take to get to the beach and isntead enjoy food and my favorite cocktail with family and friends. Or try the new Bahama Breeze Ultimate Pineapple drink; the must have frozen drink of the summer served in a fresh cut pineapple! Nothing screams summer and the beach like pineapple!
Bahama Breeze is the summer destination for good times. Every Saturday from now until August 3rd, Bahama Breeze turn's up the live music and rolls out a mojito bar! You know how much we love mojito's in my home. Our favorites are Peach Mojitos and Strawberry Mojitos! You choose your fruit, your rum, and watch our bartenders muddle the perfect summer cocktail. We like mojito's even better when we don't have to do the work!
If you live near a Bahama Breeze make sure you visit before August 3rd so you can experience the Summer Beach Bash. And while your enjoying your time at the Summer Beach Bash make sure you enter the Instagram Selfie Contest. All you have to do is share a creative selfie of yourself enjoying  your time at the Summer Beach Bash and use the hashtag #MyBBSelfie and you will be entered for a chance to win a $25 Bahama Breeze gift card! Easy as that!