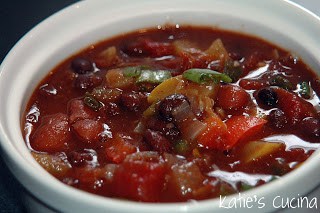 I found this recipe on Bettheny Frankel's Skinny Girl website. I must admit that I adore her, and love watching her on the Real Housewives of NYC, and now on her new show Bettheny Getting Married. When we were in NYC last winter we got to meet her while visiting a bakery in the Chelsea Market! I'm currently reading Bettheny's first book Naturally Thin which gives tips and advice on how to live a healthy life style and not constantly feel like your on a diet. The book is great and has opened my eyes up to a new way of living! So when I saw this recipe for a vegetarian chili I knew I wanted to give it a try! I've never been a fan of chili, but I think it's because I never had a vegetarian version. After eating this I'll definitely be making this again and again and again! Even my husband loved it who absolutely loves a big and beefy chili!
Ingredients:




½ medium sized onion, chopped
1 teaspoon chili powder
1 teaspoon cumin
salt and pepper
2 cloves garlic, minced
¼ red pepper, chopped
¼ yellow pepper, chopped
1 small can pureed tomatoes
1 zucchini, chopped
1 yellow squash, chopped
1 can red pinto beans
1 can black beans
green onions, sliced (for garnish)
light sprinkle of cheese (for garnish)
Directions:

Sauté onions over medium/high heat in nonstick pan with nonstick spray and add chili powder, cumin, salt and pepper, minced garlic, red pepper, & yellow pepper.

When vegetables are soft, add pureed tomatoes (can says tomato sauce but the only ingredients are unseasoned pureed tomatoes).

Add zucchini & squash.

When vegetables are cooked, add black beans and red pinto beans.

Add salt and pepper to taste.