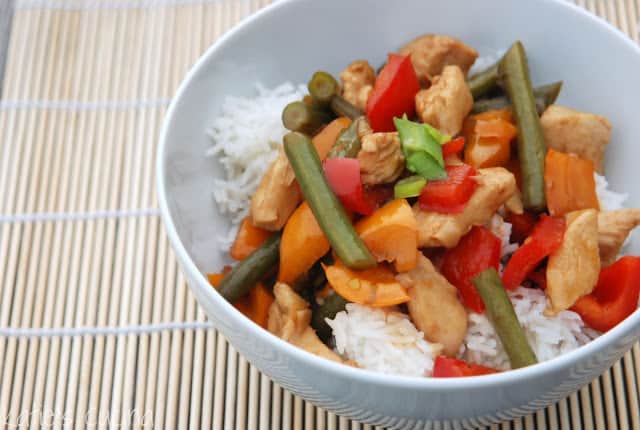 I've made this lighter version of Sweet-and-Sour Chicken a few times now. Each time it get's better and better. According to the January issue of Everyday Food the takeout version has some 1,009 calories in the dish verse the 447 calories in this dish I'm blogging about today. This is a great alternative to the caloric filled take out version. To be honest, I like this version way better than the takeout version. Essentially you can make your own home takeout for half the calories and not miss any flavors while doing so.
Source: Everyday Food, January 2011 issue
1 cup long-grain white rice
1 tablespoon vegetable oil
1-¼ lbs boneless, skinless chicken breast cut into 1-inch pieces
2 bell peppers (any color), seeded and decided larger
½ lb green beans, trimmed and halved
5 scallions, thinly sliced
2-inch piece fresh ginger, peeled and minced
2 tablespoon chopped roasted peanuts (optional)
1. Cook rice according to package instructions. Meanwhile, in a small bowl or measuring cup, whisk together cornstarch, sugar, soy sauce, and vinegar. Set aside.
2. In a large skillet or wok, heat oil over high. Add chicken, bell peppers, and green beans and cook, stirring frequently, until vegetables begin to soften about 5 minutes. Add scallions, ginger, and garlic and cook, stirring, frequently, until chicken is cooked through and vegetables are tender, about 4 minutes.
3. Whisk soy sauce mixture, add to skillet, and cook, stirring constantly, until sauce thickens, about 3 minutes. Remove from heat. Fluff rice with a fork. To serve, spoon chicken mixture over rice and top with the optional peanuts if desired.