I attended TECHmunch in Tampa Florida yesterday, April 21st. A small and intimate food blogging conference hosted by Babette Pepaj founder of Bakespace.com and Jeff Houck Food Editor of the Tampa Tribune and food blog; The Stew.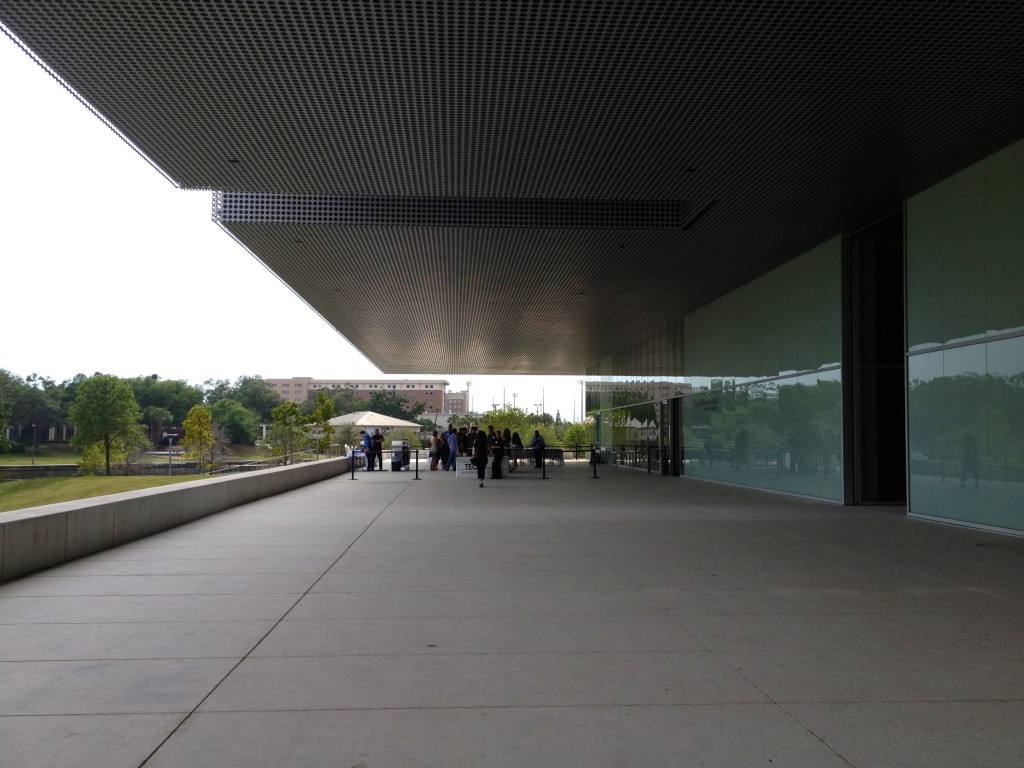 Friday evening, (April 20th) was the kick-off cocktail party at the Tampa Museum of Art. Attendees had the chance to network with others for a few hours and of course munch on delectable appetizers and tempting cocktails.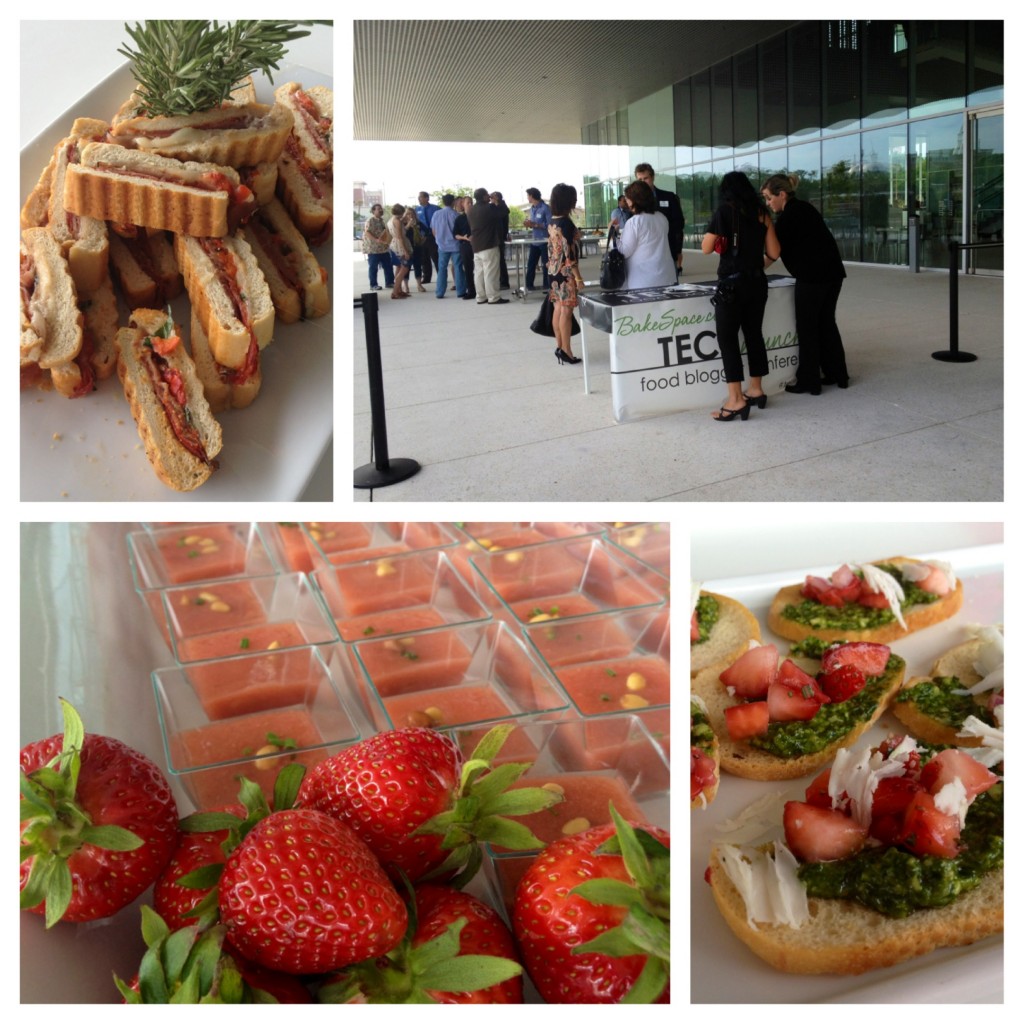 Driscoll's Berries was one of the sponsors for the conference. It just so happened that our menu was berry inspired and all berries were provided by Driscoll's. Pictured top left was the Italian Panini Bites, pictured top right was the sign-in table, pictured bottom left was the Dirscoll's strawberries, tomato, basil gazpacho shooter, and pictured bottom right was the Arugula, Driscoll's strawberries bruschetta.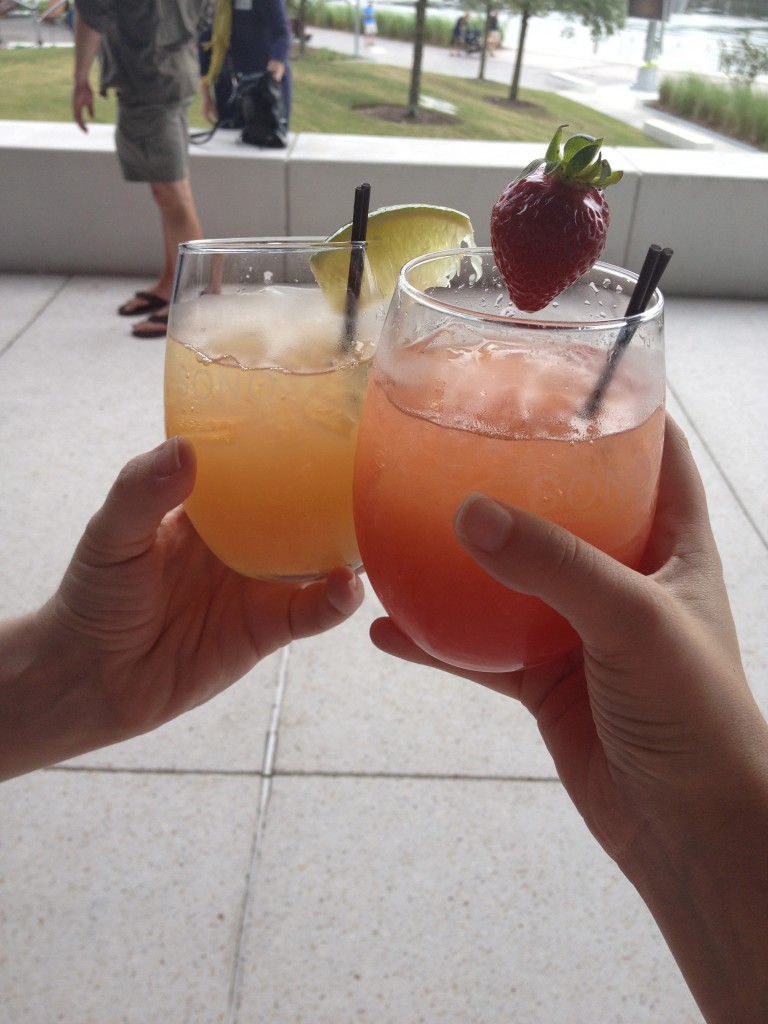 Babette and I toasted to TECHmunch and a new friendship with our berry cocktails!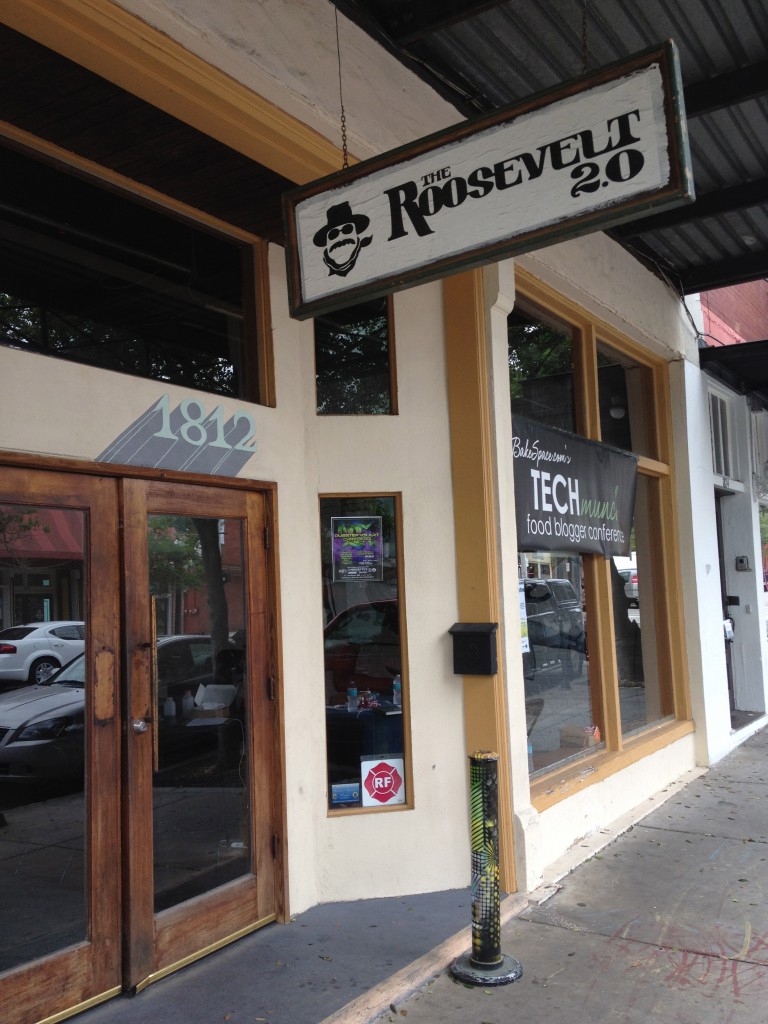 The next morning we arrived at Roosevelt 2.0 where our conference was being held. An eclectic and intimate venue that held about 60+ of us.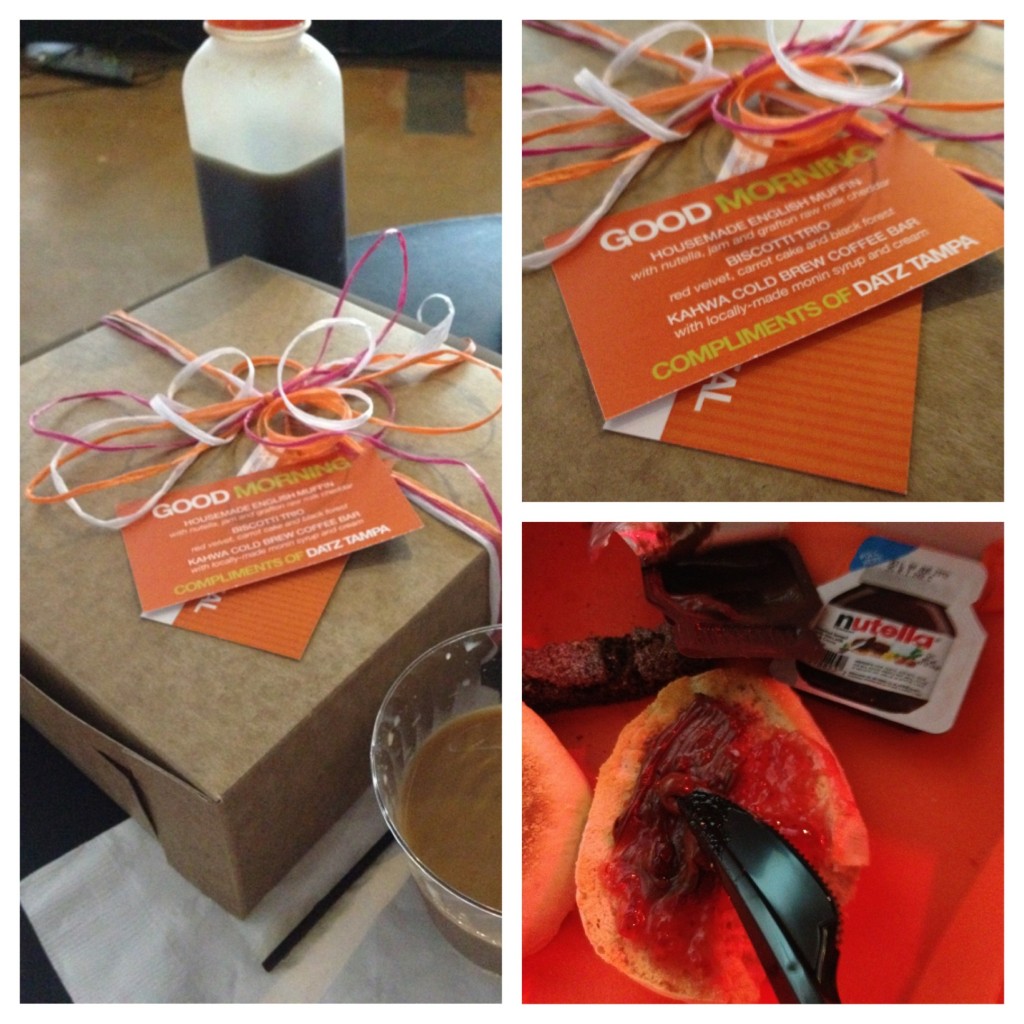 We were greeted with adorable "breakfast boxes" that contained freshly made english muffins, packets of nutella and jam along with 3 biscotti's compliments of DATZ Tampa. We also had a cold coffee bar, juice, and smoothies from Driscoll's.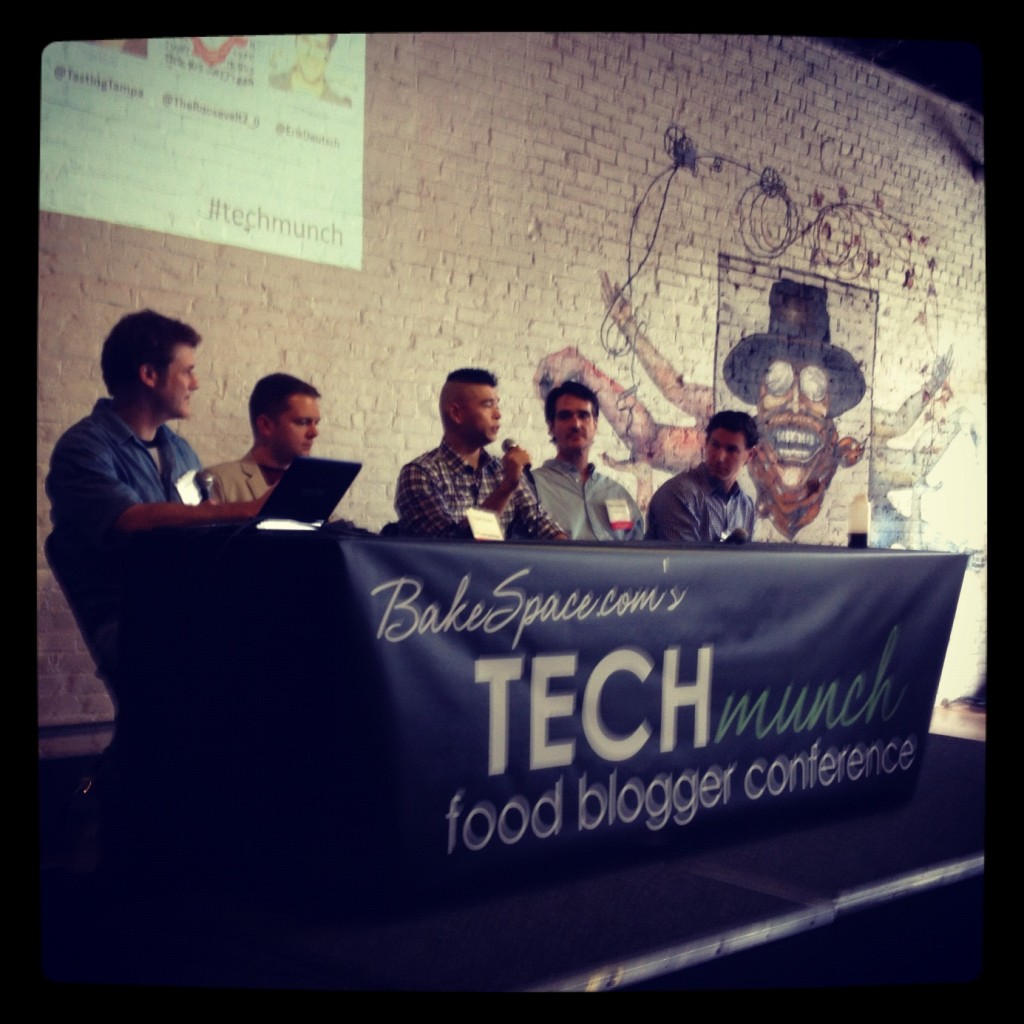 Pictured left to right: Moderated by Erik Deutsch, Todd Sturtz of Tastingtampa.com, Julius Mayo of Droolius.com, Brian Roberts of Roosevelt 2.0.
The men started off the morning talking about ways to leverage food trends in social media. My good friend Julius of Droolius.com talked about being the "go-to" source for a specific topic. In his case its the Orlando Food Truck scene. They also shared how they like to utilize trending topics on twitter and keep theirs fans updated on a daily basis on Facebook.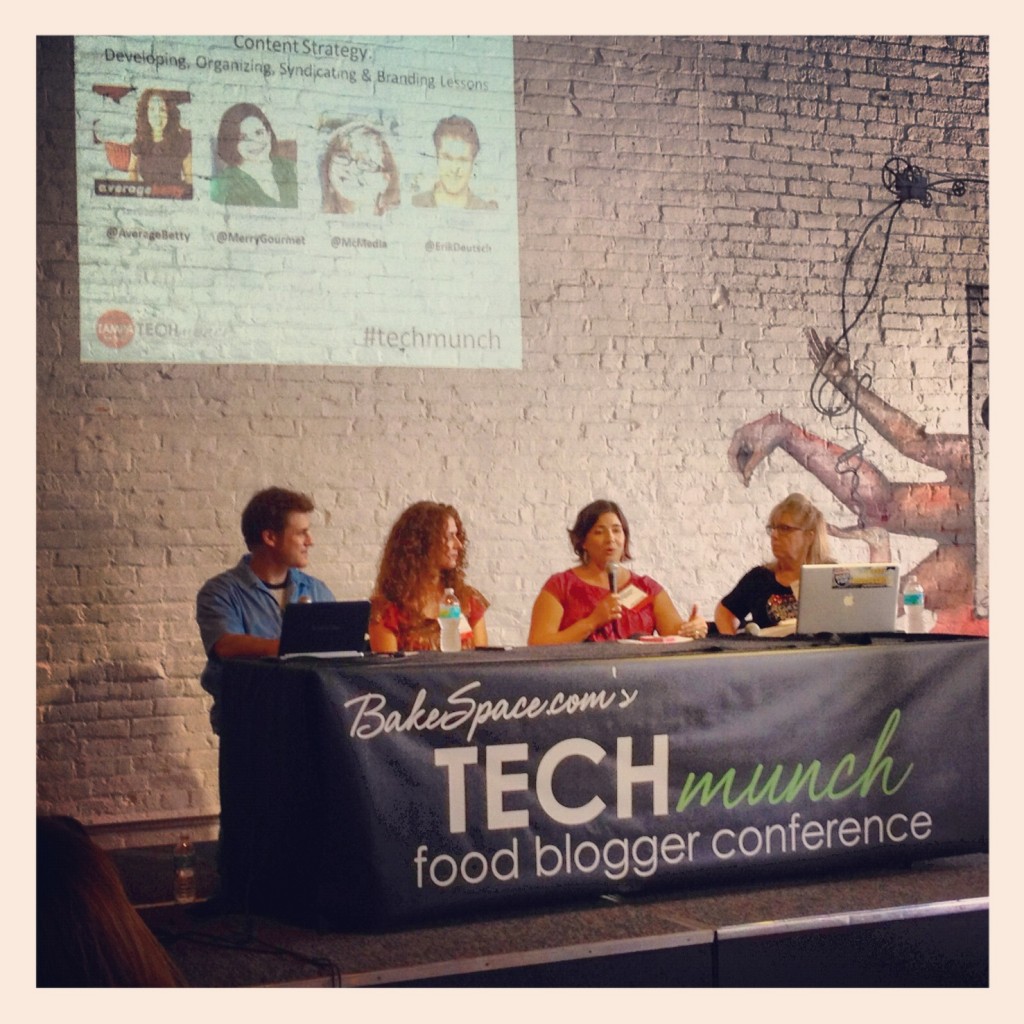 Pictured left to right: Moderated by Erik Deutsch, Sara O'Donnell of AverageBetty.com, Merry-Jennifer Markam of MerryGourmet.com, and Sandi McKenna of MidlifeRoadTrip.tv
These three amazing ladies shared how they Develop, Organize, and Syndicate their Multimedia Content on a daily basis. A few key takeaways from this session:
Prioritize your life, week, day and most importantly make YOU a priority. The world will not end if you do not get a blog post out today.
Write about what you enjoy to write about.
Quality vs quantity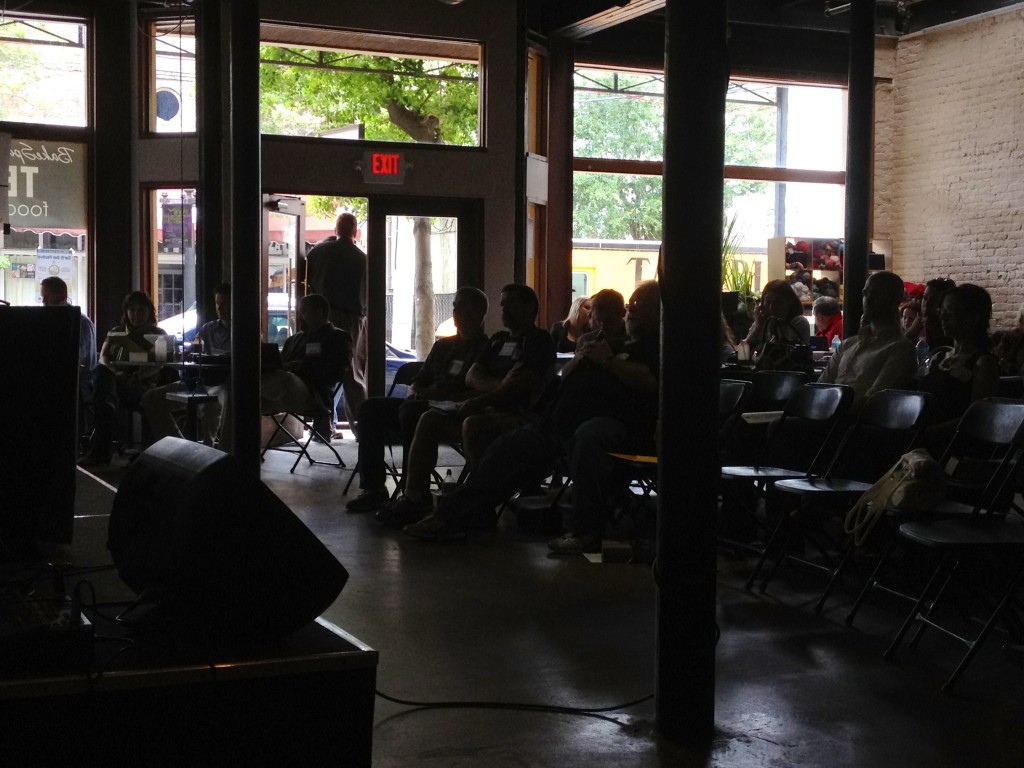 Towards the end of the session I spotted the Taco Bus out front getting ready to serve hungry foodies.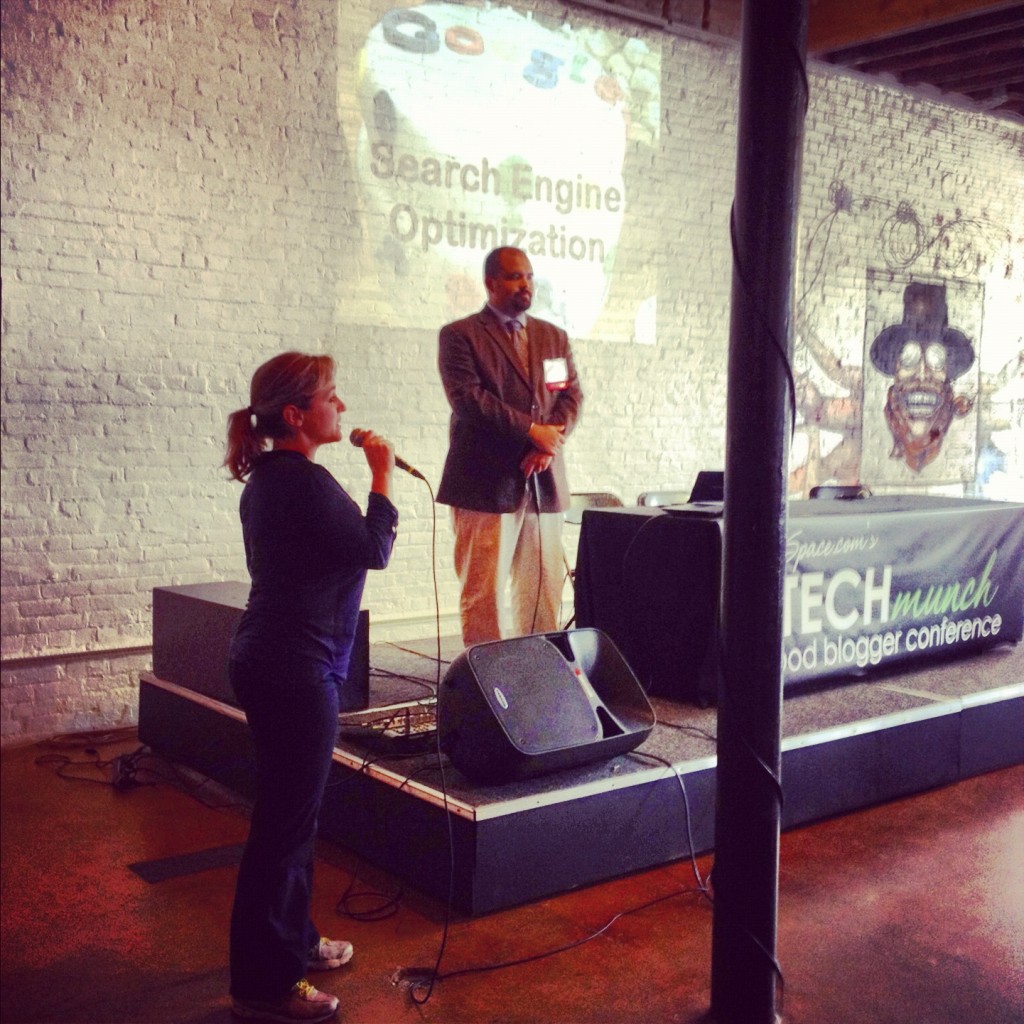 Our last session before lunch was my favorite session of the day; A Down and Dirty Conversation about SEO for Food Writing. Josh Unseth did a fantastic job explaining SEO in normal every day lingo. Here is what I took away from this session:
Content is KING!
Make sure you use words that people are searching for. Go to bit.ly/googkeyword to help you assist in choosing the right words.
Learn to write good meta data. You can go to Schema.org/recipe to learn how to.
Links don't build themselves. Find ways to have great anchor text about you. The more food bloggers that link about you–Google will know you are food blogger.
You need to start growing your networks. Learn Google+ and add content daily.
Google has a 60 page document as to what they care about on your site.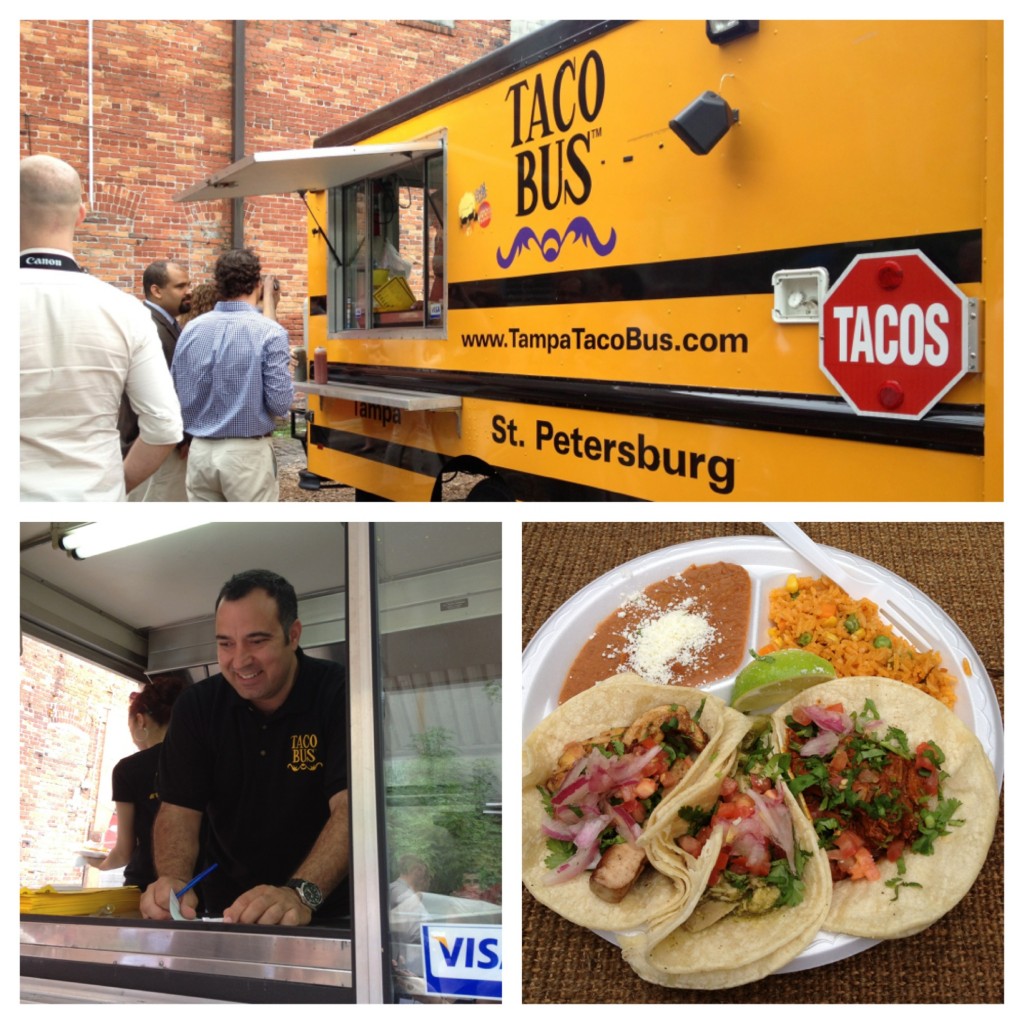 After 3 dynamic sessions all of our stomachs were grumbling. We stepped out back and was treated to the Taco Bus experience! I've seen them on Diners, Drive-ins, and Dives and was so excited to learn that we would get to try a few of their fan-favorites for lunch. I opted to try one of each style taco they were offering for lunch; tofu taco, chicken verde taco, and a shredded pork taco served with flavorful rice, and homemade refried beans. Chef Rene, pictured bottom left, was so incredibly nice and had such an amazing story of how he started Taco Bus.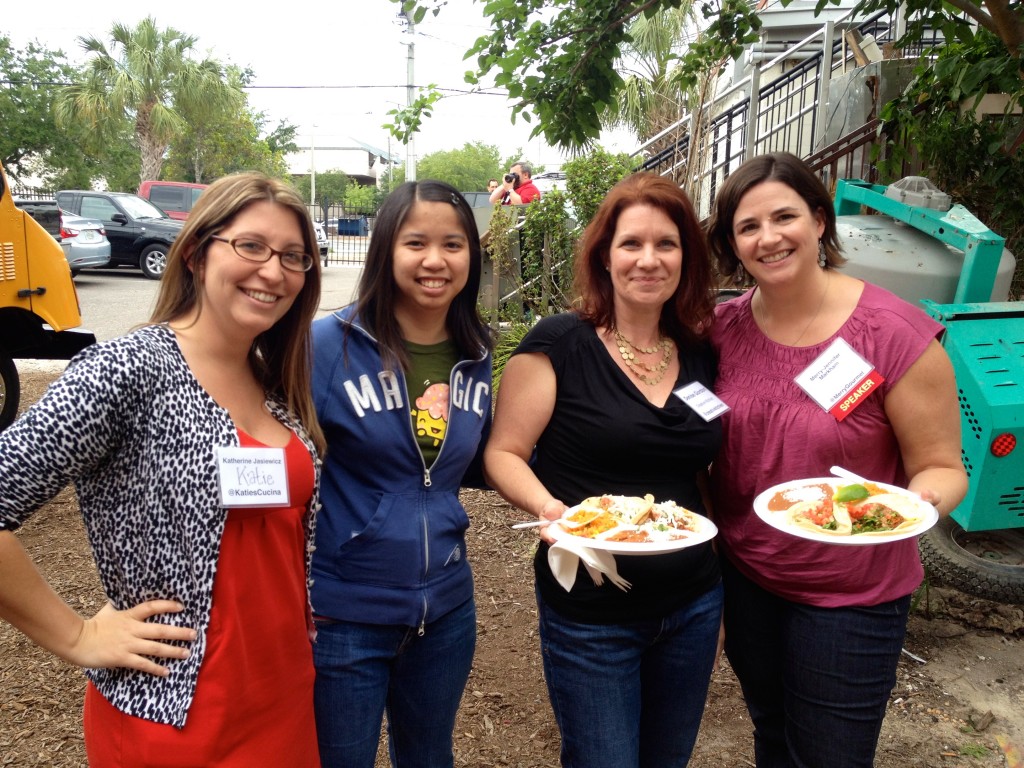 While Julie from The Little Kitchen and I waited for our food we chatted with and took a picture with Denise of Creative Kitchen Adventures and Merry-Jennifer of The Merry Gourmet.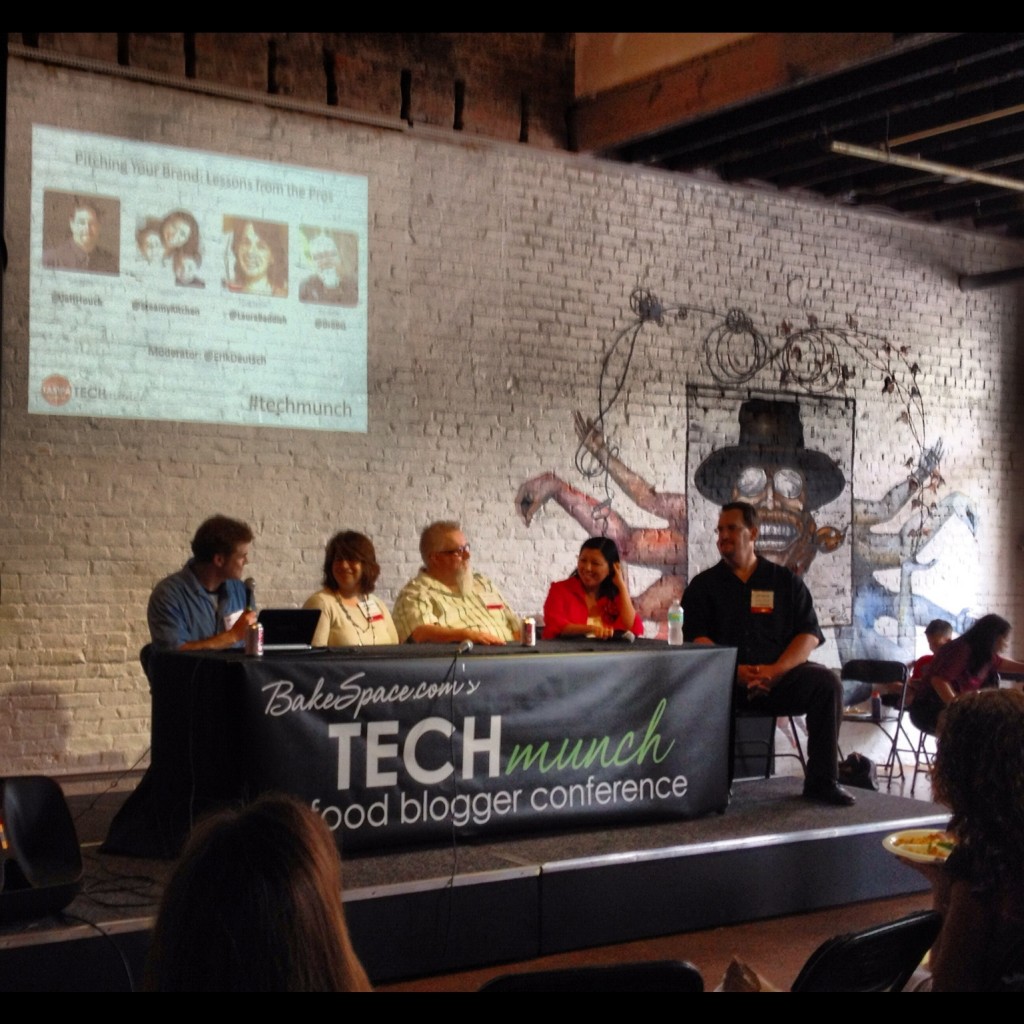 Pictured left to right: Moderated by Erik Deutsch, Laura Baddish of The Baddish Group, Ray Lampe of DRBBQ.com, Jaden Hair of SteamyKitchen.com, and Jeff Houck of Tampa Tribune.
After lunch we learned from some of the best on how to Pitch Your Brand. I always enjoying learning how the pro's do it and how the PR agencies would like us to work with them. Here are a few take aways.
Build relationships via social media before ever thinking about pitching to a brand.
When you pitch keep it short and sweet; 3 mini paragraphs.
Know your worth. Don't start working for a brand for free if later on down the road you would like to be paid by them.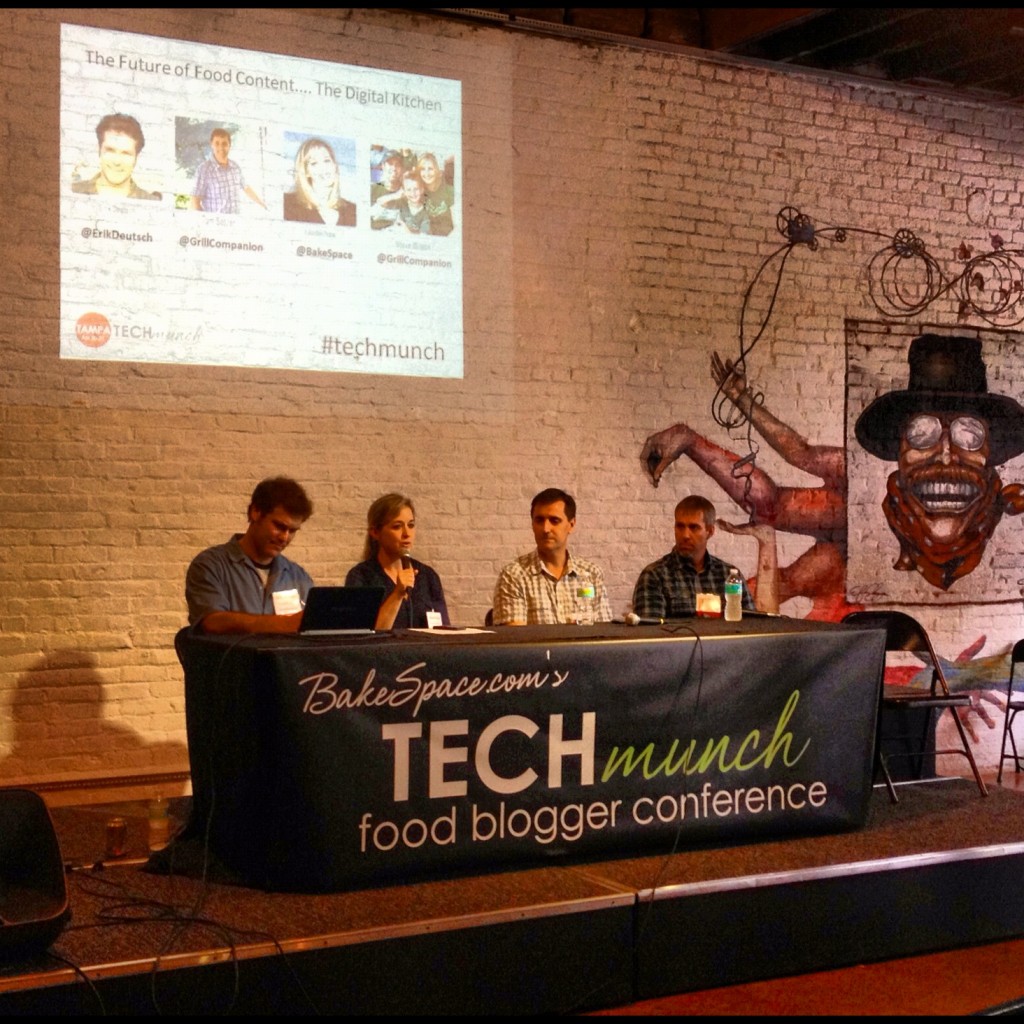 Pictured left to right: Moderated by Erik Deutsch, Babette Pepaj founder of BakeSpace.com; TECHmunch; and CookbookCafe.com, Steve Wilson and Tom Setzer co-founders of Grilling Companion.
Babette, Steve, and Tom spoke about The Future of Food Content… The Digital Kitchen. This was a topic I was excited to learn more about. Babette is the founder of Cookbookcafe.com which is a website that easily allows you to publisher your own ebook and apps to allow the world to learn more about what you have to offer. You can charge per download or keep your ebook/app for free so anyone can enjoy it.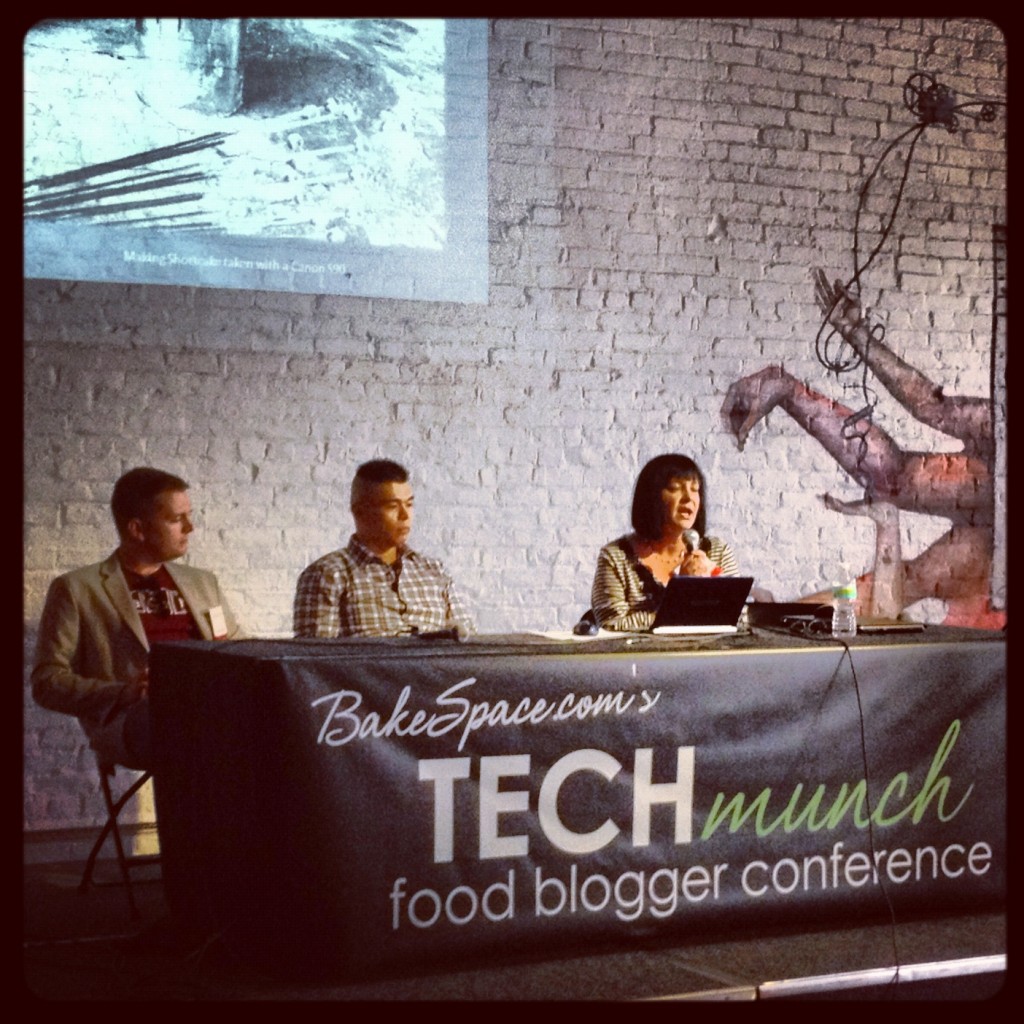 Pictured right to left: Susan Filson of Sticky, Gooey, Creamy, Chewy and her peeps "Todd Sturtz of Tastingtampa.com, Julius Mayo of Droolius.com"
Susan presented the last session of the day giving everyone her Top 10 Tips to Boost Your Site's Photography. I'm constantly working on improving my food photography so I always love hearing other food photographers tips. Susan stressed how every food photographer should know how to use manual mode on their camera (something I need to play with a tad bit more). She also stressed the importance of not allowing your food props to over-shine your food. The only time the props can out shine a recipe is when you have ugly food like risotto, that needs help looking good!
We ended our day with an hour of networking, taking photos and saying our goodbyes!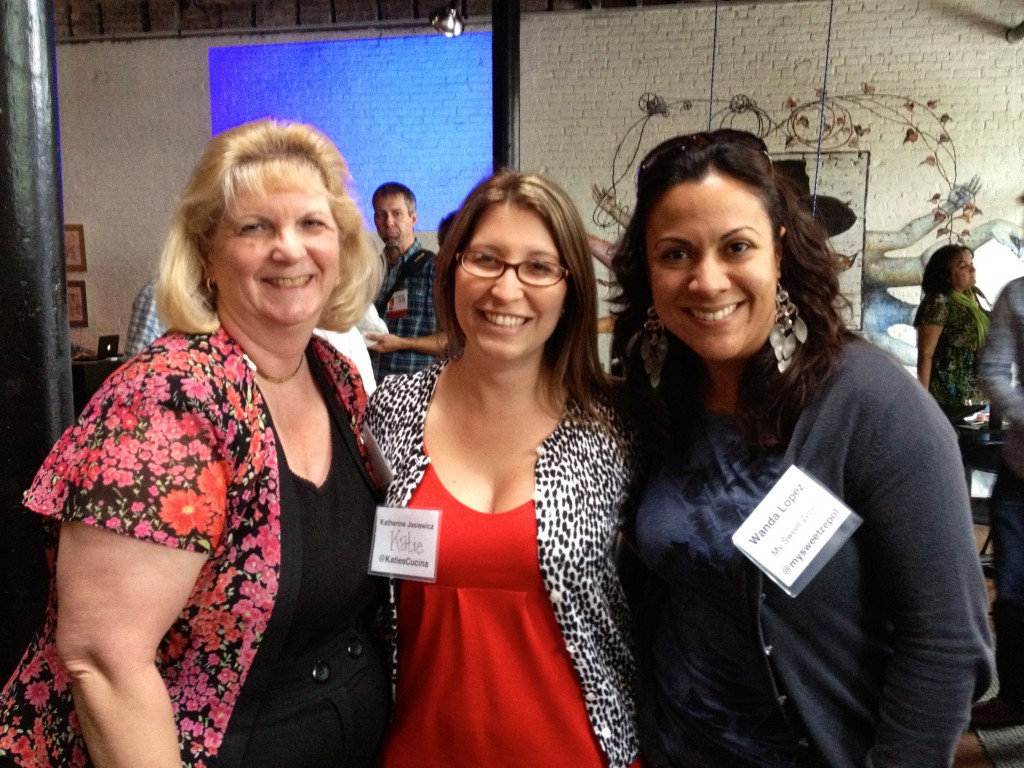 Robin from Simply Southern Baking, myself, and Wanda from My Sweet Zepol.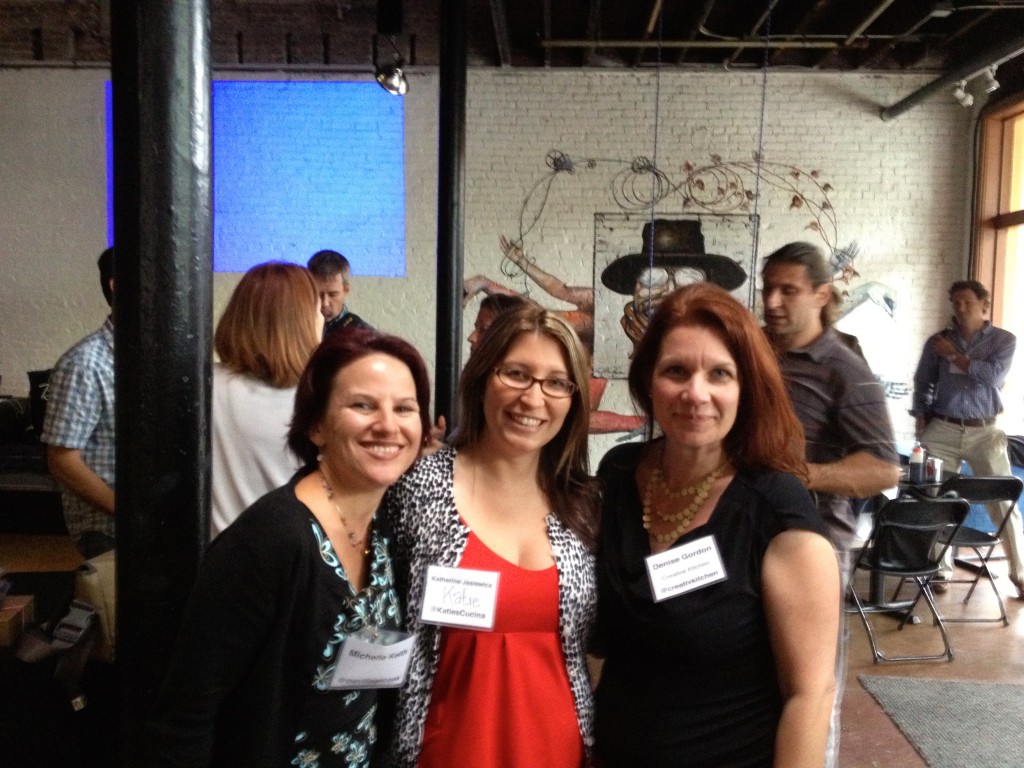 Michelle from The Village Cook, myself, and Denise from Creative Kitchen Adventures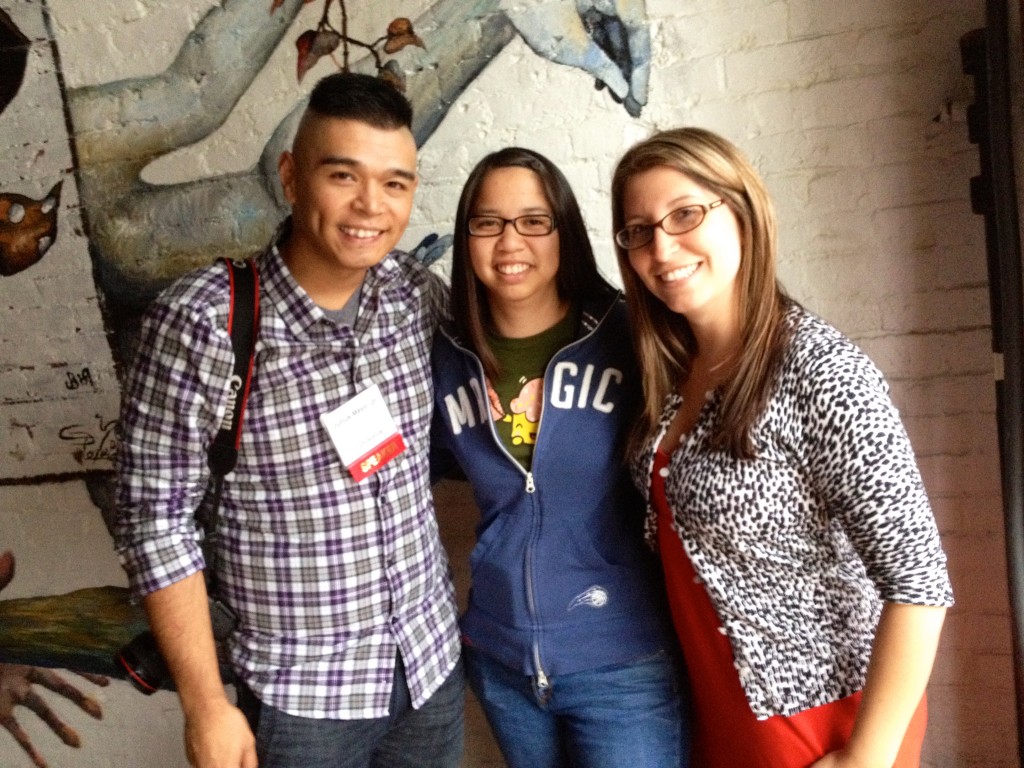 Julius of Droolius.com, Julie of The Little Kitchen, and myself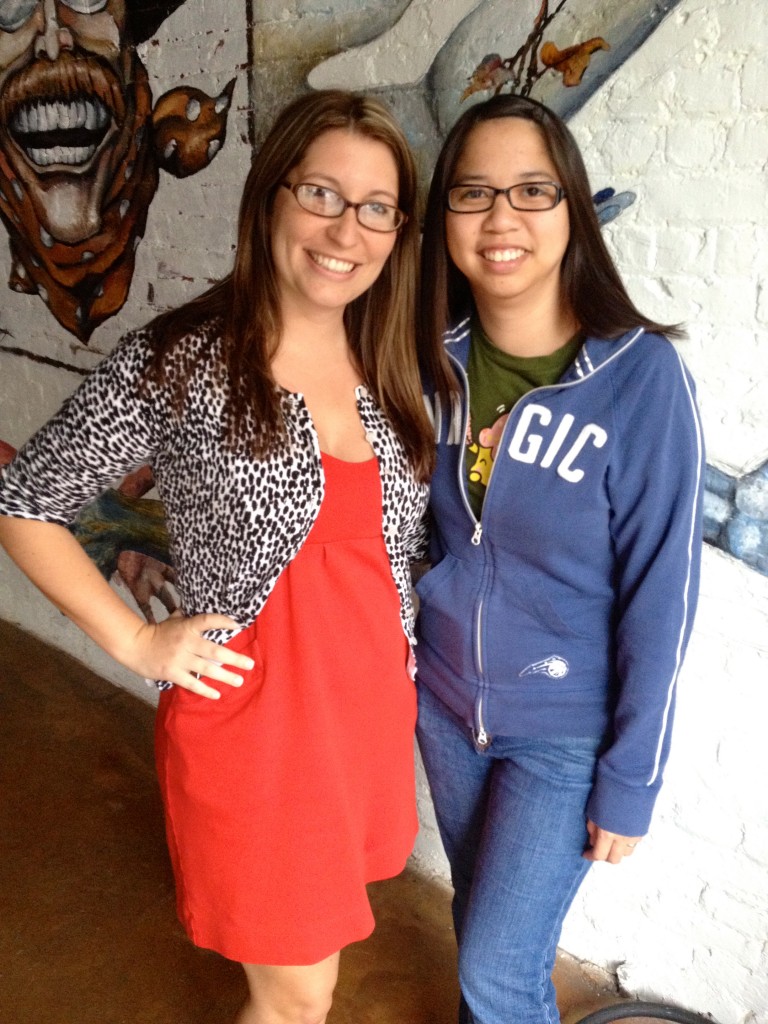 Julie and I took one last photo before we left for the day. Thankfully, I'll get to see her next weekend at our Central Florida Food Blogger Bake Sale!
Disclaimer: All photos were taken on my iPhone 4s and some were manipulated using instagram.