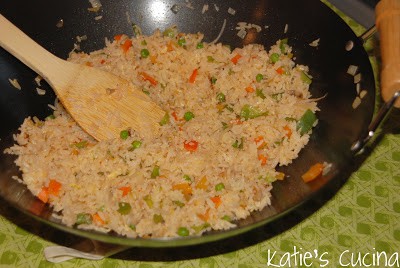 I love fried rice. All types, but mainly vegetable fried rice. Instead of making a chicken or shrimp I opted to have another vegetarian dish at my party. This was yet another favorite among the group even though it had vegetables in it! This is a super easy fast recipe and great to make any time you have left over white rice. For this recipe I made the jasmine rice in the morning and then chilled it until I was ready to cook the fried rice. You can find the original recipe on the
Thai Kitchen website
.
Serves:

4 (main entree) 6-8 (as a side dish)
2 tbsp vegetable oil, divided

½ cup onion, chopped

1 clove garlic, minced

1 cup assorted vegetables, diced

(bell peppers, bean sprouts, carrots, peas, snow peas)

2 cups cold cooked Thai Kitchen Jasmine Rice

2 tbsp Thai Kitchen Spicy Thai Chili Sauce

1 tbsp Thai Kitchen Fish Sauce

1 egg, light beaten
1.
Heat
1 tablespoon of the oil in large skillet on medium-high heat. Add onion and garlic; stir fry about 30 seconds or until garlic is lightly browned. Add meat and vegetables; stir fry 3 minutes or until meat is cooked through.
2. Stir
in rice, chili sauce and fish sauce; stir fry 3 minutes or until rice is heated through. Push rice mixture to side of skillet. Add remaining 1 tablespoon oil to middle of skillet. Add egg; scramble until set. Stir into rice mixture.