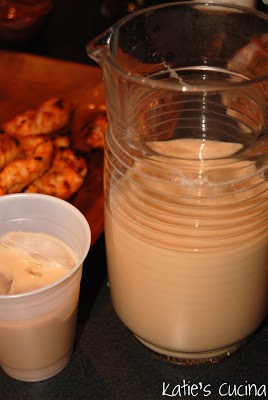 This is the first of many recipes for "Thai Week" at Katie's Cucina. I've never had Thai Iced Tea; however, I have a friend who swears by it and every time we all go out to eat at a Thai restaurant you better believe he is going to order some Thai Iced Tea. Although the color was slightly different from the iced tea I'm use to seeing in the Thai restaurant I think the flavor was there. This was like a cold creamed tea. It wasn't too sweet, but had just enough sweetness for a "sweet tea". All in all I would definitely make this tea again–it was a nice twist on the traditional Southern tea. You can find this recipe on the Thai Kitchen website.


*Make sure you enter into the Thai Kitchen giveaway.
6 black tea bags

4 cups boiling water

½ cup sweetened condensed milk

3 tablespoon sugar

ice
1. Steep
tea bags in boiling water 3 to 5 minutes. Stir in condensed milk and sugar until dissolved. Cool completely.
2. Serve with crushed ice or ice cubes. Drizzle with additional condensed milk, if desired.