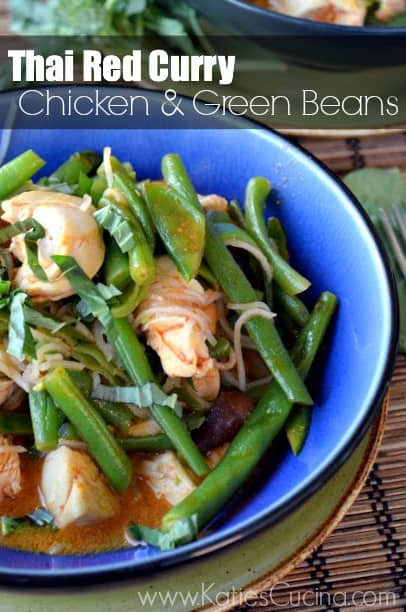 You may have noticed it has been a little quiet here on Katie's Cucina over the last week. That's because I was cruising the Southern Caribbean with my husband! We had an amazing 8 days from the "world" as we know it. We took naps daily, dove in exotic destinations, sipped on fruity drinks, and ate some pretty darn good food! Luckily, I planned accordingly and don't have to cook up a storm this week to feed the webs taste buds. I have a few new recipes that I cooked up before vacation and they will be heading your way this week!
Today, I'm sharing my recipe for Thai Red Curry: Chicken & Green Beans. Now, that I'm back from vacation I'm back to savings mode (so we can vacation again very soon). So that means minimal eating out in our book. We've found that by only eating out once a week we save so much money which then goes into our vacation fund. In an effort to not bore our taste buds I like to make what I call "home takeout". This recipe for Thai Red Curry is an ideal home takeout kind of meal. Every time we get Thai takeout its typically a curry. I can honestly say, I've never had chicken and green beans in the red curry form. I've made it as a chinese main dish (which is delish and I can't believe I've never blogged about it here before). I also love this recipe for Thai Red Curry: Chicken & Green Beans because it is a one pot meal. Throw everything in one pot (of course in incremental steps) and voila… a hearty one pot meal made in minutes!

I cooked up this recipe for Food Fanatic! Head on over to get the recipe for Thai Red Curry Chicken with Green Beans and Noodles: All in One Pot!