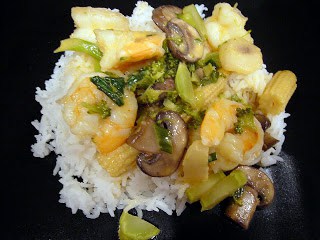 I love eating at Thai restaurants, but my wallet doesn't always share the same love I have with the food! I found this recipe in the Food Network Kitchen's Making It Easy cookbook. I bought this cookbook on the clearance rack at my local bookstore a few years back for $2.99! I'm so happy I bought this book, because I would have never found the best curry recipe to date!
Cook: 25 minutes
Serves: 4
INGREDIENTS:
2 tbsp peanut oil
1 lb. medium shrimp, peeled, deveined, and tails removed
1 13.5 oz unsweetened coconut milk
2 tsp Thai red curry paste
1 stalk lemongrass, sliced OR 1 tbsp lemongrass paste
1 tbsp fish sauce
2 tsp dark brown sugar
1 tsp kosher salt
8 ears canned baby corn (about 1/2 the can)
4 scallions, chopped
1/2 cup sliced canned water chestnuts, drained
1/2 cup canned straw mushrooms OR 1/2 cup fresh sliced baby portabella mushrooms
1/4 cup fresh basil leaves, torn
2 tbsp torn mint leaves
1 lime
DIRECTIONS:
Heat the oil in a large skillet over medium-high heat. Add the shrimp and stir-fry just until pink and curled but not cooked through, about 2 minutes. Transfer the shrimp to a plate and set aside.
Skim the thick cream from the surface of the coconut milk and add it tot he skillet along with the curry paste. Cook, stirring, until smooth and fragrant and a bit shiny, about 1 minute. Stir in the remaining coconut milk, the lemongrass, fish sauce, brown sugar, and salt; simmer for 3 minutes, uncovered.
Return the shrimp to the skillet along with the baby corn, scallions, water chestnuts, and mushrooms. Simmer until the shrimp finish cooking, about 3 more minutes. Pull the pan off the heat. Stir in the basil and mint, and squeeze in the lime's juice.
Side Suggestions: Jasmine rice