Thai Style BBQ Hot & Tangy Sriracha Grilled Wings
This is a sponsored post on behalf of Cost Plus World Market.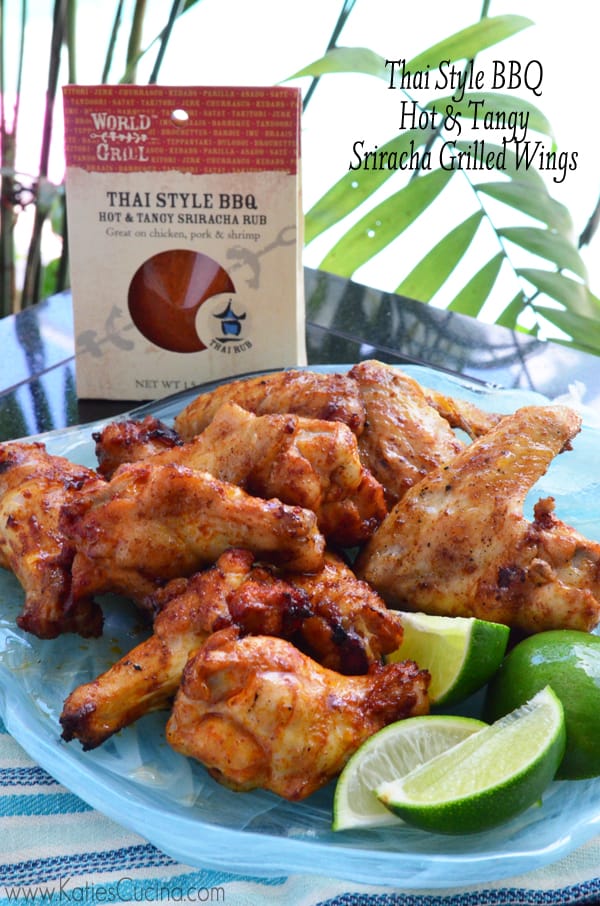 The first day of summer is right around the corner. Summer to me equals bbq's and grilling nightly. I try my best to not turn on the oven during the hot and oh-so humid summer months. My husband is a lover of all things wings, so on the weekends that we spend the afternoons at his parents house we like to bring over lunch or a snack to munch on. Last weekend, we brought over these Thai Style BBQ Hot & Tangy Sriracha Grilled Wings. My husband and my mother in-law devoured them. Sadly, I could not partake because they are a wee-bit too spicy and well the baby won't enjoy his hourly dose of milk if I eat anything spicy. So for the time being I live vicariously through them *although I did have two bites of a drum. It was heavenly (and spicy). The chicken was super moist and full of flavor.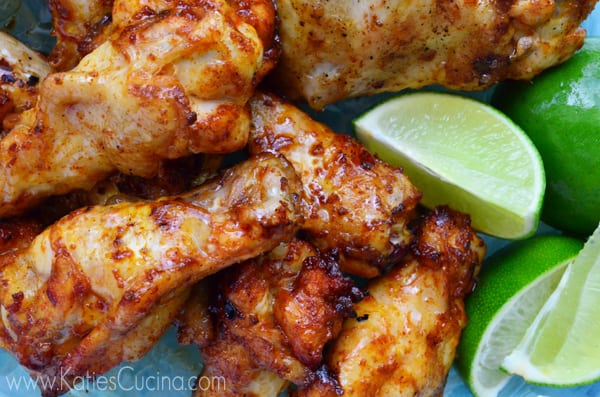 Since having the baby my husband has had to help out more in the kitchen. I am kind-of liking the nightly team work that we are experiencing together. Since 9 times out of 10 I'm feeding the baby when dinner should be cooking he is having to take charge. I give him directions and he follows through on them. Over the past month he has really started to master grilling chicken (which we eat almost nightly). The key to having really moist chicken is patting it dry, and coating it with olive oil followed by the seasoning. I promise you–this is our no fail method, and we are sticking with it. And hopefully he doesn't read this post because he does not want anyone to know his chicken grilling secret!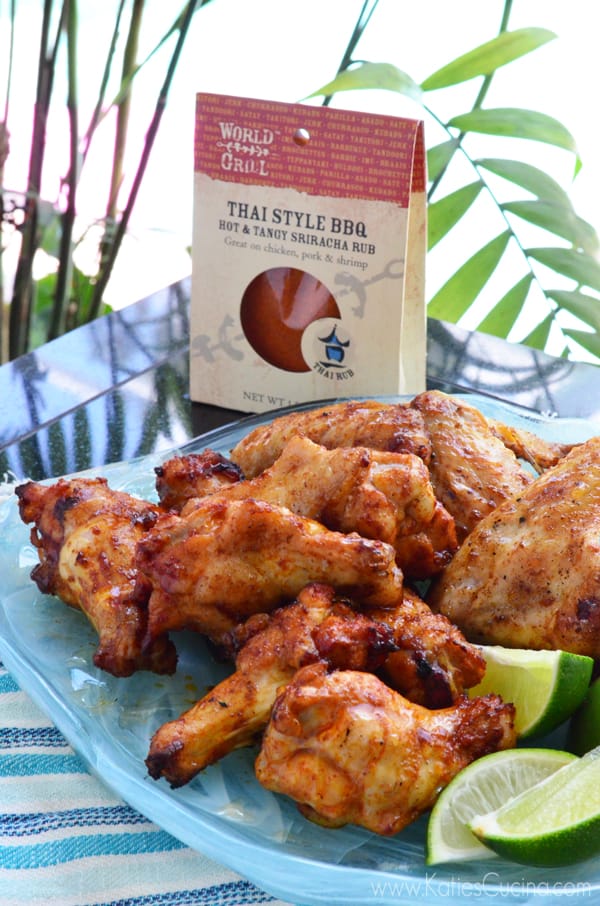 When dining and entertaining for summer (or any time of the year) I love to go to World Market to get everything I need to throw a successful party. For this recipe I used the World Market Thai Style BBQ Hot & Tangy Sriracha Rub and World Market Olive Oil. Two ingredients that make this grilled wings recipe a hit at any party (or pool day).
Products shown and used from World Market: World Market Thai Style BBQ Hot & Tangy Sriracha Rub, World Market Olive Oil, Herringbone Napkin, and Small Lagoon Platter

Thai Style BBQ Hot & Tangy Sriracha Grilled Wings
Yield: 18 wings
Prep Time: 1 hour 10 minutes
Cook Time: 20 minutes
Total Time: 1 hour 30 minutes
Ingredients:
Directions:
Clean, rinse, and pat dry wings and rums. Place in a gallon-size freezer bag. Pour olive oil over chicken, massage in bag then add 1/2 package of the Thai Style BBQ Hot & Tangy Sriracha rub. Seal bag and massage until all the chicken has been coated with the rub. Refrigerator for at least 1 hour.
Preheat grill to high heat, clean and reduce to medium heat. Place chicken on grill. Grill for 20 minutes, turning every 5 minutes. Internal temperature should read 165 degrees Fahrenheit.
Drizzle honey on top of cooked wings and squirt fresh lime juice on top as desired.
For added heat use the entire rub or mix in 1 teaspoon sriracha sauce with 2 tbsp honey to drizzle on top.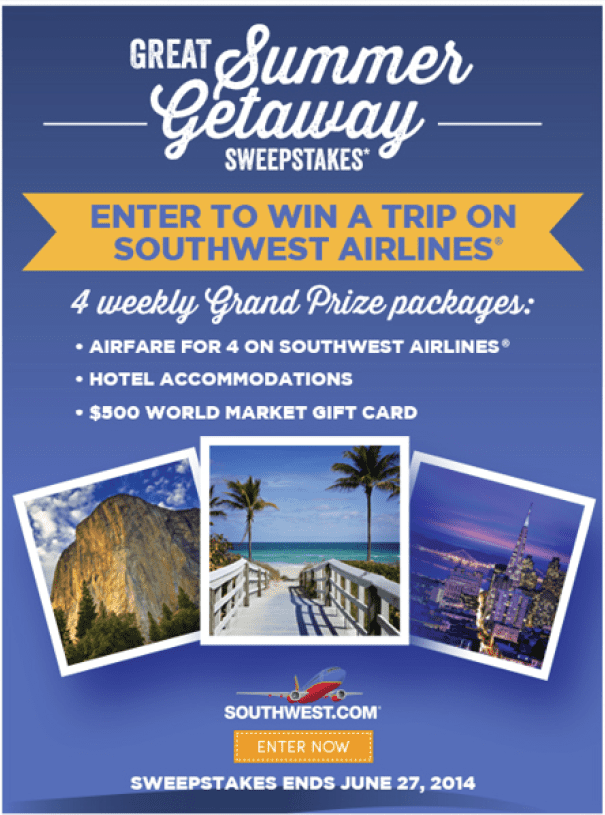 Want to get away this summer? Cost Plus World Market has partnered up with Southwest Airlines to offer four Great Summer Getaways. Enter for a chance to win a trip for 4 on Southwest Airlines. Sweepstakes includes:
4 Grand Prize Packages:
Airfare for 4 on Southwest Airlines
Hotel Accommodations
$500 World Market gift card
Participants can earn bonus entries for liking and sharing contest on Facebook, Twitter, Pinterest, Instagram pages for more chances to win.
Warning
: Use of undefined constant rand - assumed 'rand' (this will throw an Error in a future version of PHP) in
/home/kjasiewicz21/webapps/katiescucina/wp-content/themes/katiescucina/single.php
on line
74
10 Responses to "Thai Style BBQ Hot & Tangy Sriracha Grilled Wings"
Leave a Comment