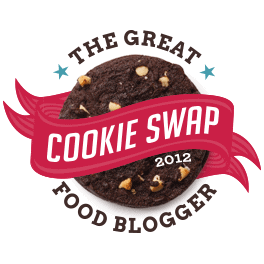 The day has come and gone… you know. The big day that some 576 food bloggers from around the world shared our secret recipe and cookie swap recipients to our audience! Yes, we had the postal service working hard… delivering some 20,000+ cookies! But most importantly we raised (as well as a matching donation from OXO) over $4,400 for Cookies for Kids' Cancer! *Statistics from The Little Kitchen.
Yesterday, I shared my Chewy Chocolate-Cherry Cookies (that are only 80 calories each). And today I want to highlight the 3 dozen cookies I received from 3 very talented food bloggers!
The first box of cookies that arrived at my door step was from
Kettler Cuisine
! First off, as you can see in the background she packaged these cookies in a sparkly green box adorned with a recipe card. (Jessica also vacuumed sealed her cookies. Which at that moment when I was opening the package I realized that I need a vacuum sealer in my kitchen)! These cookies were so insanely tasty! I think this will officially be my new go-to oatmeal cookie recipe.
My second box of cookies came from the talented (and popular)
Mother Thyme
!  These delicate peppermint flavored macaroons were stored in a red box with an abundance of tissue paper. Sadly, only a half dozen made it to Florida in one piece. Oh, and don't you worry the other half dozen still made it in my mouth–because my mouth doesn't discriminate against broken cookies. I've never made macarons before and commend Jennifer for making them. I see them making my 2013 goal list!
My last box of the swap came from The Baking Robot. They arrived to my door the day before our cookie post were due, but note that this was not Dea's fault. A big thanks goes to our mail system. But as the old phrase goes… those who are patience get great things (or something like that… right??!?! ) My cookies were sealed up in a beautiful shiny red box with a hand written recipe card (p.s. I love Dea's writing) and a new red spatula! I'm a sucker for snickerdoodles and I love me a good cup of joe. So these were kind of like a match made in heaven.
I hope you enjoyed learning about the 3 food bloggers who sent me one dozen cookies each. Now, we all have to wait until next year for more cookie madness! Until then… happy dreaming and baking!