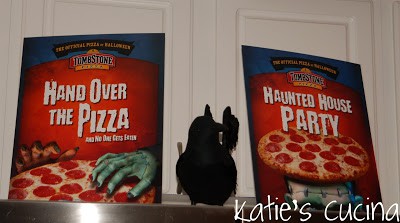 At the beginning of last month I saw on the House Party site that they were looking for applicants to host a Tombstone Haunted House party! Without hesitation I put my application in. I knew this would be the absolute perfect party for me to host since for the past 2 years we've hosted a Halloween party, and we were planning on hosting a 3rd! I was wishing and hoping I would get this party–not only to try a wide variety of products, but to cut down on my total grocery bill for this annual event. Well, sure enough… I got it, and began planning my menu around Tombstone pizza's!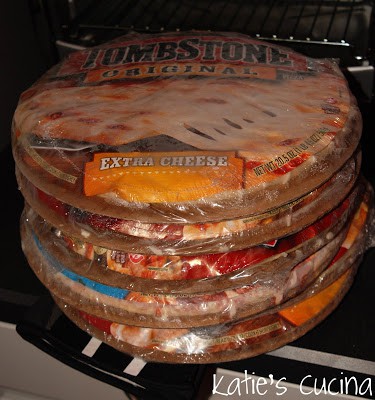 I must admit that not only myself, but ALL my guest were pleasantly surprised by how delicious the Tombstone Pizza's were. I think it had been quite some time since all of us had bought the Tombstone Pizza brand, and I know that–that will not be the case any more! In fact I loaded up on a few pizza's today since they were on sale at my local grocery store!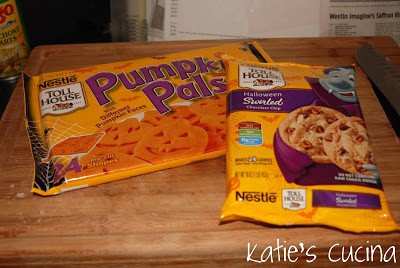 We also got to try some delicious Nestle Tollhouse Cookies, now who can resist these awesome prepackaged cookies? Not I, nor anyone else at the part! Out of the 48 cookies I had baked only a handful of sugar cookies were left by the end of the night!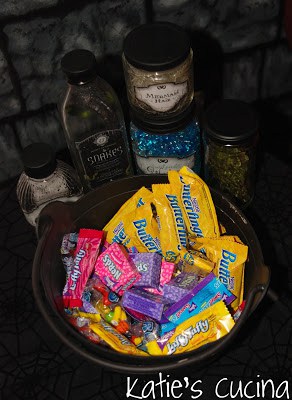 Not only did the kids get to bring some candy home, but so did the adults. Wonka candy, to boot! Butterfingers, nerds, sweet tarts, and laffy taffy!
Here is some more information on Tombstone Pizza found directly from the website:
Founded in 1962, TOMBSTONE® pizza began its days in "The Tombstone Tap," a bar located across from a graveyard in Medford, Wisconsin. Today, TOMBSTONE is a nationally distributed frozen pizza brand that provides consistently good, unmistakable flavor with just the right combination of sauce, cheese, crust, and every day toppings.
"What do you want on your Tombstone?" With over 12 different flavor varieties and multiple crust types to choose from, your family can have TOMBSTONE pizza your way. Whether you want Original Pepperoni, Half Pepperoni/Half Cheese, or
Garlic
Bread crust, TOMBSTONE has something to please everyone!
You can find TOMBSTONE in the frozen section at your grocery store.
We love Halloween in my house, so naturally we love to decorate for the holiday. Here is a picture of the front of the house during the daylight hours (not too creepy, but when you see it at night it can be a little eerie)!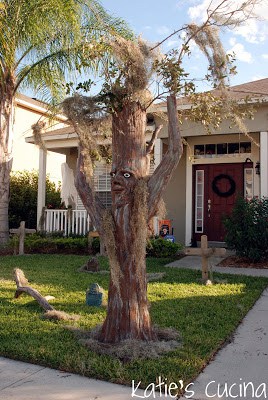 One of the very cool spooky tree's my husband painted for our party!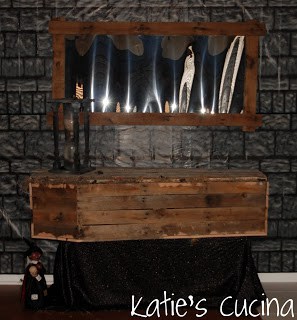 This is what the entry way to our home looked like… Fun House mirror, rustic coffin, hour glass that ultimately translates to "your time is running out"!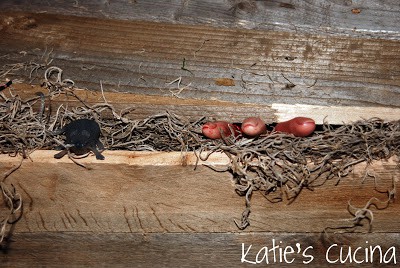 And if you look closer at the coffin you just might see that someone is trying to escape!!!
Now that you've gotten a small glimpse at our decorations now its time for the food! If you want to see more decorations and how we made some of it make sure you stop by our craft blog;
Sew Woodsy
!
The prep work… look at how cool these cookies are??? They come pre-stamped.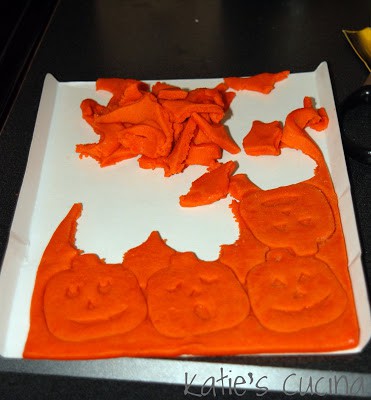 Here are a few of the pumpkin sugar cookies.
I took all the remaining cut out pieces and molded them into 5 extra cookies!
No wasting here!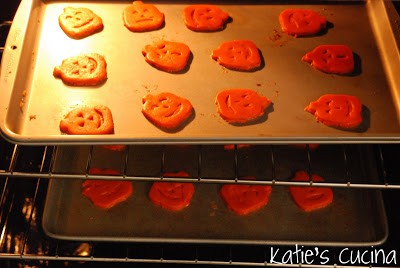 Some of these pumpkin cookies look scared baking in the oven!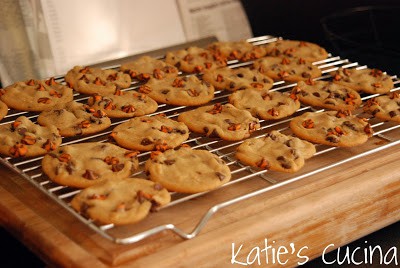 Mmm freshly baked chocolate chip cookies!
**The night of the party**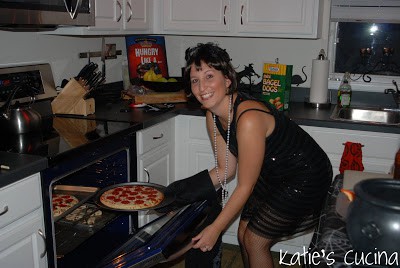 Pulling the pizza out of the oven!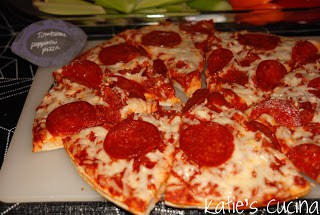 Tombstone Pepperoni Pizza (Look at all that pepperoni)!!!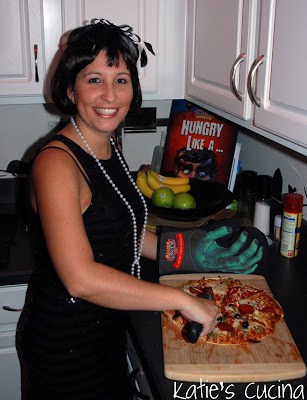 Cutting the Tombstone Supreme Pizza!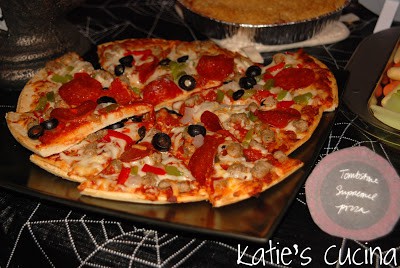 Tombstone Supreme Pizza; full of veggies & meats!!!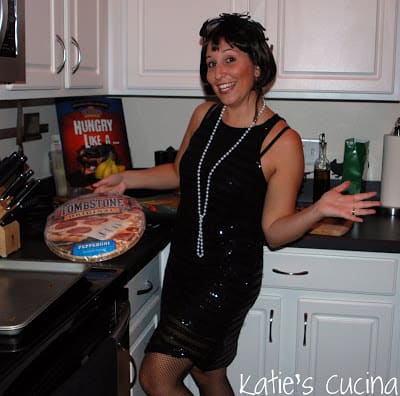 Tombstone Pizza & Jazz Hands!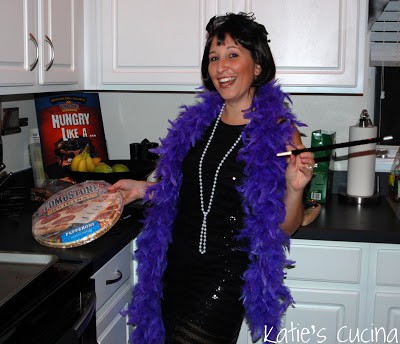 Ok, now a little leisurely pose with the Tombstone Pizza!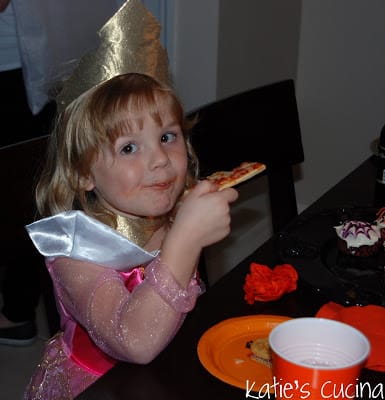 Tombstone pizza is fit for princesses, too!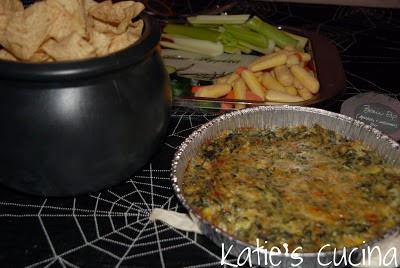 I must say I made a rocking Spinach & Artichoke dip (recipe to come)!
Along with some veggies and tortilla chips to dip with!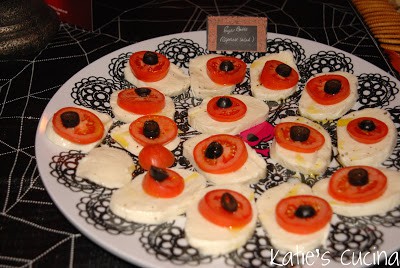 Eyeball Caprese's anyone?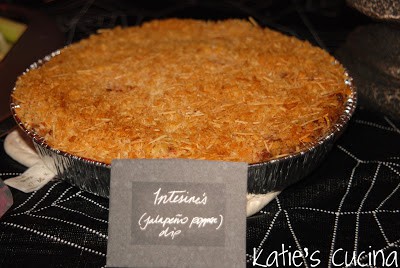 Intestines anyone?
Actually it was an awesome Jalapeno Popper Dip (recipe to come later on this week)!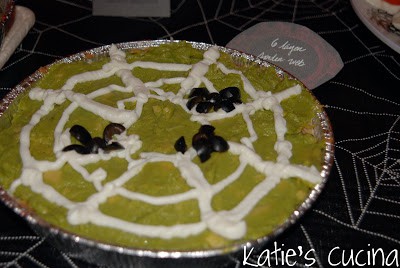 6 layer spider dip (recipe to come later this week)!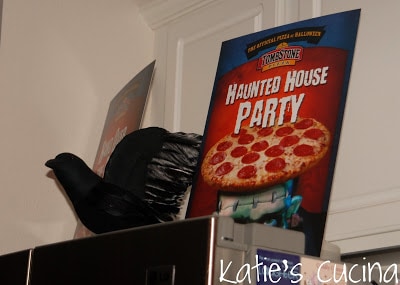 Look at Frankenstein… peaking above my fridge!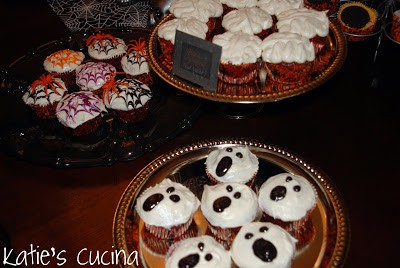 Spooky baked sweet treats (New awesome red velvet cake recipe to come)!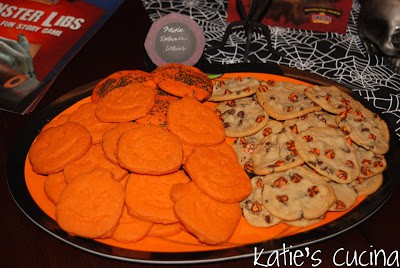 Nestle Tollhouse Cookies!
Sugar cookies on the left, Chocolate Chip Cookies on the right!
**Some of the best costumes of the night**
Funniest Costume went to the 1950's Nerd!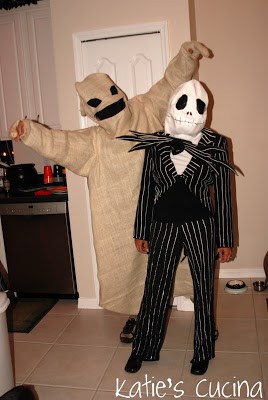 Best Couple went to Jack & Oogie Boogie!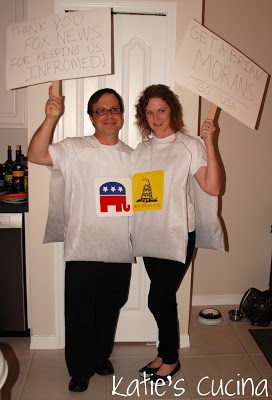 Most Creative went to the "tea baggers"!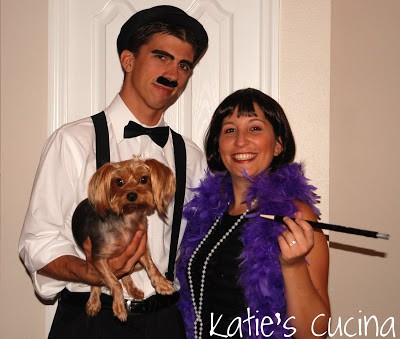 The host & hostess; Mr. Chaplin & his ladies!
Lastly… a few of my blogger friends in real life!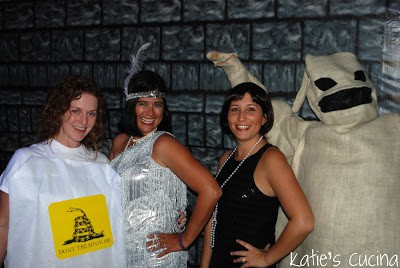 Thank you House Party for choosing me to host the Tombstone Haunted Pizza Party, and a big thanks to all my friends who came and made the night memorable!
Disclaimer: I received free products from Tombstone and House Party. This post is a reflection of my opinions and is not tied to either of the brands. I was not monetarily compensated for this review.