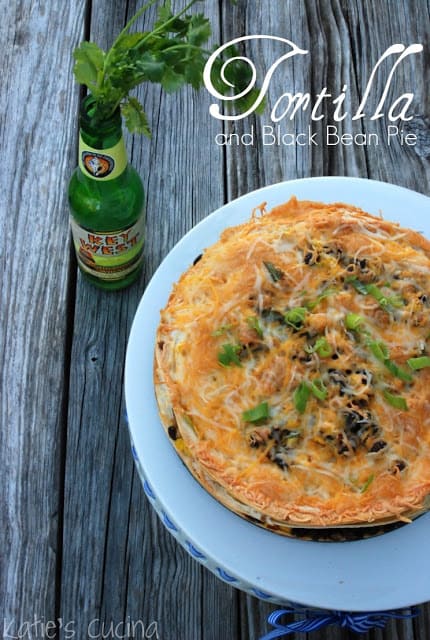 If you are looking for a hearty vegetarian meal this is the meal for you. This pie is thick, filling, and well let's face it will most likely stick to your hips. But to be honest–it's totally worth it! Well, that is if you love black beans and cheese.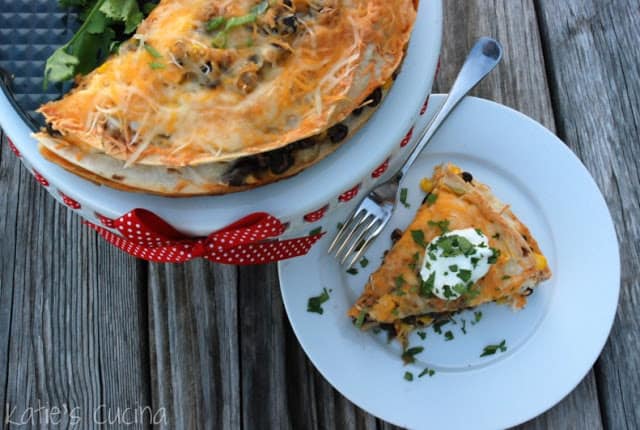 What is unique about this meal is that you bake it in a spring form pan. Yep, that's right. The same type of pan you would typically bake a cheesecake in. Instead this pan is being used to bake a filling dinner. You'll have to trim around 10 inch flour tortillas for them to fit in the standard 9-inch spring form pan. Since you only need 4 this will only take a few minutes. The recipe calls for any light beer. Since my husband has become quite the beer connoisseur I used one bottle of Key West Southernmost Wheat beer. Since this beer has a hint of lime to it I figured it would compliment this Mexican style dish well. That it did indeed. I can't imagine not using any other type of beer for this dish. The next time you are in the mood for a hearty vegetarian meal I suggest you give this recipe a try.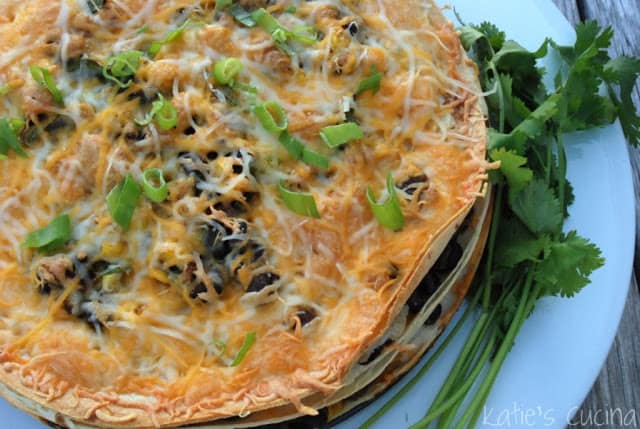 4 (10-inch) flour tortillas
1 jalapeno chile, minced (deseeded)
2 cans black beans, drained and rinsed
4 scallions, thinly sliced + more for garnish
2-1/2 cups shredded cheddar cheese
1. Preheat oven to 400 degrees. With a paring knife, trim tortillas to fit a 9-inch springform pan. (Use the bottom of the pan as a guide.) Set aside.
2. Heat oil in a large skillet over medium heat. Add onion, jalapeno, garlic, and cumin; season with salt and pepper. Cook, stirring occasionally, until softened, 5 to 7 minutes.
3. Add black beans and beer, and bring to a boil. Reduce heat to medium; summer until liquid has almost evaporated, 8 to 10 minutes. Stir in corn and scallions, and remove from heat. Taste and adjust for seasoning.
4. Fit a trimmed tortilla in bottom of springform pan; layer with 1/4 of the beans and 1/2 cup of cheese. Repeat three times, using 1 cup cheese on top layer. Bake until cheese melts, 20 to 25 minutes. Remove side of pan; sprinkle pie with scallions. To serve, slice into wedges.
Disclaimer: This post was not sponsored by Florida Beer Company. The opinions and actions to use this style beer are my own.