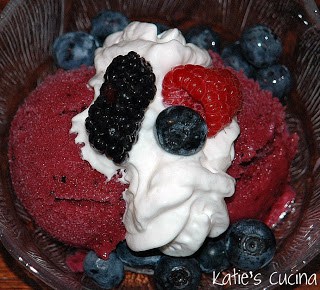 My mother in-law found this recipe in her latest issue of Cooking Light and instantly flagged it to eventually make it. Well once she read the directions she realized she needed an ice cream maker, and she doesn't have one, so she brought me the recipe in hopes I'd make it. Within a week I had whipped up 4.5 cups of deliciousness. I first shared the sherbet with my neighbor and we both fell in love with the pungent flavors that the cardamom gave. Best part it's only 116 calories for a half cup! It feels very healthy when eating it and I love pairing it with a little whipped cream and fresh berries! I eventually brought it over to my in-laws and they weren't as pleased as I was. It also received mixed reviews at my Bull's Eye BBQ as well. People either hated or loved it. Next time I'll cut the cardamom in half so that it's not as pungent but the flavor is still there (although my husband would say that next time I will just not put it in at all). Oh, and make sure you hull the berries–it makes a world of a difference. Plan on spending an HOUR on the hulling part!
Prep:
1.5 hours
Next Day:

30 minutes




Makes:

4.5 cups
Ingredients:
1 ¼ cups (6 oz.) each blueberries, blackberries

, & raspberries

1 tablespoon lemon juice

1 pint low-fat buttermilk

¾ cup sugar

¼ teaspoon ground cardamom (optional)
Directions:
1. Purée berries in a food processor, then rub through a fine strainer into a medium bowl. Discard solids. Stir in remaining ingredients.
2. Freeze mixture in an ice cream maker according to manufacturer's directions.
3. Transfer to an airtight container and freeze until firm enough to scoop, at least 4 hours and up to 2 weeks.