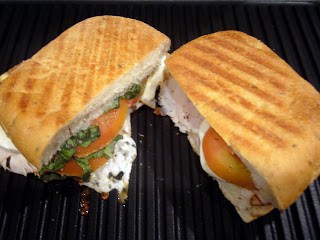 This is my ALL time favorite sandwiches, and the best thing about this sandwich is that I created it on my own! That's right… a few experiments and I mastered this delicious sandwich! I have been making this sandwich for years, and am finally revealing my secret recipe!
Prep: 10 minutes
Cook: 5-8 minutes
Serves: 2
Ingredients
½ lb Boar's Head Ovengold Turkey Breast (thinly sliced)
4 slices of good bread (I prefer Italian Five Grain)
4 pieces of fresh mozzarella
1 plum tomato, sliced vertically
4 basil leaves
2 teaspoon of Dean Jacob's Bread Dipping Seasoning
Drizzle of olive oil
freshly ground pepper to taste
Directions
1. Pre-heat panini press or grill pan to high heat.
2. While press is heating up lay bread out on the counter, and stack a quarter pound of turkey breast meat on one side of the bread. Place thin slices of tomatoes on top of the sliced turkey breast followed by freshly ground pepper, and 1 teaspoon per sandwich of the Dean Jacob's Bread Dipping Seasoning. Then place basil leaves followed by two slices of fresh mozzarella, and top with other slice of bread. The sanwiches will look huge, but don't worry… they will shrink once they are pressed.
3. Place sandwiches on panini press and cook until golden brown (about 5-8 minutes).
Side Suggestions: Spinach Tortellini Soup