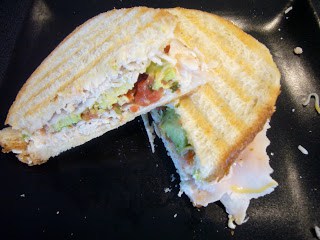 Last year my best friend introduced me to this awesome little sandwich shop here in Orlando. They have all sorts of sandwiches from a Thanksgiving dinner sandwich to the norm. I fell in love with a sandwich they call "Low Rider". I had never thought to put cream cheese on a panini before until I ate at Pom Pom's. I still haven't came up with an official name for my version of the "Low Rider", but that wasn't going to hold me back from debuting it on my blog.
Prep: 10 minutes
Cook: 5-8 minutes
Serves: 2
Ingredients:
½ lb Boar's Head Ovengold Turkey Breast (thinly sliced)
4 slices of good bread (I prefer Italian Five Grain)
1 tablespoon (for each sandwich) of whipped cream cheese
1 tablespoon (for each sandwich) of salsa. I prefer Jack's.
1 avocado, sliced
1 tablespoon (for each sandwich) of mushed black beans

*this can be optional–the last time I made this sandwich I did not have black beans on hand.
Directions:
1. Pre-heat panini press or grill pan to high heat.
2. While press is heating up lay the four pieces of bread out on the counter, smear cream cheese on all four pieces of bread, then stack a quarter pound of turkey breast meat on one side of the bread. Drain salsa so that only the tomato chunks are left, and top on each sandwich. *If adding mashed black beans, add now. Lastly, slice fresh avocado, place on sandwich and then place the other piece of bread on top.
3. Cook on your panini press until golden brown. Enjoy!
Side Suggestions: potato chips