Tuscan Herb Hummus Flatbread with Roasted Tomatoes
Thank you Sabra Humus for sponsoring today's recipe. As always, all opinions are my own.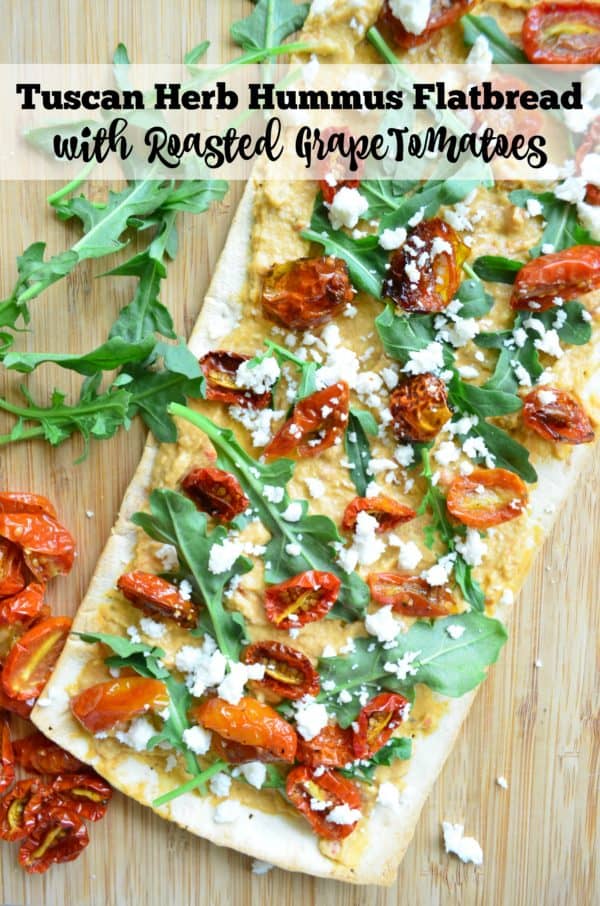 Do you know what today is? Well, other than Friday the 13th? Umm, you guessed it! National Hummus Day! And since my family and I are huge lovers of hummus I could not pass up the chance at sharing a super quick and delicious hummus recipe. I'm going to let you in on a little secret. There are some things I don't make from scratch. Gasp! I know. Hummus would be one of them. Although I've experimented quite a bit with making my own hummus, I'm never satisfied and that's why I let my friends at Sabra do the cooking and creating. They have some of the most creative flavors like Lemon Twist Hummus and Rosemary with Sea-Salt Hummus. Today, we are celebrating National Hummus Day with Sabra. Even better they are offering a special coupon in honor of National Hummus Day. You can download it HERE! The coupon is only available until Midnight tonight (5/13/16).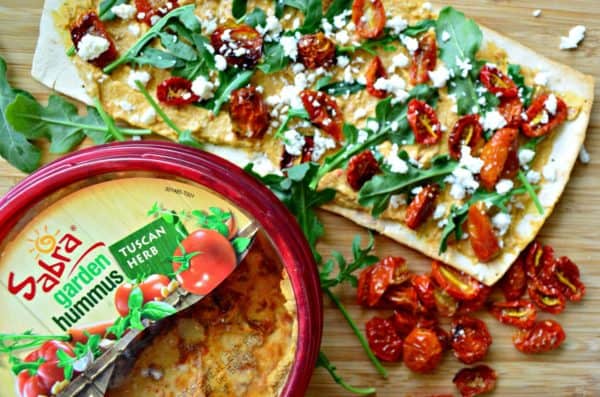 I have to admit to you that I've made this flatbread quite a few times since first developing it. And I might just be munching on it while I write this blog post! The perks of the job, what can I say!?! I like to make cold hummus flatbreads as an afternoon snack often which then sometimes turn into my unofficial meal of the day. I bake the flatbread for 2 minutes and then I typically empty out my vegetable crisper with whatever I have on hand while it cooks. I've experimented many different ways and I love the Tuscan Herb Garden Hummus for this recipe the best.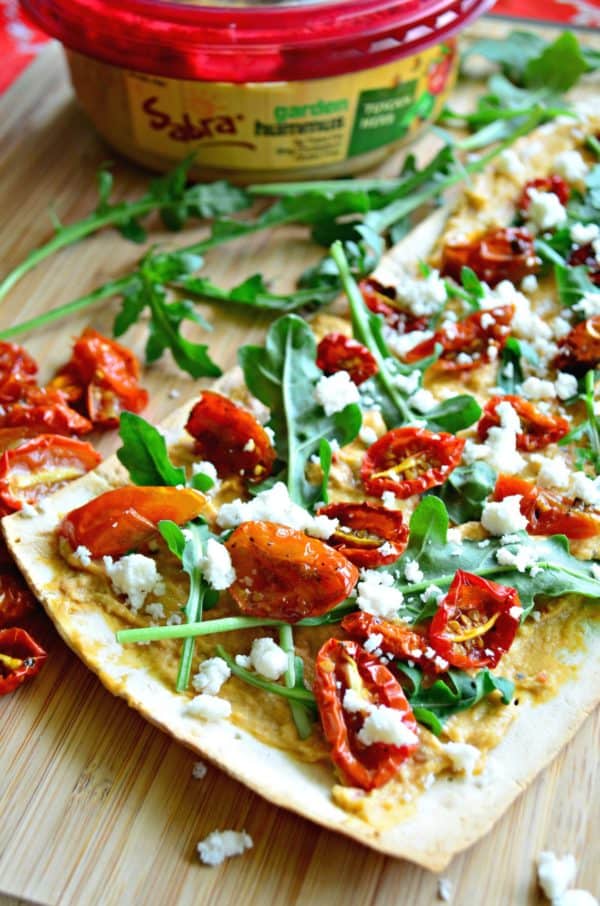 The hummus has a hint of tomato to it which compliments the oven roasted grape tomatoes. Although this recipe only takes 12 minutes (give or take) from start to finish you will have to do prep work before making the flatbread. You'll need to roast the grape tomatoes. I typically will roast on a Monday and then use them throughout the week in salads, on flatbreads, and in entrees! They are so versatile.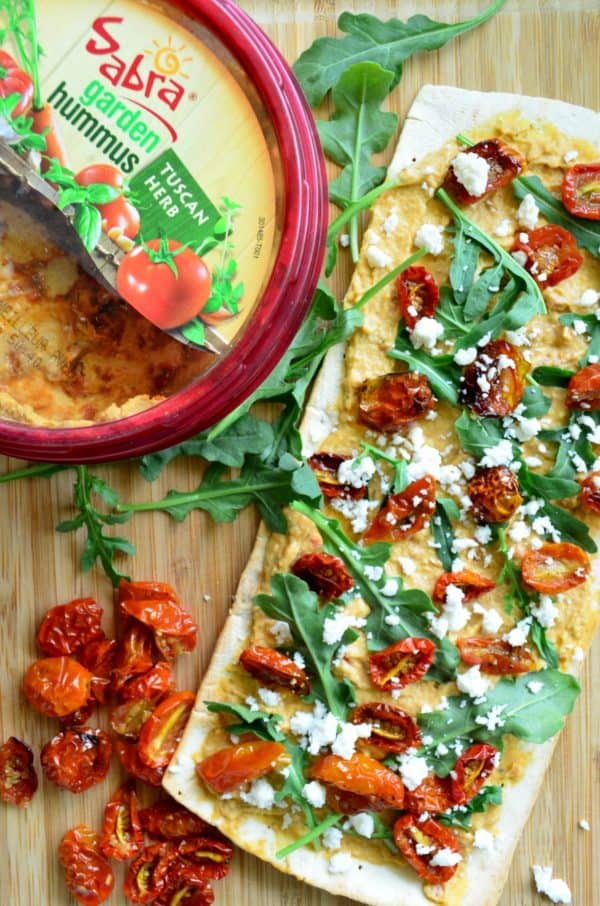 I also added peppery arugula to this flatbread. It gives a nice contrast to the sweet roasted grape tomatoes. And for good measure–because everything needs cheese on it. I add a little crumbled queso fresco. It just gives the perfect amount to the flatbread.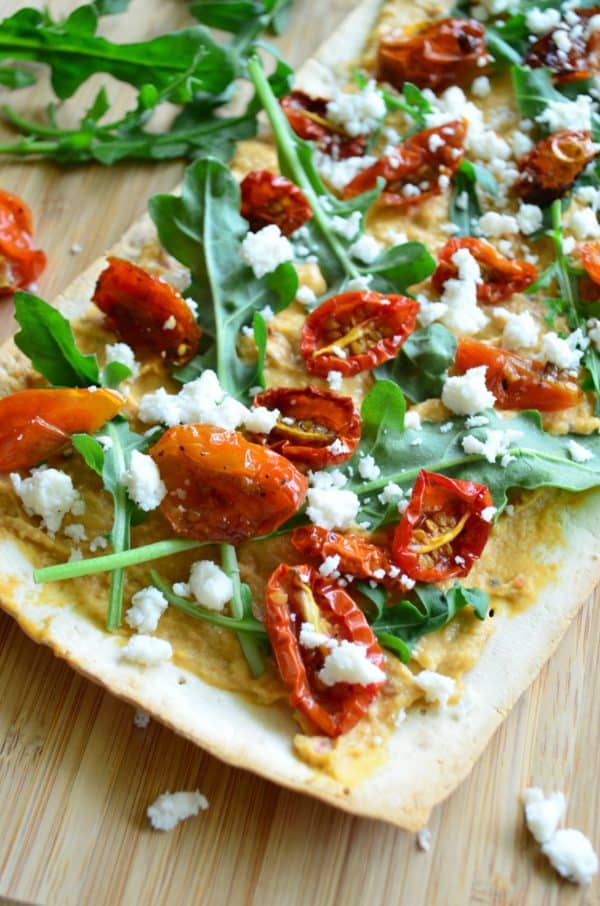 If you are looking to celebrate National Hummus Day, I highly suggest you run to the store and grab a tub of Sabra Tuscan Herb Garden Hummus, and try my recipe for Tuscan Herb Hummus Flatbread with Roasted Tomatoes. It makes for the perfect afternoon snack or even an unofficial meal!

Tuscan Herb Hummus Flatbread with Roasted Tomatoes
Yield: 1
Prep Time: 10 minutes
Cook Time: 2 minutes
Total Time: 12 minutes
Ingredients:
Directions:
Preheat the oven to 375 degrees. Bake the flatbread for 2 minutes then remove from the oven.
Place 3 tablespoons of Sabra Tuscan Herb Garden Hummus on the flatbread. Smear with the back of the tablespoon until an even layer is distributed. Place arugula leaves evenly on top of the hummus layer. Then scatter the oven roasted grape tomatoes. Sprinkle the crumbled queso fresco on top, cut and enjoy immediately!
*You will need to cook the oven roasted grape tomatoes in advance of making this recipe. I always have a container in my fridge during tomato season!
Warning
: Use of undefined constant rand - assumed 'rand' (this will throw an Error in a future version of PHP) in
/home/kjasiewicz21/webapps/katiescucina/wp-content/themes/katiescucina/single.php
on line
74
Leave a Comment