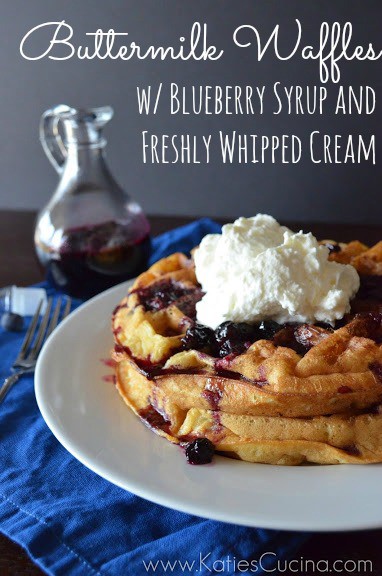 Who loves breakfast? ME!!! Two years ago I shared with you my favorite buttermilk waffle recipe. For years I had searched high in low for the holy grail of waffle recipes. This my friends is it. These are light and fluffy Belgium style waffles. And to make it even more decadent I top mine with a homemade blueberry syrup and freshly whipped cream. I mean come on… breakfast can't get any better than this!
I can't remember when I first started making waffles. It really feels like years ago and well, it was. I think I was in my early years of college living at home with my parents. I went to Kohls one day with my mom and decided to pick up a cheapy waffle maker. I want to say I spent $20 max. Both my boyfriend, now husband, and my mom thought I was crazy. They figured it was another countertop appliance that would maybe get used a handful of times. Boy were they wrong. I used that cheap waffle maker at least once a week and no one complained in my house at the tasty waffles I was producing. Although now thinking back, they were hard and dense. Nothing like my buttermilk waffle recipe I use now.
I made so many waffles on this cheap machine that the hinges had broken and just about every wire holding it together was exposed. In hind sight I really should have thrown it away at that point. But I kept on making waffles. And when my fiance, now husband, and I moved into our first place and w began registering for our wedding I demanded a premium waffle maker. I proved that this table top appliance was obviously going to be used… and over the past few years I had proven that. So, I registered for a KitchenAid Waffle Baker. I really didn't think anyone was going to purchase it for me, so I knew deep inside that I would use gift cards to buy it. I deserved a nice waffle baker. I proved my point to the world. I will use it.
Because I have awesome co-workers and they all know me way too well they all chipped in and gave the KitchenAid Waffle Baker to me at my work bridal shower! I was beyond in shock. Oh, and they paired it with a bathroom scale… not sure if that was too tell me something or to remind me not to eat too many waffles. In any event this coveted waffle baker became mine, and so I've used it religiously for over the past five years now.
My KitchenAid Waffle Baker is a work horse.
Its double sided so you can cook twice the amount of waffles in less time.
The Waffle Baker makes two 7-½″ diameter by 1-¼″ thick grand Belgian waffles in less than five minutes (I find that 3 minutes 15 seconds is the golden number for me).
There is a sleek drip channel along edges to help prevent overflow and spills.
It has non-stick waffle plates that can easily be wiped clean with a paper towel or damp cloth.
I've partnered up with KitchenAid to teach you how I make the most delectable Buttermilk Waffles and top them with a blueberry syrup and freshly made whipped cream. You can watch how I make the waffles using my KitchenAid Stand Mixer as well as baking them in my Waffle Baker. You'll also see how I create luscious homemade blueberry syrup and how I am easily able to whip up a batch of freshly whipped cream!
Making freshly whipped cream is super simple especially when I can rely on my KitchenAid stand mixer to do all the work! Any time I entertain my family and friends pretty much demand fresh whipped cream. It doesn't matter the meal. Hence why I've found myself incorporating whipped cream into breakfast dishes!
Make sure you come back tomorrow… I will be giving away a KitchenAid Waffle Baker to one fabulous reader!
Go here to find my Buttermilk Waffle recipe.
Blueberry Syrup & Whipped Cream are a Katie Original Recipe.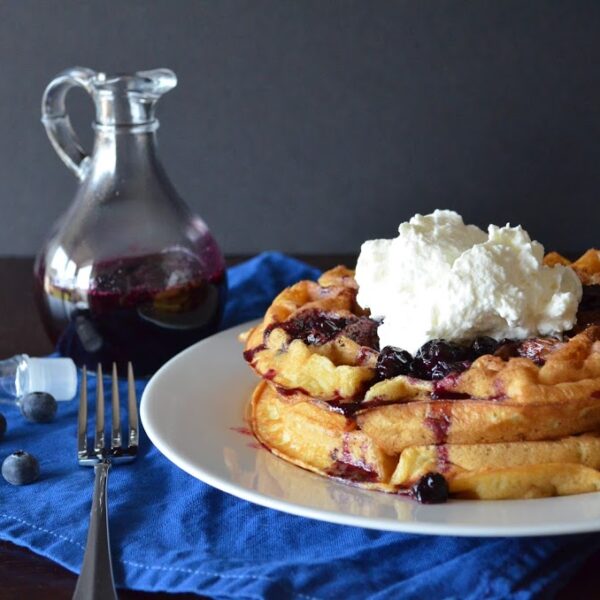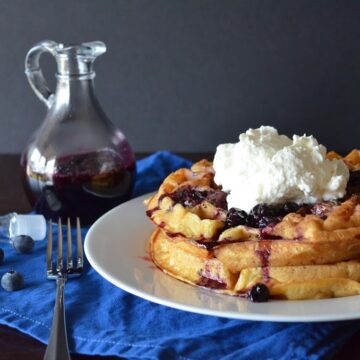 Blueberry Syrup & Freshly Whipped Cream
Make heavenly Buttermilk Waffles in the comfort of your own home. Top with freshly made blueberry syrup and whipped cream. This can be a great breakfast or dessert!
Print
Pin
Rate
Ingredients
For the Blueberry Syrup:
1

pint

of blueberries

1

cup

white sugar

¼

cup

water
For the Whipped Cream:
2

cups

heavy cream

¼

cup

powdered sugar
Instructions
For the Blueberry Syrup:
In a large sauce pan place blueberries, sugar, and water in the pan. Set to low heat and cook for 30-45 minutes until blueberries have reduced in size and a syrup has formed. Stir every so often to ensure the mixture is mixed well. Serve immediately or store in an airtight container for up to 3 days.
For the Whipped Cream:
In a

KitchenAid Stand Mixer

using the whisk attachment place the heavy cream in the mixing bowl. Place on medium speed and as it begins to thicken bump up to high. This should take 1-2 minutes.

Once the cream begins to thicken. Stop the mixture. Pour the powdered sugar in the bowl. Begin mixing on low until incorporated then bump up to high for another minute. Watch the whipped cream carefully. It should stick to the whisk when the top of the mixer is pulled back. Serve immediately or store in an airtight container for up to 2 days.
Notes
Click here for the recipe for my Buttermilk Waffles.
Disclaimer: I have a working relationship with KitchenAid. Filming and editing was done by my fabulous cousin, Paul Sykes. As always all opinions are my own.