Love stuffed peppers? Here are some ideas on what to serve with stuffed peppers from vegetable side dishes to hearty salads and more. I have 27 delicious sides to share with you.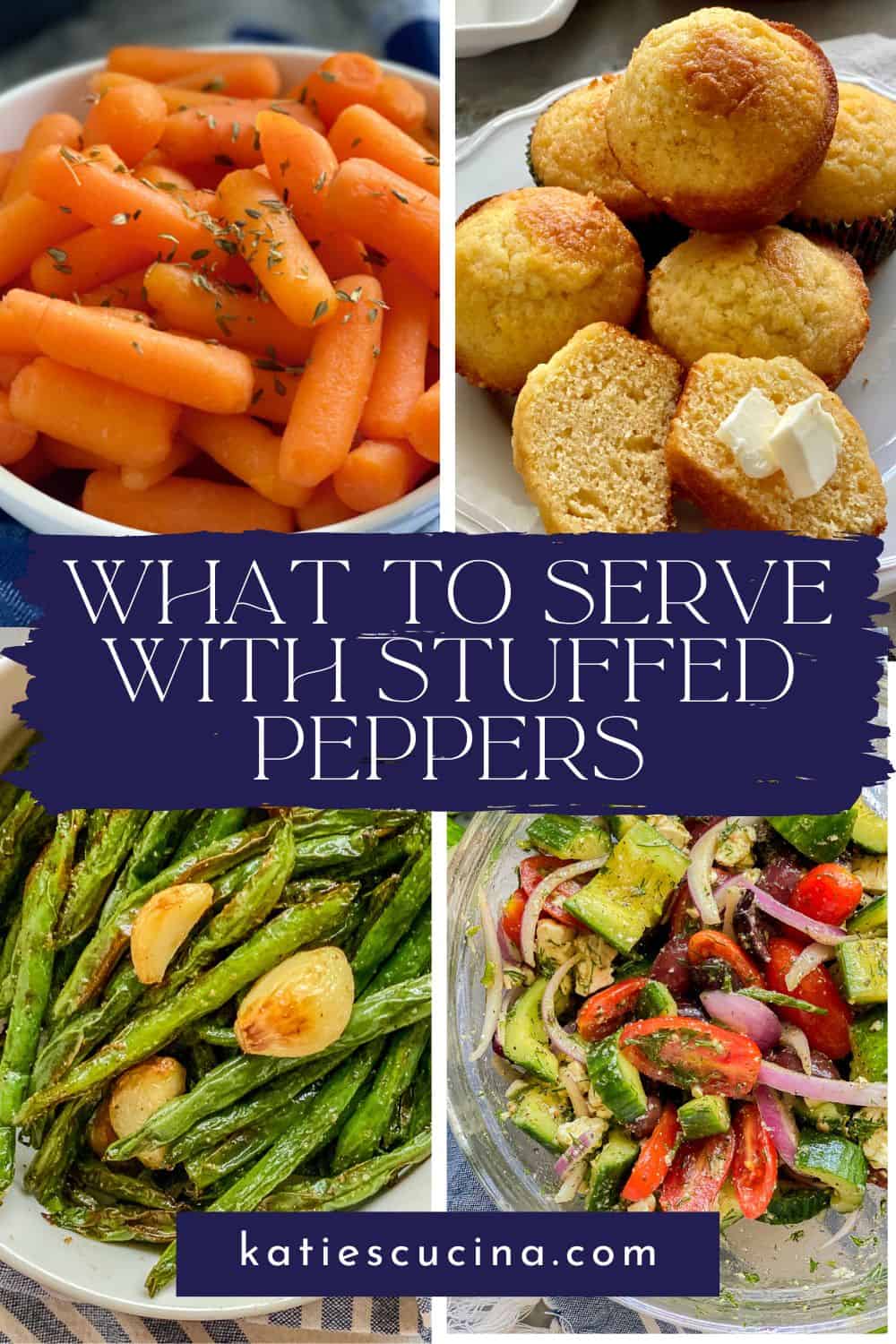 We love to eat stuffed peppers in my home. We eat this hearty main dish a few times a year, and every time I go to make stuffed peppers I am always looking for what sides to serve with stuffed peppers.
I've put together all my favorite side dishes that will make your next dinner complete! From quick breads to roasted veggies and even salads, the sky is the limit as to what you can pair with stuffed bell peppers.
Jump to:
FAQs about Stuffed Peppers
Do you have to cook peppers before stuffing them?
Yes, I love to cook the peppers before hand just until al dente and then they will finished cooking in the oven and will soften up even more.
What is good to eat with peppers?
You will find a wide variety of what is good to eat with peppers.
-Bread
-Salad
-Sauteed vegetables
-Cornbread
…and more! Read below for more delicious ideas.

Should peppers be cooked before stuffing?
Yes, I find that they cook best when the peppers are cook just slightly before stuffing and being baked. You can either boil them in water for a few minutes or bake them in the oven on their own for about 30 minutes. You don't want them soft you just want them al dente.
How do you cut peppers for stuffed peppers?
To cut bell peppers for stuffed peppers you can cut them two different ways. The first way, you can simply cut the top off of the pepper. The second way you can take a pairing knife and cut around the top of the pepper leaving more pepper in tact to hold in the filling.
How do you know when stuffed peppers are done?
You will want to use a kitchen timer and bake for 45 minutes to an hour or until the bell pepper is soft but not mushy.
Delicious Stuffed Bell Pepper Recipes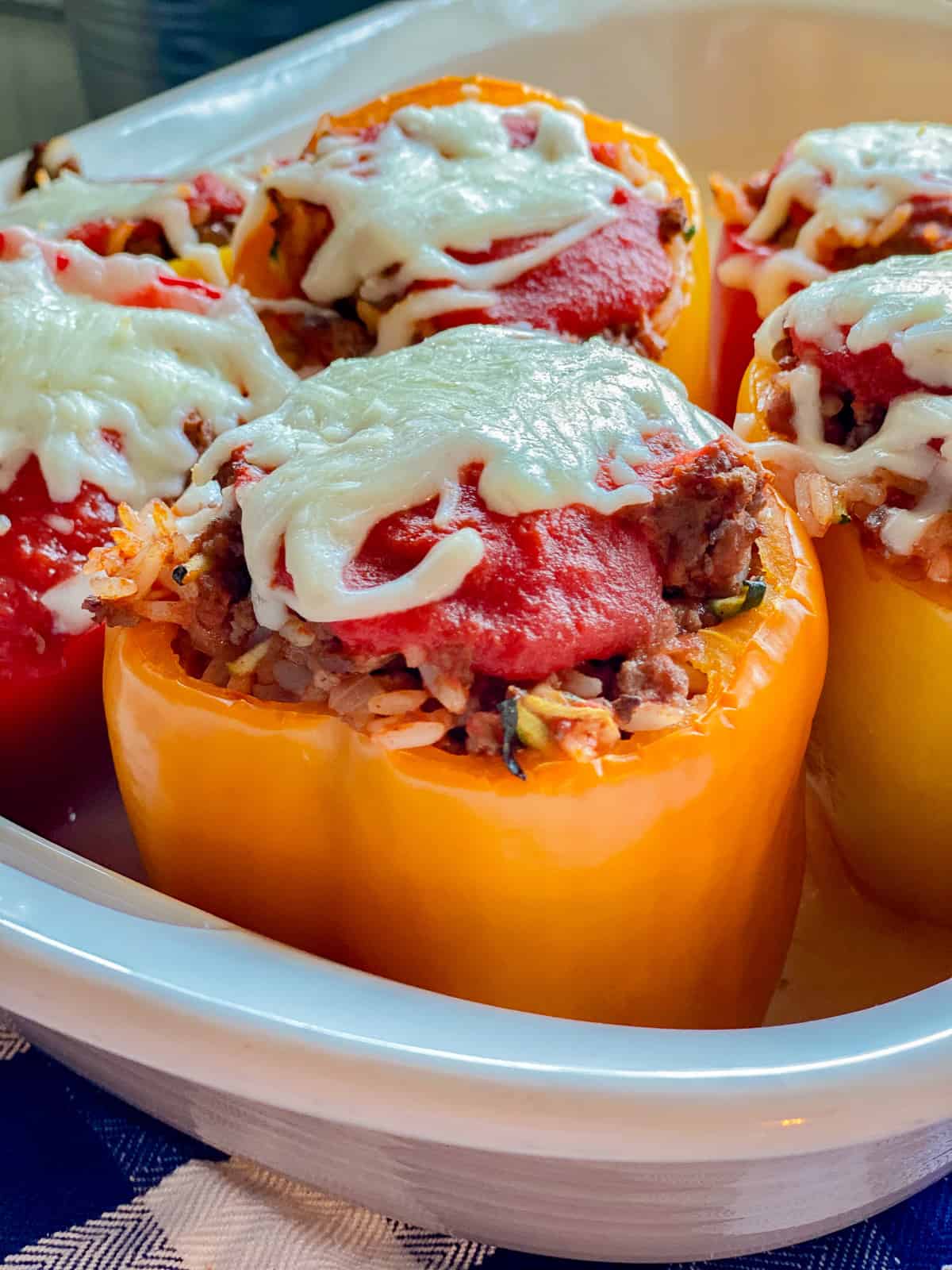 In case you are looking for a few stuffed pepper recipes I have a few variations that I love to make.
Stuffed Peppers with Ground Beef is a classic recipe that I grew up eating. It's filled with ground beef, rice, and my favorite secret ingredient, shredded zucchini. It's mixed together with tomato sauce making for a delicious dinner.
Slow Cooker Shredded Chicken Taco Stuffed Peppers if you love shredded chicken tacos you will love this fun take on stuffed peppers. Even better I make this recipe when I have leftover shredded chicken and then let the slow cooker do the cooking for me.
Vegetarian Couscous Stuffed Peppers with Basil Sauce is a delicious take on a vegetarian style pepper. The basil sauce completes this pepper and is also a great way to use up the abundance of basil you might have grown.
Southwestern Chicken And Rice Stuffed Peppers this recipe is a great way to use up the leftover rotisserie chicken and rice from another meal. The peppers can be assembled the day before dinner and then baked in the oven for an easy dinner.
What to Serve with Stuffed Peppers
If you have ever wondered what to serve with stuffed peppers I have 27 side dishes that will compliment your dinner.
I hope that I helped inspired you and gave you some ideas on what side dishes you can serve with stuffed peppers.
If you make any of these side dishes for stuffed pepper recipes, I would be honored and love for you to take the time to leave a ⭐ star rating and comment! I spend hours developing and testing these recipes, and always love to hear feedback and user experience!
Don't forget to FOLLOW ME on Facebook, Pinterest, and Instagram, and subscribe to my email list!