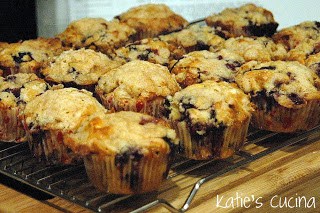 I've
always had a love for blueberry muffins and in recent years a love for white chocolate. When I saw this recipe I knew this would be a match made in heaven! Definitely delicious to say the least, but a little too much on the sweet side for me. Next time I make these I will cut the white chocolate in half!
Prep:
5
minutes
Total:
45
minutes
Serves
:
4-6
Ingredients:
2 cups all-purpose flour

½ cup granulated sugar

¼ cup packed brown sugar

2 ½ teaspoons baking powder

½ teaspoon salt

¾ cup milk

1 large egg, lightly beaten

¼ cup butter or margarine, melted

1 ½ teaspoons grated lemon peel

2 cups (12-oz. pkg.) White Morsels,

divided

1 ½ cups fresh or frozen blueberries

*Streusel Topping

⅓ cup granulated sugar

¼ cup all-purpose flour

¼ teaspoon ground cinnamon

3 tablespoons butter or margarine




Directions:

1. Preheat

oven to 375° F. Paper-line 18 muffin cups.




2. Combine

flour, granulated sugar, brown sugar, baking powder and salt in large bowl. Stir in milk, egg, butter and lemon peel. Stir in 1 ½ cups morsels and blueberries. Spoon into prepared muffin cups, filling almost full. Sprinkle with Streusel Topping.




3. Bake

for 22 to 25 minutes or until wooden pick inserted in center comes out clean. Cool in pans for 5 minutes; remove to wire racks to cool slightly.




4.

(*I Skipped t his part since I felt it already had enough chocolate!)

Place

remaining morsels in small, heavy-duty plastic bag. Microwave on MEDIUM-HIGH (70%) power for 30 seconds; knead. Microwave at additional 10- to 15-second intervals, kneading until smooth. Cut tiny corner from bag; squeeze to drizzle over muffins. Serve warm.




COMBINE

granulated sugar, flour and cinnamon in small bowl. Cut in butter or margarine with pastry blender or two knives until mixture resembles coarse crumbs.