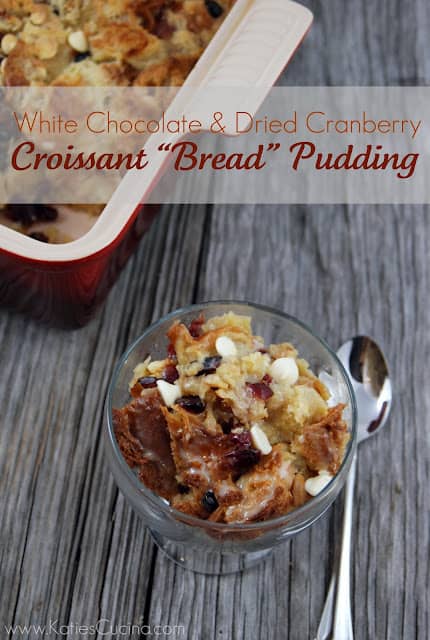 Growing up I never had bread pudding nor did it sound desirable to me; however, in the past few years I've started to grow a very fond liking to this delectably sinful dish. For once I had quite a few leftover croissants that had been in the fridge for a few week . I did not want to throw them away and knew I could make a tasty bread pudding out of it. I pulled the croissants out of the fridge and began rough chopping them. I let them sit out for a good hour or so–so they could harden a bit.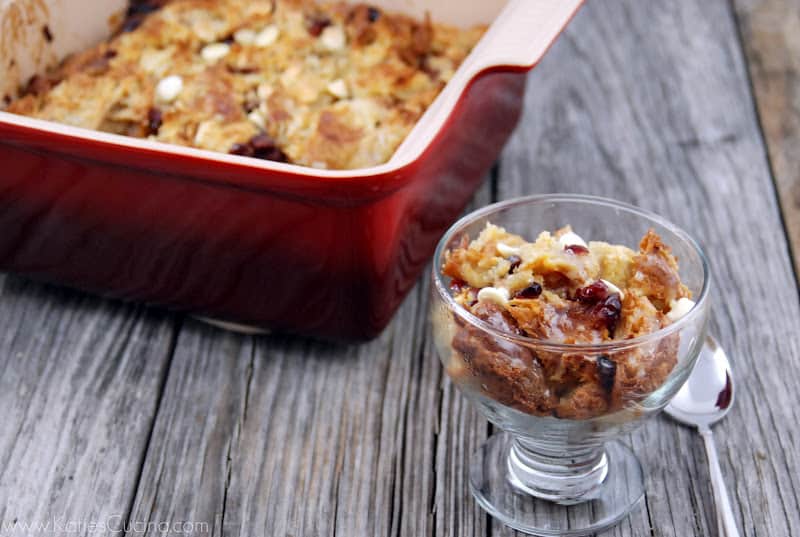 The dried cranberries and white chocolate are a nice addition to an already sweet dessert, and honestly brings this dish to a whole new level. To be honest I didn't really notice the croisants in the bread pudding–it tasted like any other bread would taste like to me. But you do notice the extreme butter flavors!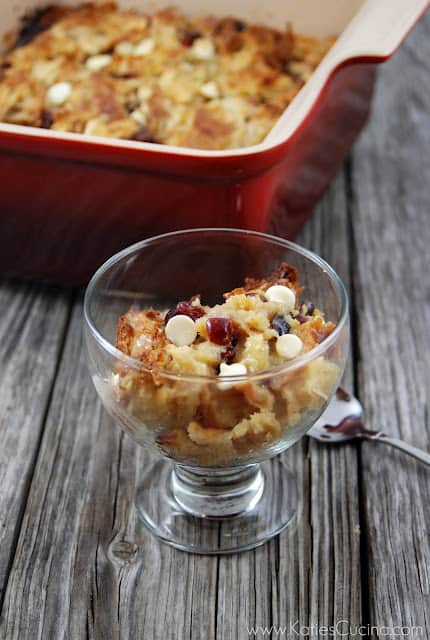 | | | |
| --- | --- | --- |
| White Chocolate & Dried Cranberry Croissant "Bread" Pudding | | |
Author:
Total time:
1 hour 10 mins
Ingredients
Butter for the baking dish
2 cups heavy cream
4 large eggs
¼ cup pure maple syrup
2 teaspoon pure vanilla extract
½ cup firmly packed brown sugar
¼ teaspoon ground cinnamon
6 large croissants (about 1 lb)
1 cup dried cranberries
1 cup white chocolate chips
Instructions
Heat oven to 350°F. Butter a shallow 2- to 2 ½-qt (or 8-in. square or 11 x 7-in. rectangular) baking dish.
In a large bowl, whisk together the heavy cream, eggs, maple syrup and vanilla. Add the sugar and cinnamon and mix well to combine.
Tear the croissants into 2-in. pieces. Add the croissants to the cream mixture and toss to coat. Fold in the cranberries and chocolate chips.
Transfer the mixture to the prepared baking dish. Bake until set and a knife inserted in the center comes out clean (cover with foil if it browns too quickly), 50 to 55 minutes. Drizzle with Sweet Liberian Cream Sauce (see note below). Serve warm or at room temperature.
Notes
*To kick it up to the next notch you can make a Sweet Liberian Cream Sauce; mix 1 can of condensed milk with 1 tablespoon of vanilla. Pour on top of the warm bread pudding.