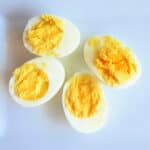 Print
Instant Pot Hard Boiled Eggs
Learn how to make perfect hard boiled eggs in the Instant Pot every single time with my no fail method for Instant Pot Hard Boiled Eggs made in 15 minutes.
1 Instant Pot

1 Instant Pot Egg Rack

1 Bowl
Place one cup of water in the Instant Pot. Place eggs on top of the trivet (or egg trivet). Close the lid, placing the valve to seal steam. Set on "manual" pressure for 5 minutes.

While the eggs cook place 1 cup of ice and 2 cups of cold water in a large bowl. Set to the side.

As soon as the Instant Pot is done cooking, carefully force pressure immediately. Using tongs, carefully, place the eggs one by one into the ice bath. Let them rest for 5 minutes, then peel and eat or pat dry and refrigerate.
Storage - After you have cooked the eggs you can store them in an air tight container in the refrigerator for up to 5 days.
Ice Bath - The ice bath is extremely important in cooling down and stopping the eggs from cooking. Do not skip this step.
Batch Eggs - If you are wanting to cook a few batches of eggs you will need to ensure the Instant Pot has completely cooled before starting another batch. I've found that if I put the eggs in the pot that is still hot all the eggs will crack. This is okay if you are making deviled eggs or egg salad. But not okay if you are dyeing Easter Eggs.
Calories:
63
kcal
|
Carbohydrates:
1
g
|
Protein:
6
g
|
Fat:
4
g
|
Saturated Fat:
1
g
|
Polyunsaturated Fat:
1
g
|
Monounsaturated Fat:
2
g
|
Trans Fat:
1
g
|
Cholesterol:
164
mg
|
Sodium:
64
mg
|
Potassium:
61
mg
|
Sugar:
1
g
|
Vitamin A:
238
IU
|
Calcium:
26
mg
|
Iron:
1
mg