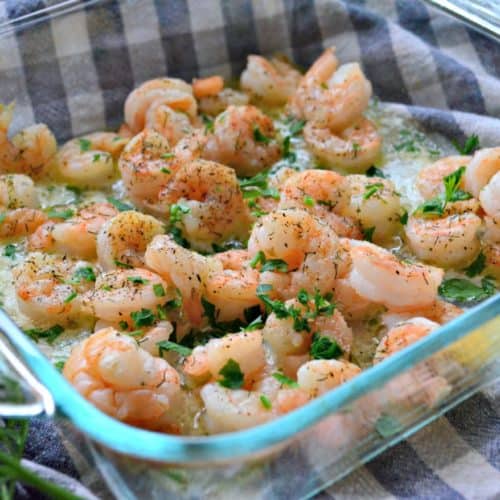 Print
Baked Lemon Garlic Shrimp
Baked lemon garlic shrimp is the perfect meal for seafood lovers. This cooking method and recipe is even easier then cooking on the stove top.
Preheat oven to 400 degrees Fahrenheit. Drizzle olive oil in a 8x8 glass dish. Peel, de-vein, rinse and pat dry the shrimp. Place the shrimp in the glass dish. Using your hands, coat the shrimp with the olive oil and minced garlic. Then, sprinkle with salt, black pepper, and dill on top. Scatter small pieces of ghee (or butter) around the baking dish.

Place in the oven and bake for 10 minutes. Once the shrimp are pink and cooked remove from the oven. Drizzle the juice of half of a lemon on top of the shrimp. Sprinkle with fresh minced parsley, divide among plates and enjoy.