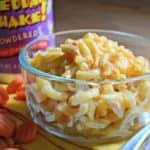 Print
Carrot Macaroni and Cheese
Make my small batch Carrot Macaroni and Cheese. Perfect for the picky eater who doesn't like to eat their veggies! Loaded with cheddar they will never know carrots are in the sauce! 
Fill a large pot with water and add the ½ teaspoon of salt. Bring the pot of water to a boil. Add in the pasta and carrots and boil for 10 minutes until cooked.

Strain pasta and carrots and place the pot back on the stove. Sort through the pasta and remove the cooked carrots. Place the carrots, whole milk, and Cabot cheddar cheese powder in a blender. Blend for 30 seconds or until the mixture is smooth.

Pour the cheese sauce into the pasta pot and stir in the cooked elbow macaroni. Place the heat on high for 1 minute while you mix the sauce with the pasta. Remove from the heat and serve immediately.