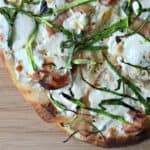 Print
Prosciutto Mozzarella and Asparagus Naan Flatbreads
Learn how to make Prosciutto Mozzarella and Asparagus Naan Flatbreads. Easy appetizer recipe anyone can bake at home!
Preheat oven to 450 degrees.

Divide the garlic and herb cheese spread evenly between the two naan breads. Then slice 6 mini mozzarella balls and divide evenly among each bread. Slice the prosciutto into bite size pieces and divide evenly among both breads.

Using a veggie peeler begin to peal the asparagus. One spear per pizza until you can no longer peal the asparagus spear. Top with a little cracked pepper.

Bake at 450 degrees Fahrenheit for 5 minutes. Once the cheese is melted and bubbly remove from the oven. Top with fresh basil and enjoy immediately.