Thank you Stonyfield Organic and prAna for sponsoring today's recipe; Yogurt Cucumber Dill Salad. As always, all opinions are my own.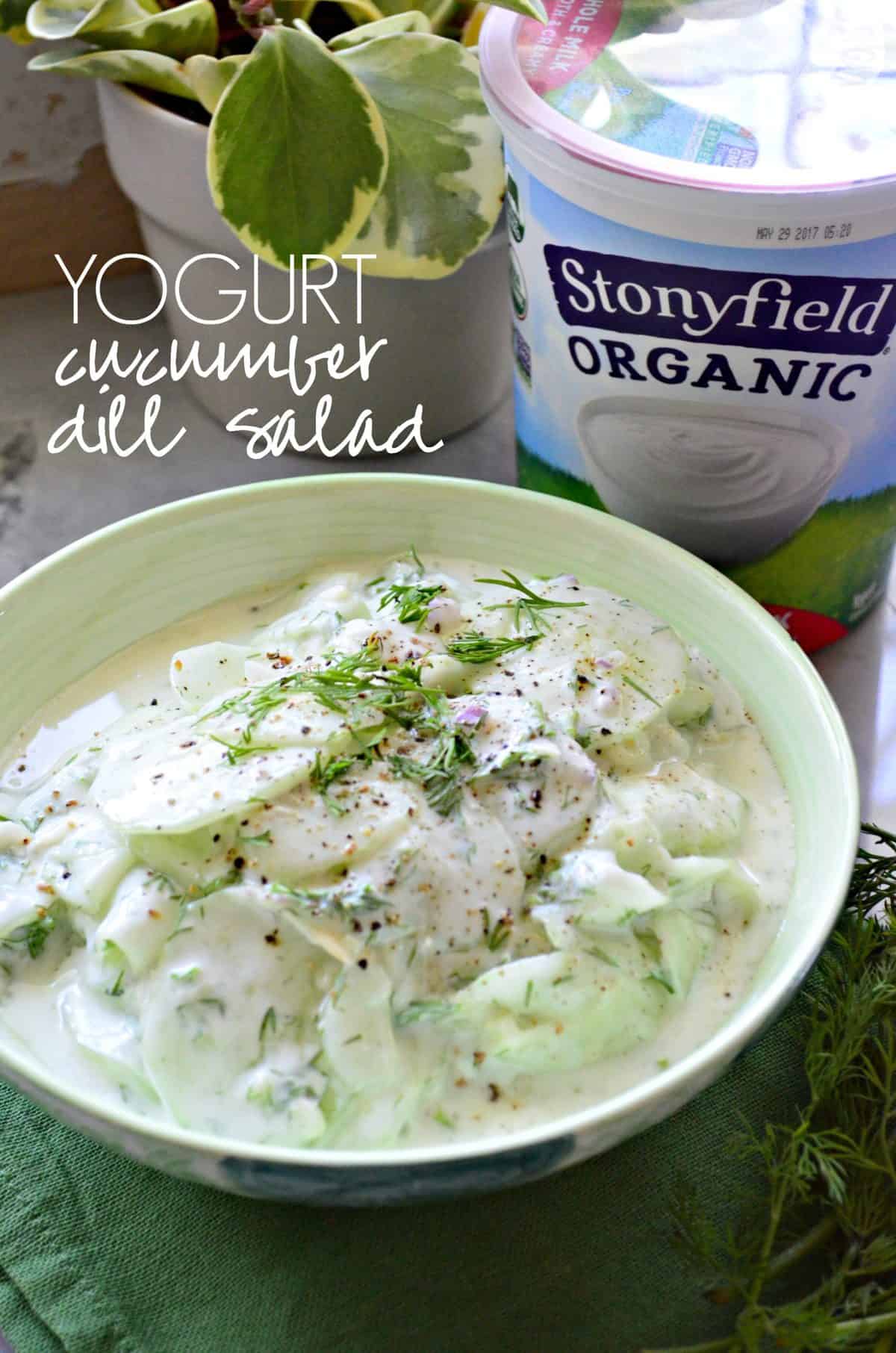 This Yogurt Cucumber Dill Salad is a light and refreshing salad filled with fresh dill and whole milk organic yogurt. Perfect for summer entertaining!
There is nothing I love more then cucumber dill salad. It was a childhood favorite of mine growing up. I could eat bowls and bowls of it. I always got this beloved vegetable side dish when we went to visit a next door neighbor friend to my mom; Annie MeHann. She was an elderly lady, and a grandmother figure to me since both sets of my grandparents were all deceased by the time I was four years old. I'll be honest, my cousin and I did not like going to visit her. Her house was a mother's worst nightmare. Crystal and breakables around every corner! It gives me anxiety (now as a mom to two small kids) just thinking about it.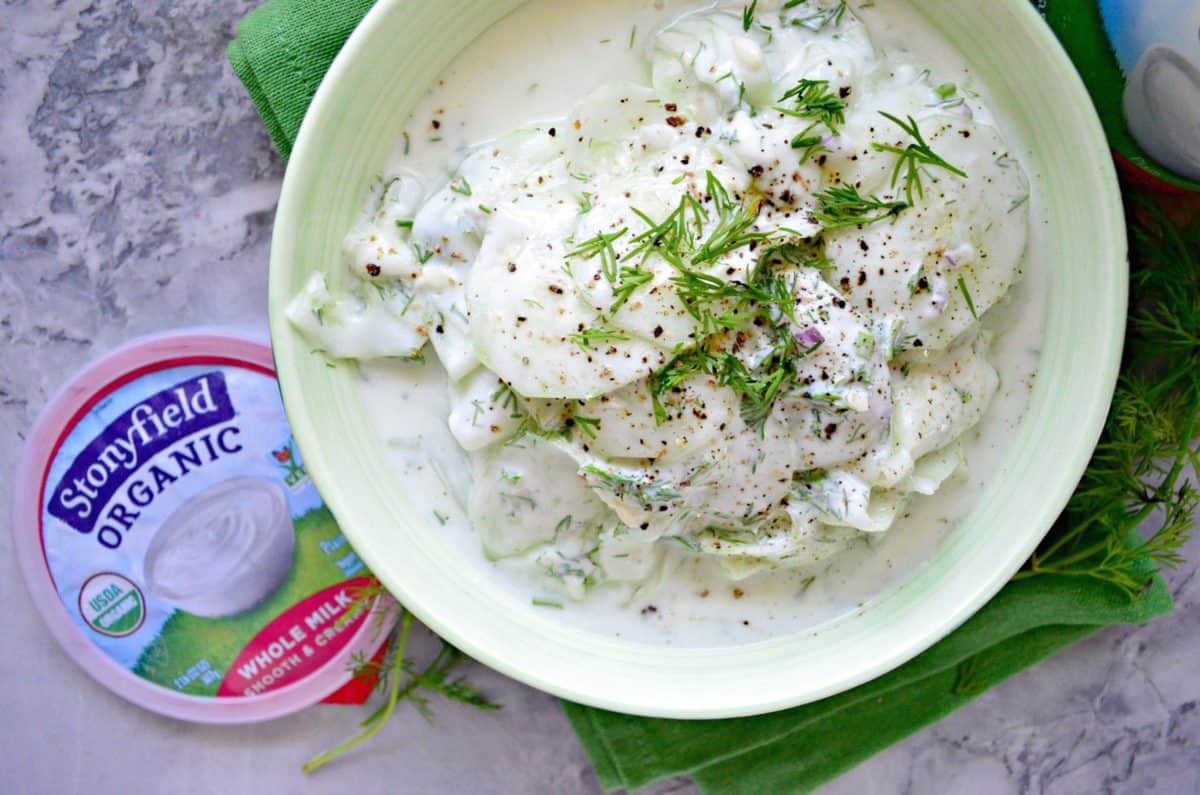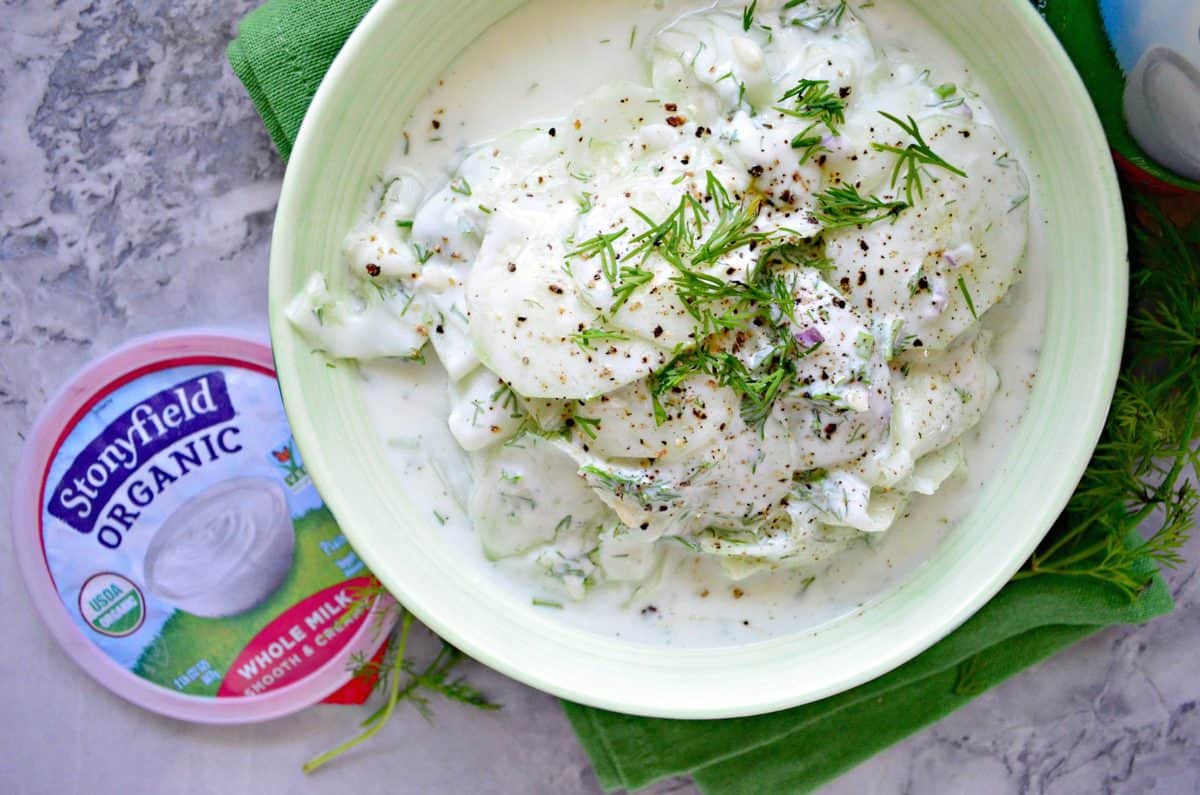 The only thing that my cousin Paul and I did like to do at Annie's was eat. She was an amazing cook. Of her specialties; cucumber dill salad, chicken ala king, and the most amazing New York style cheesecake. To this day, all of those dishes are still some of my favorites! I wanted to re-invent the cucumber dill salad by using yogurt instead of sour cream. For this recipe I used Stonyfield Organic Whole Milk Plain Yogurt. You can also use the Stonyfield Organic Whole Milk Greek Plain Yogurt as well–it just gives an additional tang to the salad. I love using the yogurt instead of sour cream. Stonyfield products are never made without the use of toxic persistent pesticides or GMO's. EVER. That means it's not only good for you but good for the planet too.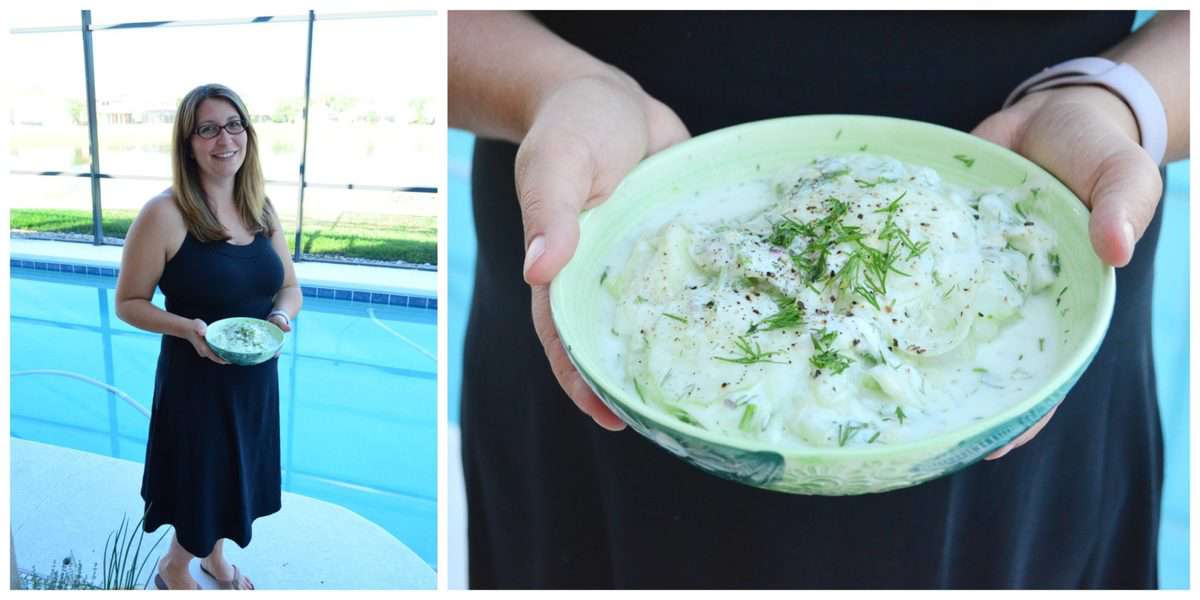 Since my friends at Stonyfield and prAna are allowing me to take a moment to be present and enjoy a tasty snack while wearing comfortable, sustainable clothing. A moment where one thing that I don't need to worry about is what's in my snack OR in my outfit. During my season of life right now I rarely have time to embrace relaxation. Cooking for the most part is my relaxation these days and this yogurt cucumber dill salad is comfort in a bowl to me.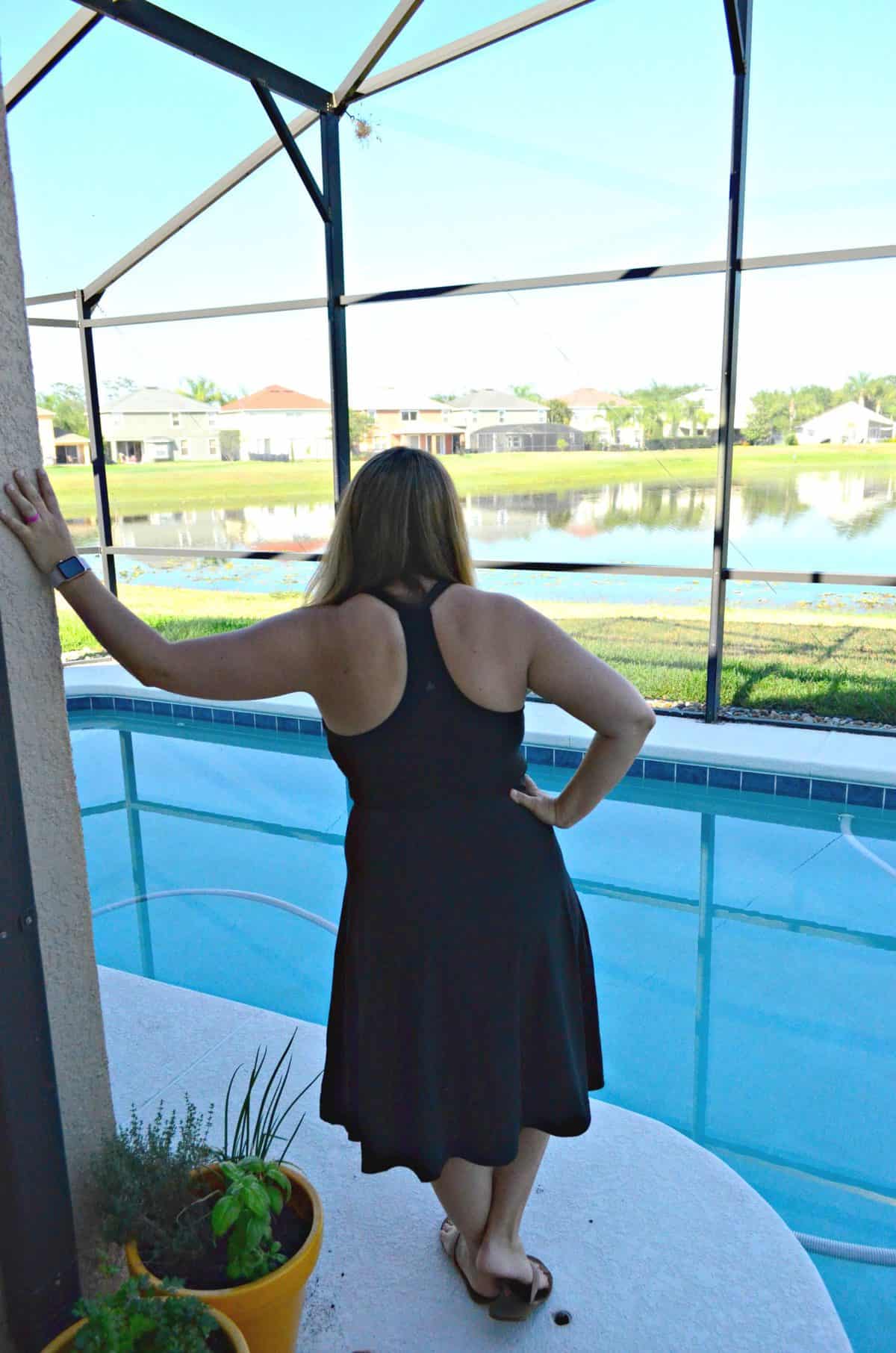 I'm gonna taking a moment today to get real on the blog. I have a 12 week old and 3 year old who pull for my attention 24 hours, 7 days a week. Then add in a husband and my own business, both whom also needs my attention and well… I feel a little bit like I'm drowning. I have zero down time for myself. I live for my Monday nights to the grocery store where I get 30-45 minutes of bliss to myself. Yes, grocery shopping for my family and for the blog. I never realized this is what my life would come to where I would yearn for a little quiet time doing a chore. It's something that I started about 8 weeks ago and have (for the most part) kept it up. I remind myself frequently, while I'm waste deep in the trenches with two small kids that one day I'll miss this. That the days are long but the years are short. That it's not the end of the world that my toddler boycots nap–sleep is overrated these days anyway. And if my newborn needs me to hold her a little longer, it's ok. The dishes will eventually get done. I'm really lucky though and so blessed beyond measure. And just when I think that I'm having the worst day ever. I think about how much worse my situation could really be.
Thanks to the blog, I get to stay home with my children while still providing income to help support my family. I get to work with amazing brands like Stonyfield and prAna. I get to take a moment to myself; to get pretty and wear a sustainably made dress! While we're on the topic of the dress. This is the Cali dress from prAna. It has a scoop neck, a built-in shelf bra and modesty cups making you not need to wear a bra at all with this dress. I've got a rather large chest and was shocked at how supportive it is–I'm so happy to have a dress that I won't have to wear a strapless bra with! It's the little things in life.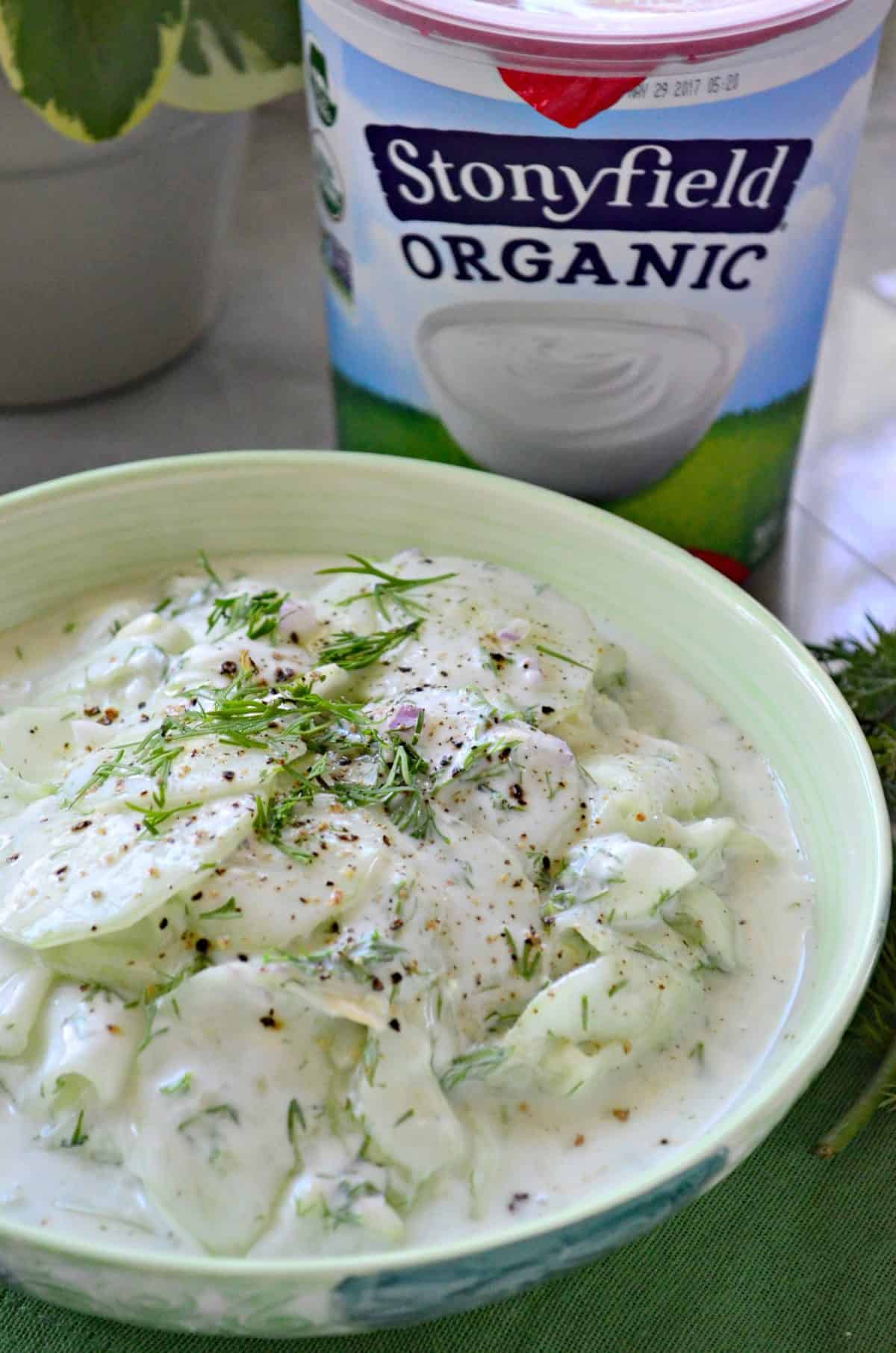 So there you have it… that's the whole me right now. I'm in a season of my life that is short lived, but will have lasting memories for years to come. I'll take the moments to myself while I get to cook delicious food for myself and my family. If your looking to treat your friends and family, I invite you to try my recipe for yogurt cucumber salad. And if your looking to buy this dress or any other items from prAna I have a special 15% discount code that is good until the end of the month (May 2017). Use WHOLES17KJC at checkout!
Save
Save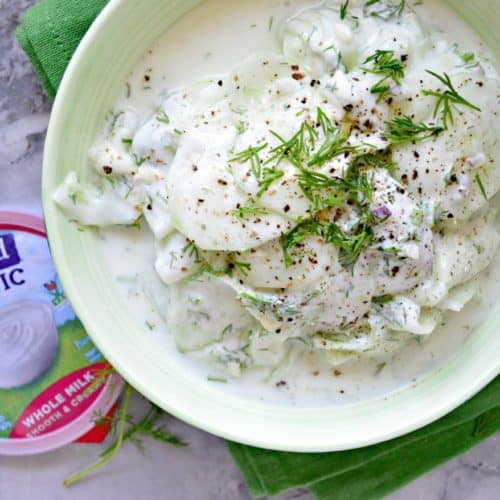 Greek Yogurt Cucumber Dill Salad
This Yogurt Cucumber Dill Salad is a light and refreshing salad filled with fresh dill and whole milk organic yogurt. Perfect for summer entertaining!
Print
Pin
Rate
Ingredients
2

cucumbers

peeled and thinly sliced

1

teaspoon

salt

1

tablespoon

red onion

minced

3

tablespoons

fresh dill

minced

½

cup

Stonyfield Plain Whole Milk Yogurt

Ground black pepper to taste
Instructions
Peel both cucumbers, then using a mandolin, thinly slice the cucumber. Place the cucumber slices in a large bowl. Sprinkle salt on top and mix well. Let the cucumbers rest.

While the cucumbers rest, mince the red onion fresh dill. Sprinkle on top of the cucumber slices and mix in a half cup of Stonyfield Plain Whole Milk Yogurt. Mix well, cover, and let chill in the refrigerator for at least one hour. Before serving top with freshly ground black peper.
Nutrition
Calories:
38
kcal
|
Carbohydrates:
5
g
|
Protein:
2
g
|
Fat:
1
g
|
Saturated Fat:
1
g
|
Cholesterol:
4
mg
|
Sodium:
599
mg
|
Potassium:
251
mg
|
Fiber:
1
g
|
Sugar:
4
g
|
Vitamin A:
161
IU
|
Vitamin C:
5
mg
|
Calcium:
58
mg
|
Iron:
1
mg