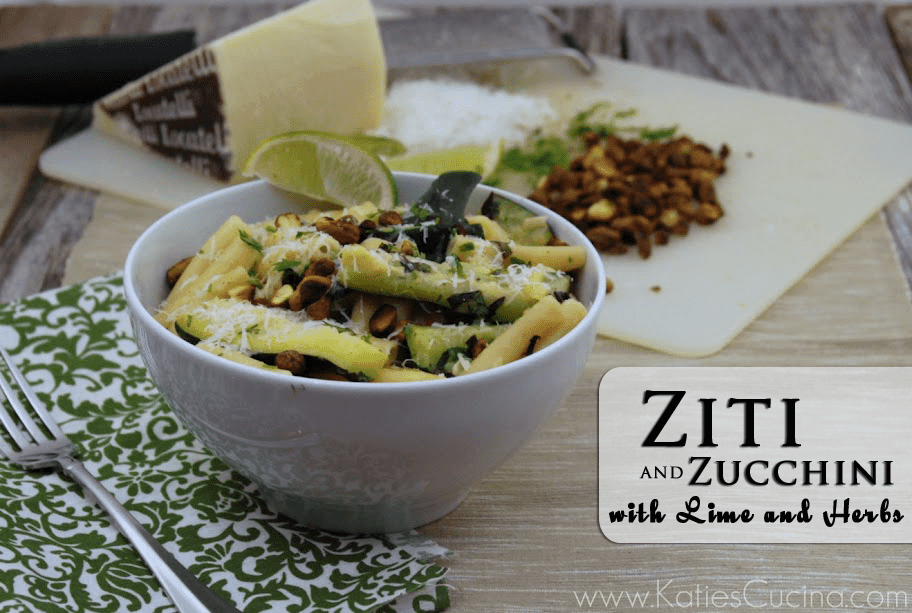 We are eating on average 6-8 zucchini's a week in our house hold. So when you have a plethora a zucchini you start getting creative. The wide variety of herbs, jalapeno to kick it up a notch and then of course the lime makes this a fresh and flavorful dish for the summer. Best of all it's meat free! I've made this dish multiple times in our household and we've never felt the need to add a piece of meet with this pasta. However, you could easily fire up the grill and cook chicken or shrimp skewers to add additional protein if needed.
Don't be scared by the variety of flavor profiles in this dish. Give this fresh and flavorful dish a try the next time you are trying to figure out what to make on a hot summers day.
Adapted from: Rachael Ray, August 2011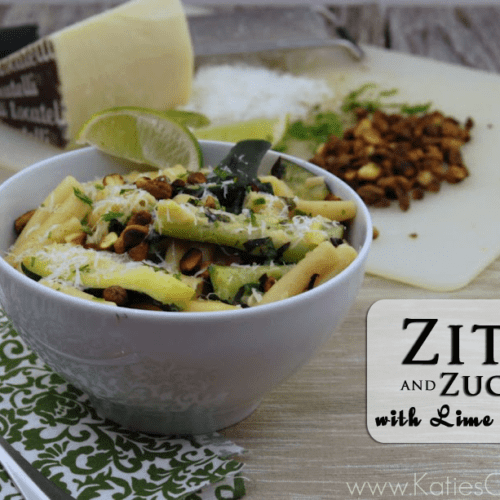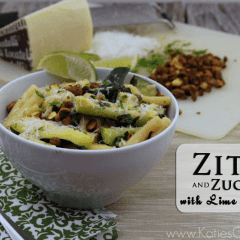 Ingredients
1

pound

ziti

1

tbsp

salt

3

zucchini

Thinly sliced into ¼-inch-by-2-inch strips

3

tbsp

extra virgin olive oil

½

jalapeno

finely chopped

4

cloves

garlic

finely chopped

Juice of 1 lime

2

tbsp

butter

½

cup

flat leaf parsley

chopped

¼

cup

fresh mint

chopped

½

cup

fresh basil

chopped

1

cup

grated Pecorino-Romano cheese

divided

salt & pepper

½

cup

pistachios

shelled, chopped, and toasted
Instructions
Bring a large pot of water to a boil and add 1 tablespoon of salt to the water. Once the water is to a boil add the pasta and cook until al dente. Prior to draining reserve 1 cup of the starchy cooking water, drain, and set pasta to the side.

While the pasta is cooking prep your veggies: halve the zucchini lengthwise, and thinly slice into ¼-inch-by-2-inch strips. Chopped garlic, jalapeno, herbs, and nuts.

In a large skillet, heat 3 tablespoons extra virgin olive oil, over medium-high heat. Stir in the jalapeno and garlic and cook for 1 minute. Add the zucchini to the skillet and season with salt and pepper.Cook until tender, roughly 8-10 minutes.

While the zucchini is cooking in a small frying pan heat the chopped pistachios on medium heat. Stir frequently to ensure they don't burn. As soon as you see them starting to brown remove them from the heat.

Add the juice of 1 lime to the zucchini and stir in the butter to melt. Add the pasta, parsley, mint, basil, handful of cheese, and the ½ cup reserved starchy cooking water. Toss for 1-2 minutes and add additional cooking water if needed. To serve, top each bowl with more pecorino-romano cheese and the toasted chopped pistachios.