Chilled Cucumber and Dill Greek Yogurt Soup
 This is a sponsored post by Stonyfield Greek Yogurt. As always all opinions are my own. Looking to cool off during the dog-days of summer? Try my easy recipe for Chilled Cucumber and Dill Greek Yogurt Soup made with Stonyfield Greek Yogurt.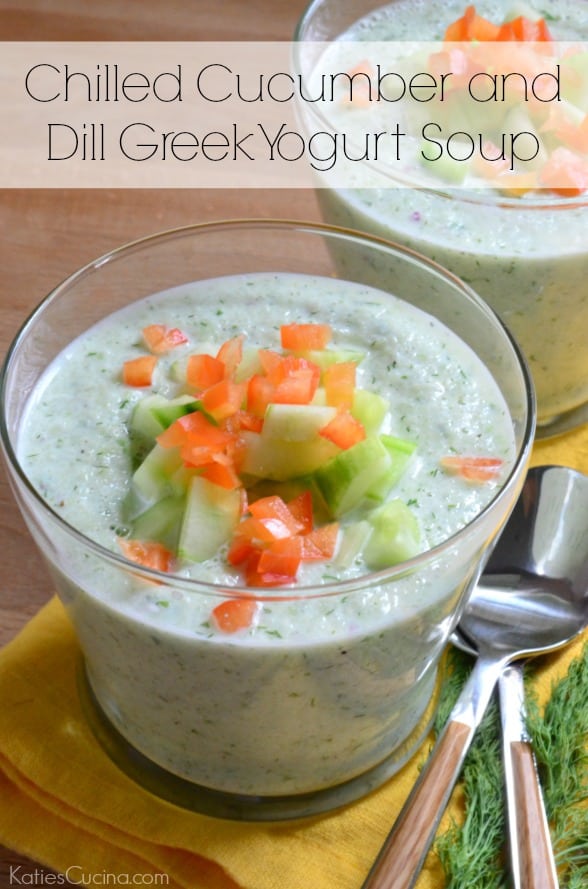 I've always had a love for cucumbers. From as young as I could remember I would eat slice by slice as a snack. I remember in the summer months visiting my Uncle Sammy's garden in Pittsburgh, where he grew an insane amount of tomatoes and cucumbers. I'm talking rows and rows of cucumbers and tomatoes. I think of my summers visiting his garden when I eat cucumbers and tomatoes in the summer months. Since it's so dang hot out right now I figured a nice chilled soup would be good to cool off with. This recipe for Chilled Cucumber and Dill Greek Yogurt Soup is just what the doctor ordered and best of all it's made in 10 minutes.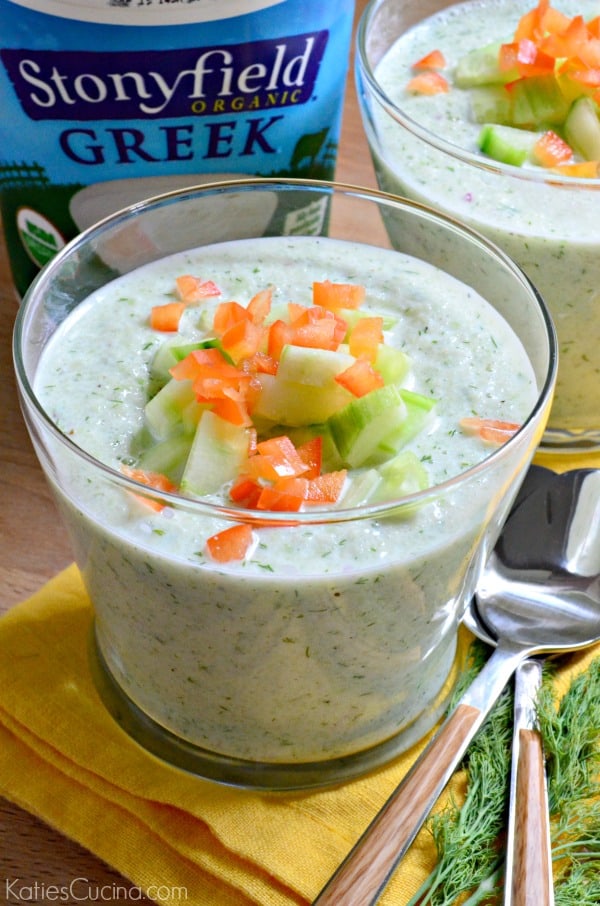 All you need to make this soup is a high power blender or even a food processor. I used my food processor and it worked just fine. I may or may not have had to puree this soup in my garage while working on this recipe. My baby boy was finally napping and the last thing I was about to do was take a chance and wake him up thanks to a minute's worth of food processing.  Instead of using sour cream, heavy cream, or milk or a combination of any one of the three I used one cup of Stonyfield Organic Plain Greek yogurt! Did you know that there are 23 grams of protein in just one serving of Greek yogurt. So you can eat this soup guilt free and meat free without having to worry about getting your serving of protein in! Cool off this summer with my super simple and quick recipe for Chilled Cucumber and Dill Greek Yogurt Soup!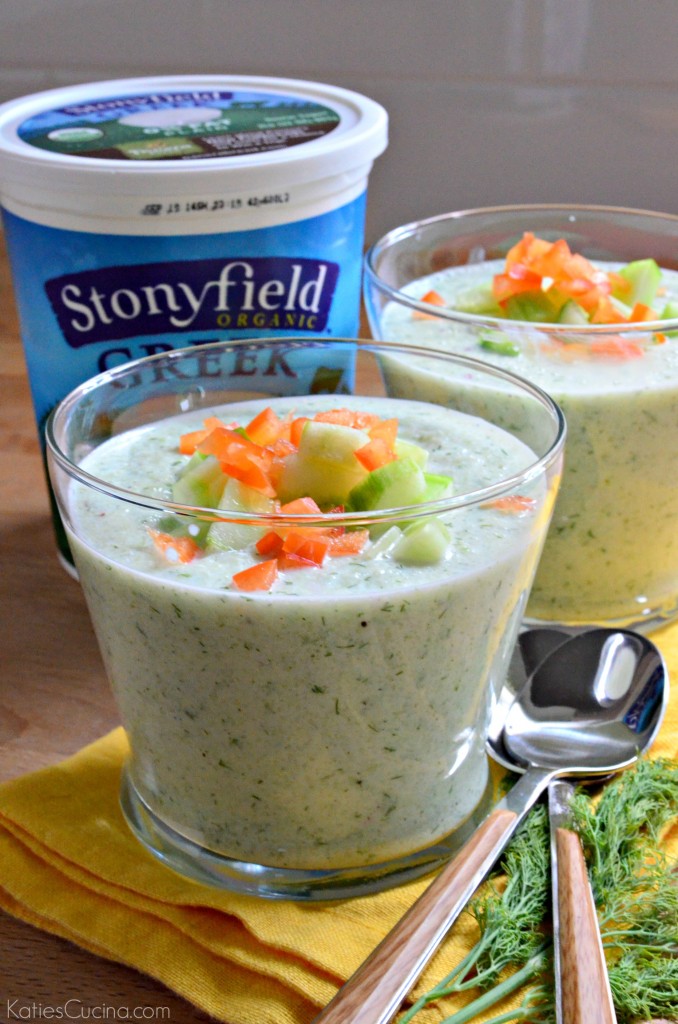 Looking for more chilled soup recipes? Check out the following bloggers recipes:
Quick Cold Roasted Red Pepper Soup with Greek Yogurt from Cook the Story
Pea Soup from Peaches Please
Chilled Cucumber Peach Soup from Cooking with Books
Chilled Tomatillo & Avocado Soup from The Kitchen Prep
Roasted Red Pepper Greek Yogurt Gazpacho from Take a Bite Out of Boca
Chilled Mango Raspberry Soup from It's Yummi

Chilled Cucumber and Dill Greek Yogurt Soup
Yield: 2-1/2 cups
Prep Time: 10 minutes
Total Time: 10 Minutes
Ingredients:
2 European Cucumbers, Peeled
1/4 cup fresh dill, lightly packed
2 tbsp red onion
1 cup Stonyfield Organic Plain Greek yogurt
1/2 tsp salt
1/4 tsp black pepper
2 tbsp red bell pepper, finely minced
Directions:
Peel European cucumbers and cut in quarters. Place in food process (make sure you reserve at least 2 tablespoons of diced cucumber for garnish) along with fresh dill, red onion, Greek Yogurt, salt and black pepper.
Puree for 1 minute until everything is well incorporated. Pour into two bowls and top with one tablespoons each cucumber and red bell pepper.
You can also add finely diced tomato to garnish. Add additional salt and pepper to taste.