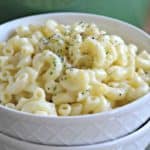 Print
Creamy Stovetop Macaroni and Cheese
Make my easy recipe for Creamy Stovetop Macaroni and Cheese. It only takes 30 minutes and tastes better than any boxed recipe you've ever had.
Cook elbow macaroni according to package (about 9-10 minutes). Drain and set to the side in a colander.

In the same pot the pasta was cooked in, melt the butter on high heat. Then reduce to medium heat and add in the heavy cream, salt, and pepper. Whisk together and let simmer (do not allow it to boil).

Remove the pot from the heat and stir in the cheese. Add in the elbow macaroni just before all the cheese is melted. Mix until all of the elbow macaroni has been covered with the creamy cheese sauce. Let sit 1-2 minutes, then mix and again and serve.