Instant Pot Turkey & Wild Rice Soup
Let your Instant Pot do all the work and transform leftover turkey into this delicious Instant Pot Turkey & Wild Rice Soup in just minutes.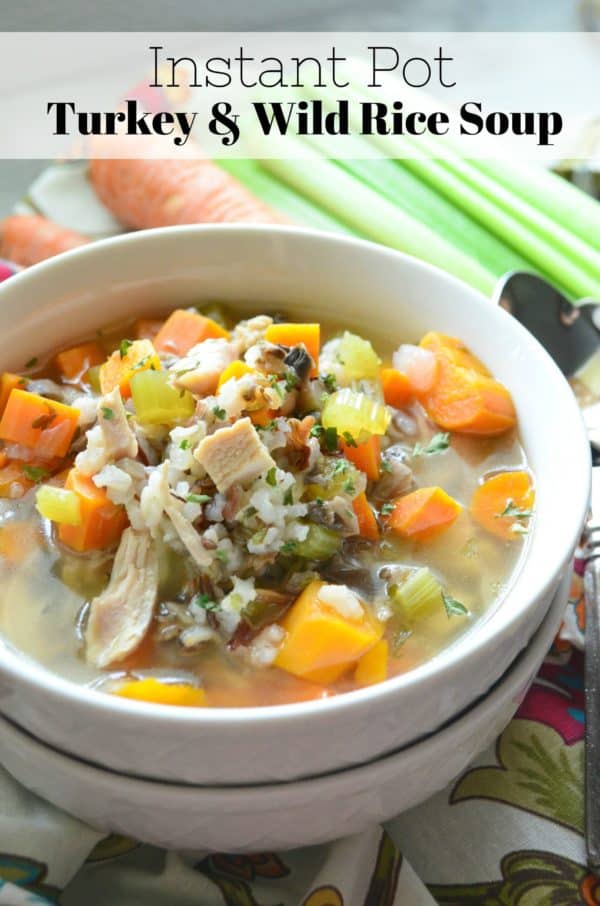 I hope everyone had a great Thanksgiving. I've had family in town and just been soaking up all the family time I can get (and nursing a sinus infection). I had all the intentions of the world to have this recipe scheduled out months ago. I made this soup back in August (life of a food blogger–we have to cook for the holidays months in advanced to get recipes to our readers in time). So it's not like I just whipped this recipe up. It's been done for months–I've just been busy and failed to get it scheduled in time. I also made a big pot on Friday morning when I woke up feeling the worst I've felt over the past week. First, I made a batch of my Instant Pot Turkey stock, I removed all the carcass bones and fat, then added in my wild rice and diced mushrooms and then let my Instant Pot do it's magic.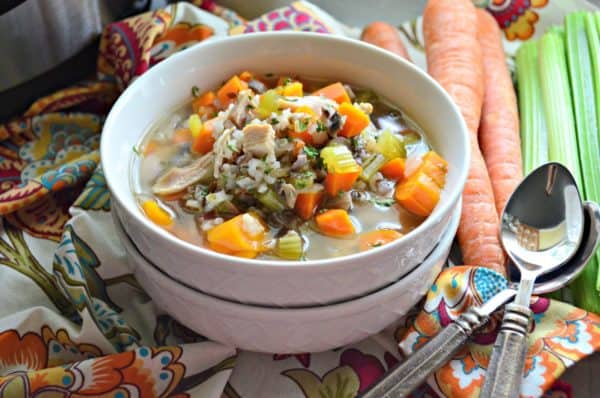 Don't worry–if your not planning to make your stock from scratch in the Instant Pot I have the full recipe from scratch below (like chopping the veggies and cooking them and such). My husband and I LOVED this recipe. We loved it the first time I made it in August and loved it on Friday as we slurped up bowl and bowl the past few days.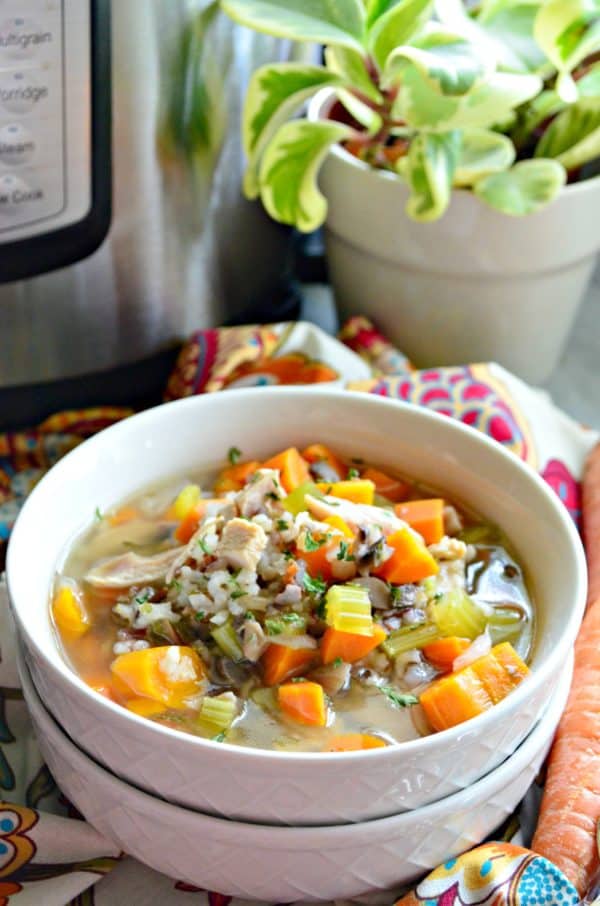 This is a gluten-free, dairy-free recipe as long as the stock your using is gluten free. Wild rice is naturally gluten free and of course all the veggies fit both categories too. You don't miss any dairy in this recipe and the rice gives it a hint of a creamy texture.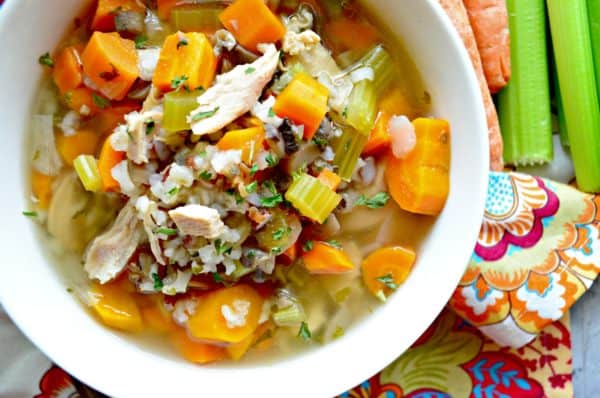 If your looking for a quick and easy soup and a great way to use up some turkey leftovers–my recipe for Instant Pot Turkey & Wild Rice soup is the soup for you to make!

Instant Pot Turkey & Wild Rice Soup
Yield: 8
Prep Time: 10 minutes
Cook Time: 10 minutes
Total Time: 20 minutes
Ingredients:
10 cups prepared turkey stock
2 cups cooked turkey meat, diced
4 carrots, diced
4 celery stalks, diced
1 onion, diced
1 cup white mushrooms, diced
1 cup Wild Rice
1 teaspoon salt
1/4 teaspoon black pepper
1 teaspoon dried parsley flakes
Directions:
Pour the turkey stock into the Instant Pot. Then place the diced turkey meat, carrots, celery, onion, and white mushrooms in the pot. Add in the wild rice, salt, black pepper, and parsley flakes. Stir well then seal the lid. Make sure the valve is set to "sealing".
Select "soup/broth" and set for 5 minutes. Once the 5 minutes are up, carefully do a quick pressure release. Carefully remove lid, stir and ladle into bowls. Top with additional parsley if desired.
Notes:
I like to use Rice Select Royal Blend Rice blend (Texmati white, brown, wild & red)
Add in a half cup of heavy cream into the soup once it finished before serving for a creamy turkey and wild rice soup.
Warning
: Use of undefined constant rand - assumed 'rand' (this will throw an Error in a future version of PHP) in
/home/kjasiewicz21/webapps/katiescucina/wp-content/themes/katiescucina/single.php
on line
74
9 Responses to "Instant Pot Turkey & Wild Rice Soup"