Make your own homemade apple pie at home using a store bought pie crust, fresh apples, brown sugar, butter, apple pie spice to create a holiday classic!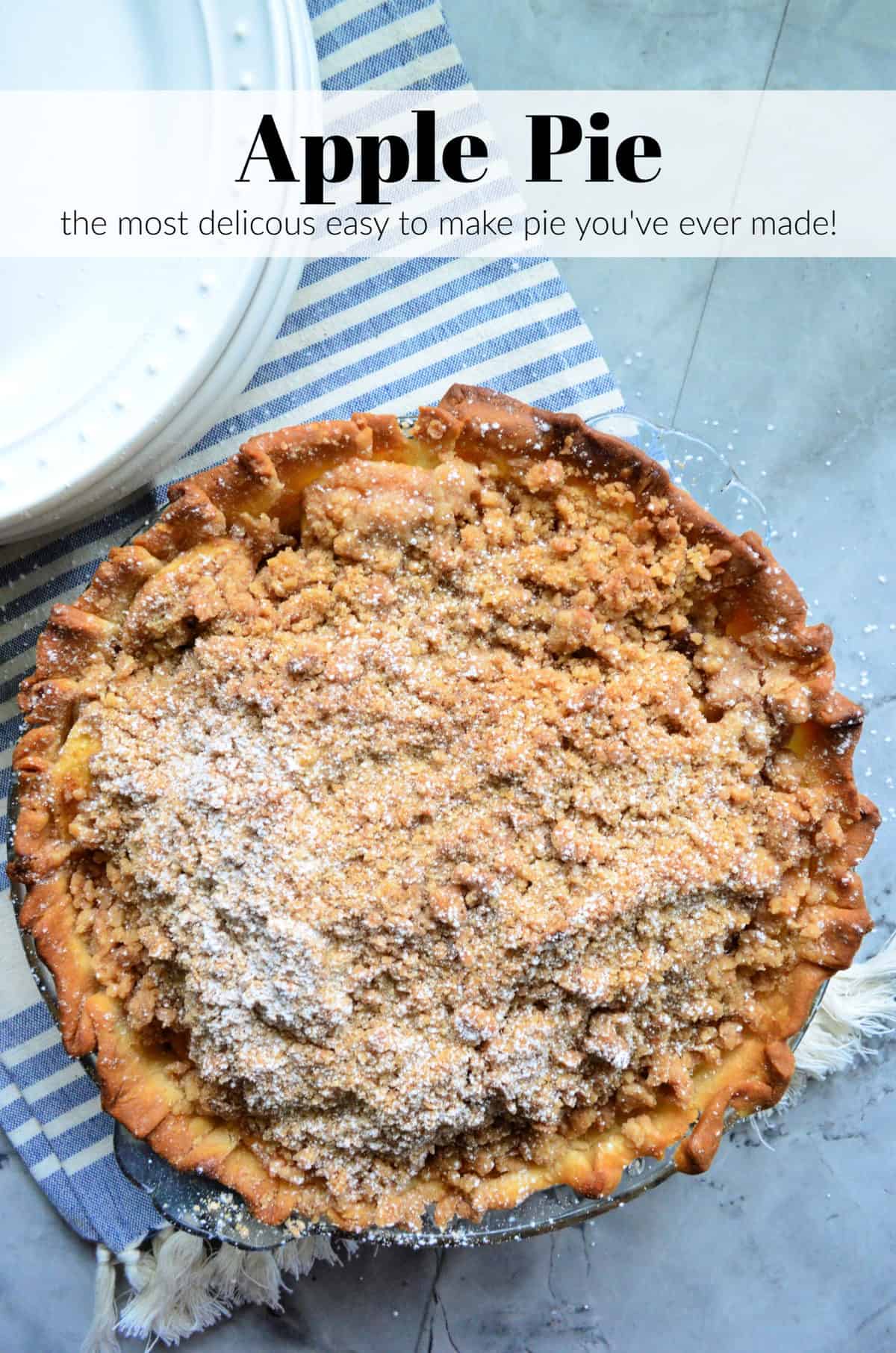 Original Publish Date 11/25/2010 // Republished with new photographs and information on 11/24/2019
I've been making this same apple pie for over 15 years now. My mother in-law taught me how to make this pie recipe. Prior to her teaching me this recipe I had never made a homemade pie. You'll notice in the recipe I use a store bought pie crust as the base. This has been my saving grace and what has helped me throughout the years over come my fear for baking pies.
Since publishing this recipe 9 years ago this pie has been a staple at our Thanksgiving day table. I typically have to make two pies. One for my house and one for my parents to bring to their home.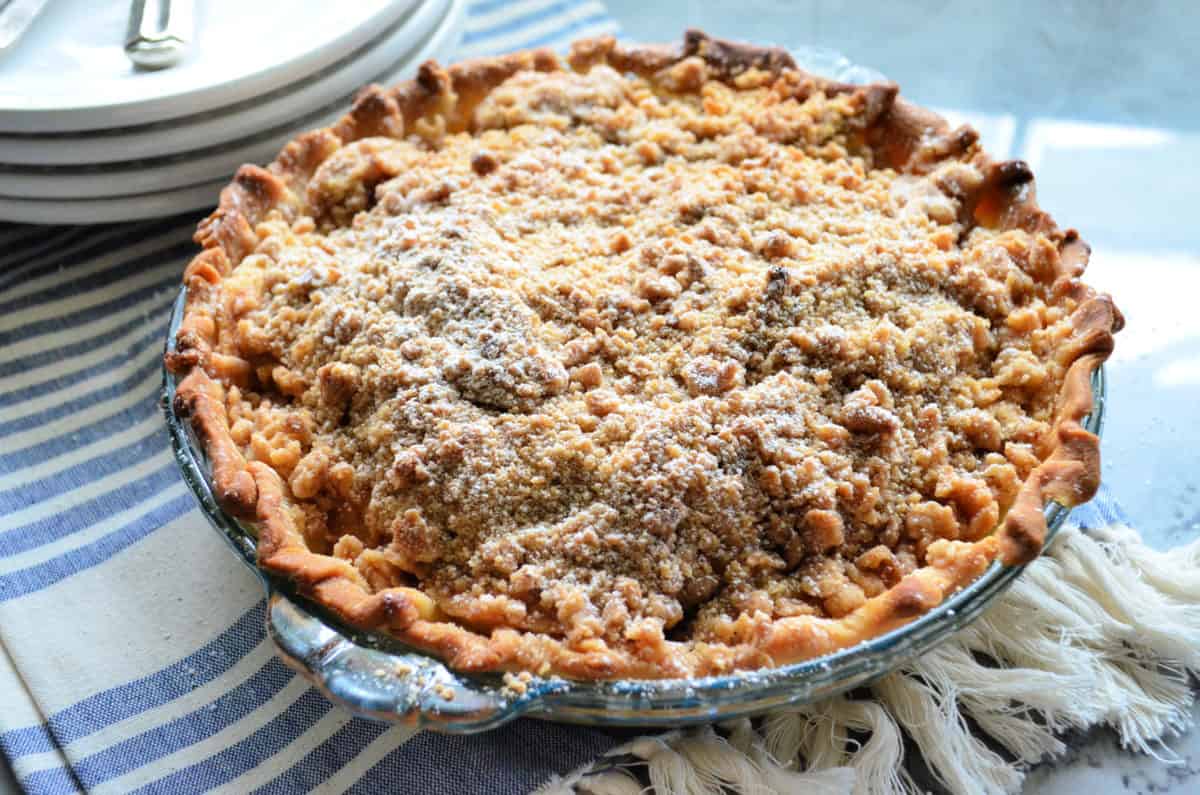 Let's talk a little bit about where this recipe really comes from. My mother in-law got this recipe from an issue of Family Circle that dates back to January 13, 1981!!! The best part is that it breaks down the cost, and back in 1981 it would have cost .42 cents per slice (not so much now a days)! If I had to guess it is probably double if not tripple that price now, but still so worth it! Over the years of making this recipe I've altered ingredients that has pretty much made it my own. I use my own homemade apple pie spice vs measuring out cinnamon and nutmeg. I also use more apples then the original recipe required.
What Apple is best for pie?
Traditionally Granny Smith apples are best for making pie. They are firm and slightly sour which gives a good balance when mixing with sugar. They also hold their shape well since they are a firmer apple.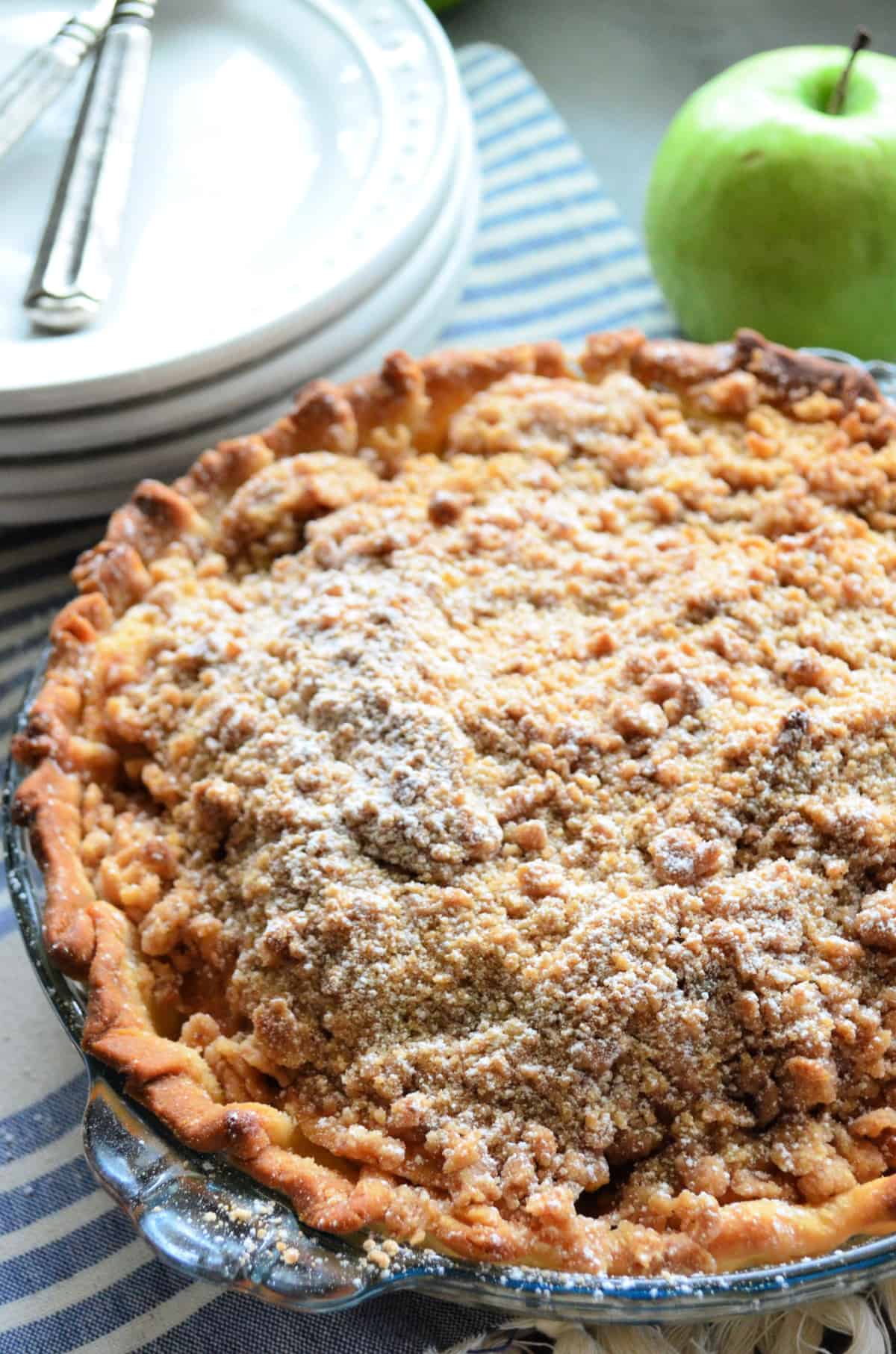 Should I peel apples for apple pie?
I think this is mainly a personal preference. However, most pies you'll taste from the store or a bakery take the time to peel the apples. If you do not peel the apples it will give the pie a different texture. It's best to take the time to peel your apples for a fruit pie!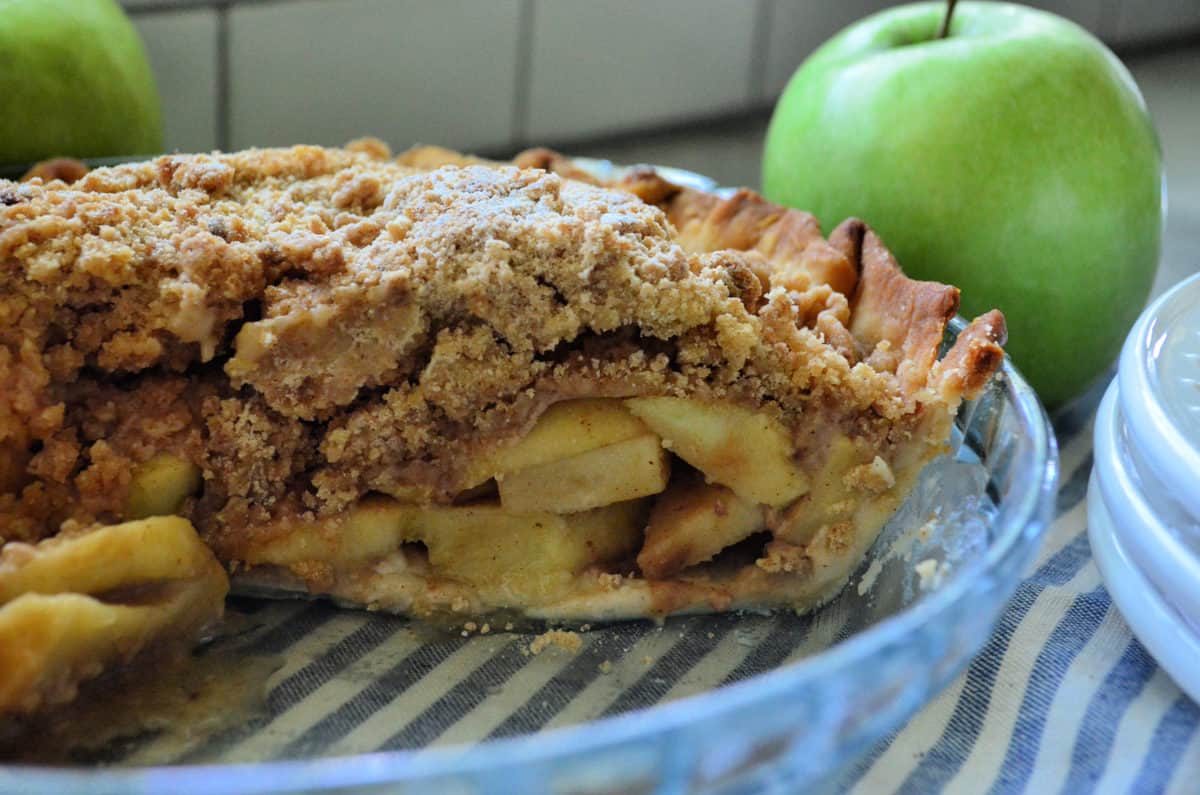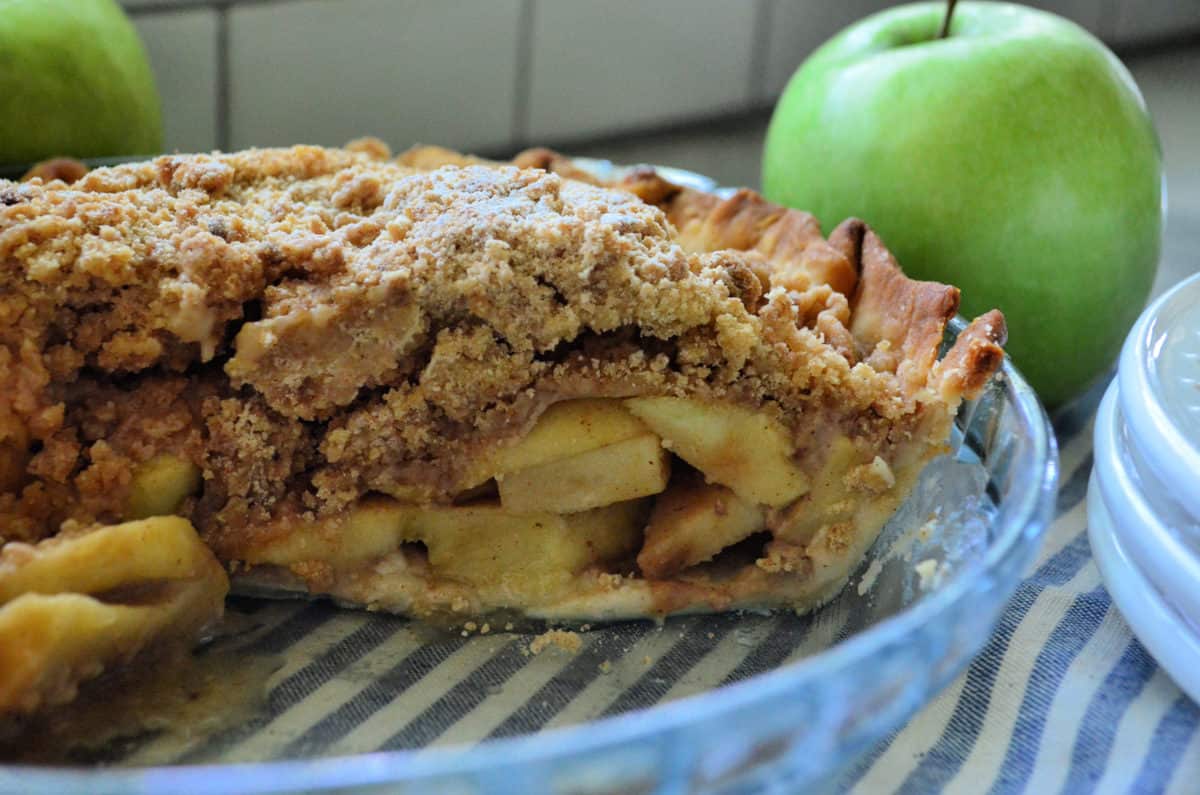 How do you make apple pie not runny?
This is one of the most common problems when making a pie. To prevent the pie from being runny or even mushy here are a few tips I have for you.
Experiment with different thickeners. I use flour in my pie and it seems to do the job well.
You can precook the filling if you choose, but to be honest I've never done this before. It will definitely help with the runny liquid.
Make sure you cook your pie until it's done.
Let your pie cool completely. This step is important so it will congeal and thicken as it cools.
Refrigerate your pie! This helps everything thicken and will make for perfect cuts once your ready to serve.
If you've been nervous to make your own pie I hope you'll give this recipe a try for apple pie. It has a delicious easy to make streusel topping that will have everyone asking for seconds and thirds!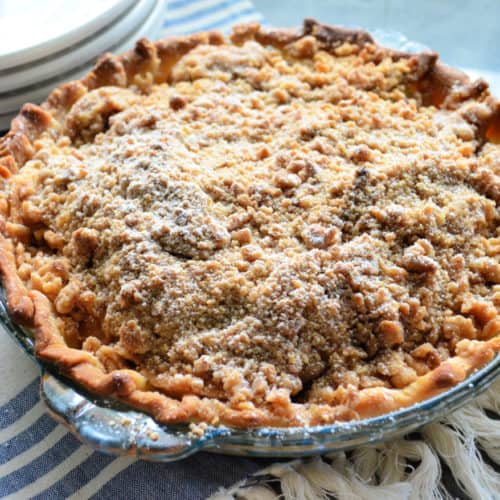 Apple Pie
Make your own homemade apple pie at home using a store bought pie crust, fresh apples, brown sugar, butter, apple pie spice to create a holiday classic!
Print
Pin
Rate
Ingredients
1

prepared refrigerated pie crust

from a 15 oz pkg

6

Granny Smith Apples

peeled and cored

1-1/2

cups

light brown sugar

divided

1

teaspoon

apple pie spice

1/2

teaspoon

salt

1-3/4

cup

All Purpose Flour

1-1/2

sticks salted butter

cubed and cold
Instructions
Preheat oven to 375°. Place the baking rack at the lowest level of the oven. Press pie crust into a 9-inch pie plate (crimp or pleat crust edges). Line top of crust with foil, place on a baking sheet and bake 20 minutes.

Peel and slice the apples and set to the side.

Combine the brown sugar, apple pie spice, and salt. Then, to make the topping. In a separate bowl take half the sugar mixture (about 3/4 cup) with 1 1/2 cups all purpose flour, and the butter. Using the tines of a fork (or a pastry cutter) place cubed cold butter into flour mixture. Mix until pea-shape pieces of flour appear. Set to the side.

Combine the remaining sugar with the remaining 1/4 cup all purpose flour. Add the sliced apples to the bowl. Toss until well coated.

Fill the apple mixture into the pie crust. Top evenly with the crumb mixture. Bake for 30 minutes. Then, carefully remove the tinfoil off the top of the crust. Bake for an additional 25-30 minutes. Let the pie rest for at least 1 hour before cutting into it.
Nutrition
Calories:
189
kcal
|
Carbohydrates:
37
g
|
Protein:
2
g
|
Fat:
5
g
|
Saturated Fat:
1
g
|
Cholesterol:
1
mg
|
Sodium:
190
mg
|
Potassium:
148
mg
|
Fiber:
3
g
|
Sugar:
22
g
|
Vitamin A:
59
IU
|
Vitamin C:
5
mg
|
Calcium:
20
mg
|
Iron:
1
mg