Growing up my mom would make apple turnovers as a treat. Never for breakfast, but as a dessert. We probably had them at least once a month or at least that is what my childhood memory believes to be. I know my mom won't like me outing her but it was always from a box. Not that there is anything wrong with the frozen variety but the homemade turnover version is just a smidge better.
As an adult, my husband and I will indulge on Apple & Pear Turnovers as a breakfast treat. Typically it would be on a leisurely Sunday morning, we listen to our acoustic music on the radio, brew piping hot cups of coffee, read the paper via iPad because you know technology these days, and I bake turnovers. We read emails, check social media, and then the apple & pear turnovers are complete! Nothing else completes a lazy Sunday morning than coffee and turnovers.
Going back to how I ate these as a kid. I think my husband might look at me funny if I served him a turnover for dessert! But maybe if I gave it a nice scoop of vanilla ice cream on top he might by in.
Making your own turnovers is actually easier than you may think. And the best part is that not only do they taste amazing freshly baked out of the oven but your home smells to die for! I love making the apple and pear combo, but I also love switching it up and making other fruit filled fillings. So whether you want a sweet treat for breakfast or an after dinner pastry I would highly suggest you give these Apple & Pear Turnovers a try!
Katie Original Recipe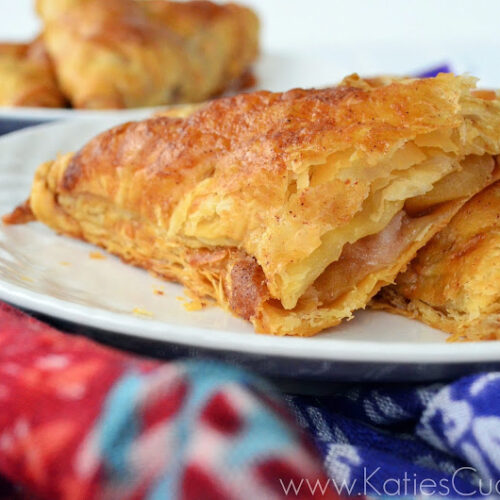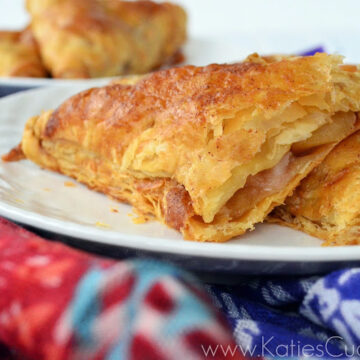 Ingredients
1

apple

peeled & diced

1

pear

peeled & diced

¼

cup

brown sugar

¼

teaspoon

cinnamon

dash of nutmeg

¼

teaspoon

almond extract

1

tablespoon

cornstarch

1

sheet puff pastry

thawed
Instructions
Preheat oven to 350 degrees.

In a bowl, combine diced apple, pear, brown sugar, cinnamon, nutmeg, almond extract, and cornstarch. Mix well until incorporated.

Roll out puff pastry, using a bench knife cut the puff pastry at a diagonal (you'll have to large triangles), then cut it again so you'll have 4 triangles. Add ¼ cup filling to one triangle. Carefully fold the triangle over, seal with water, then press the tines of the fork to close the dough. Repeat until all the turnovers are created.

Carefully, move the turnovers to a baking sheet. Brush with remaining apple/pear liquid, and make a slit in each of the turnovers so they can breathe while cooking!

Bake at 350 degrees for 30 minutes or until golden brown. Serve immediately, or let cool to room temperature and store in the refrigerator in a sealed container for up to 3 days.
Notes
*You will have extra apple/pear mixture leftover. You can eat it as is or cook it on the stove top on low for 15 minutes to create an apple-pear applesauce! Either way this mixture will not be wasted!